As money pours into the top conferences and the top programs in college football, we see the effect in a few areas namely rising coach salaries and NFL-like facilities. Oregon and Alabama recently made headlines unveiling impressive new facilities, so we decided to take a look at some of the best facilities around the country by category. Today, we'll look at the best hot tubs hydrotherapy pools in college football.
Top Hydrotherapy Pools In College Football
Don't call it a hot tub. These are hydrotherapy pools and they are instrumental in keeping athletes on the field. And of course they make for some impressive facilities to show off to visiting recruits. Check out these photos of the top hydrotherapy pools around the country:
Alabama: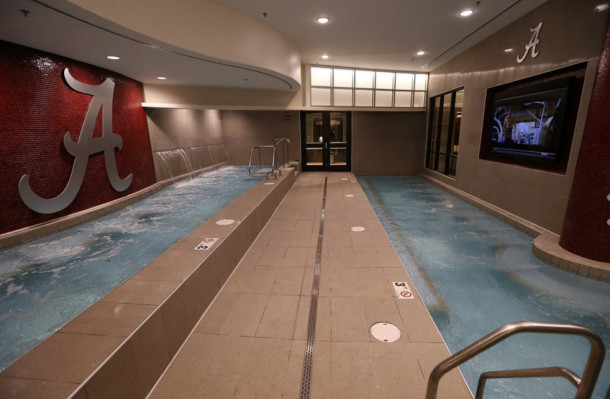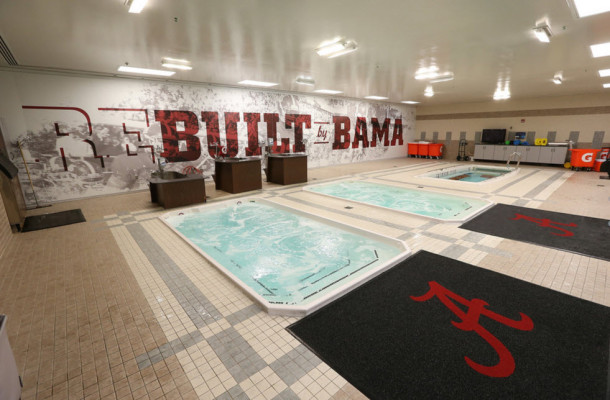 South Carolina:
Oregon:
Oklahoma State:
Arkansas:
Nebraska:
Syracuse: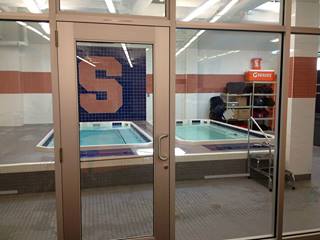 Tennessee:

Texas A&M:
Texas Tech:
The Complete Arms Race Series:
As we continue our look around college football, check out the other components of the series including locker rooms, meeting rooms, player lounges, practice facilities and more.
The Top Indoor Practice Facilities in College Football

Schools include Tennessee, LSU, Alabama, Auburn, Ole Miss, Michigan and more.
View the photos here…
The Top Locker Rooms in College Football

Schools include Alabama, Arkansas, Ole Miss, Notre Dame, Nebraska and more.
View the photos here…
The Top Players Lounges in College Football

Schools include Alabama, Auburn, Oregon, Oklahoma State, Tennessee, Texas A&M and more.
View the photos here…
The Top Hydrotherapy Pools in College Football

Schools include Alabama, Oregon, South Carolina, Oklahoma State and more.
View the photos here…
Additional Photo Galleries:
Oregon and Alabama recently unveiled unprecedented football facilities. Have a look at the full photo galleries below:
Oregon Ducks Football Facilities

Oregon took football facilities to another level in 2013 when they unveiled state of the art meeting rooms, player lounges and much more.
View the photos here…
Alabama Crimson Tide Football Facilities

The Crimson Tide have doubled down on their Championship ways with the best facilities in the SEC. Check out what life is like for the Crimson Tide athletes.
View the photos here…