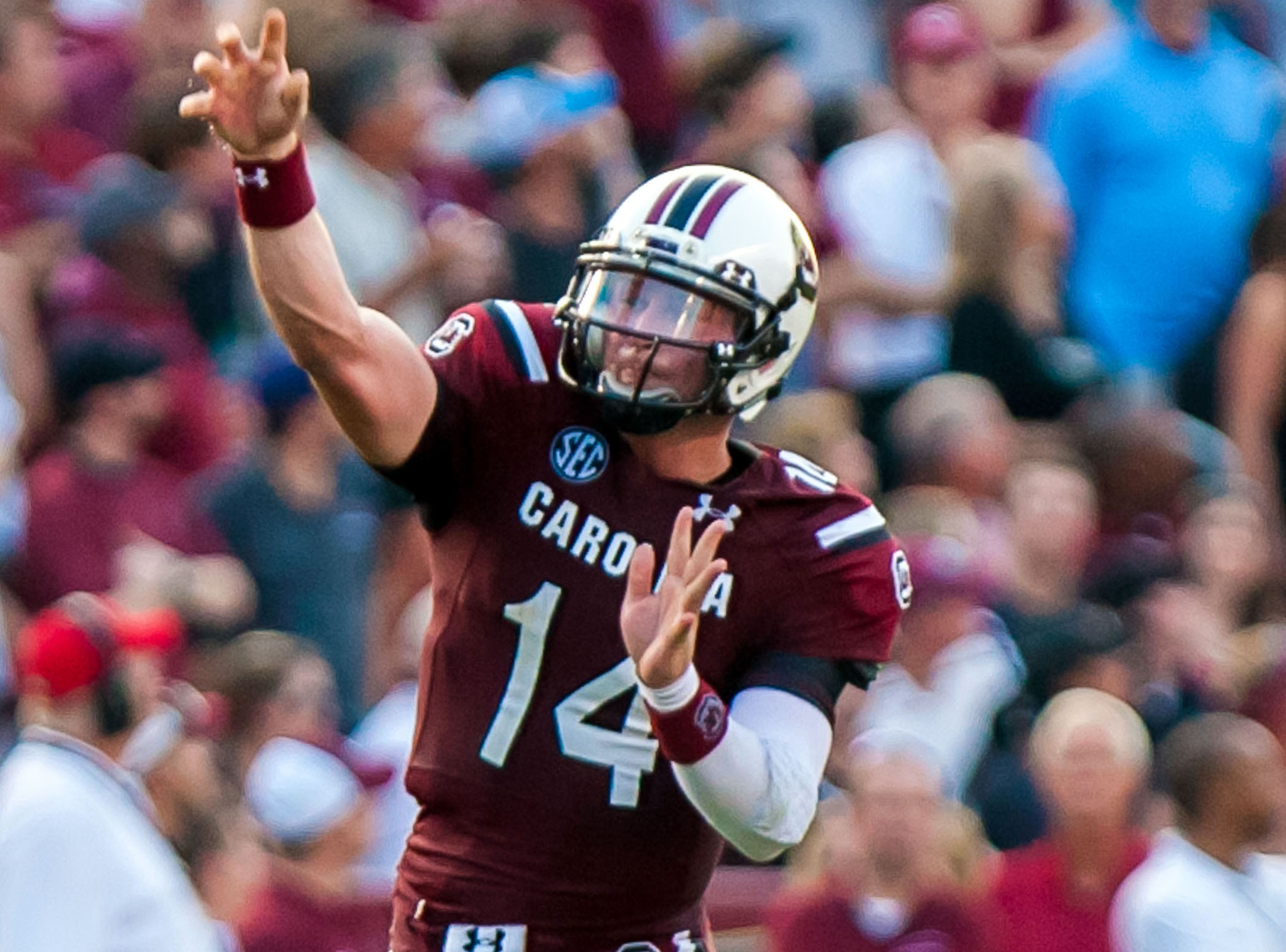 Quarterback play is something that's consistently frustrated Steve Spurrier at South Carolina.
The Head Ball Coach dealt with Lou Holtz recruit Blake Mitchell in 2005 and cycled through Syvelle Newton, Chris Smelley and Tommy Beecher the next couple of years before winning the East with Stephen Garcia — SOS's first big-time, highly-recruited signal caller for the Gamecocks — in 2010.
Related: What to watch for — South Carolina vs. Georgia
But Garcia was a mixed bag. He was outstanding some games (See, 2010 win over No. 1 Alabama) and disappointing in others (0-3 bowl record, 0 TD, 7 INT), limiting the Gamecocks' ascension as a national contender.
Spurrier found what he was looking for in 2011 after Garcia was dismissed, a quarterback that made smart decisions with the football and didn't cripple drives with boneheaded passes and unexpected mistakes.
Connor Shaw's the opposite of a gunslinger, what Spurrier was used to during his Fun-&-Gun days in Gainesville. He's a quiet leader that makes the safe read and understands the importance of moving the chains with his feet, something that will prove vital in Saturday's bout at Georgia.
The numbers don't lie. South Carolina, at least since Marcus Lattimore reversed the program's fortunes in 2010, is simply a better football team when it doesn't rely heavily on Spurrier's aerial assault (his ball plays).
Shaw's 18-3 as a starter and has been the leading cog in South Carolina's back-to-back 11-2 finishes. The Flowery Branch, Ga., native takes what the defense gives him and has solidified his role his role as the best option under center despite being pressed by Dylan Thompson, a talented passer who better fits the Spurrier mold.
The Southeastern Conference's most underrated player heading into his senior season, Shaw had a "what we've come to expect" performance in last week's opener against North Carolina with 149 yards on 11-of-20 passing, 43 yards rushing and a touchdown.
An average outing from an outsider's perspective, but the exact recipe needed for success in the Gamecocks' run-heavy attack.
Related: Carolina-Georgia — The SEC's most underrated rivalry
It was the kind of effective game the Gamecocks have come to expect from a quarterback that has a run-first mentality and rarely takes chances with timing routes or passes thrown into coverage. He's at his best during play-action situations when South Carolina is moving the football efficiently on the ground.
Give Shaw an empty backfield with five receivers and the edge goes to the defense. He's noticeably more confident as a passer inside Williams-Brice Stadium and his career numbers reflect it.
          SHAW BY THE NUMBERS
       HOME           ROAD/NEUTRAL
Record                  11-0                       7-3
Completions          179                       112
Attempts                255                       214
Yards                    2,397                   1,379
TD                          23                         10
INT                          6                           9
Shaw's career SEC road wins include Vanderbilt, Tennessee, Mississippi State and Kentucky. He's 2-0 in bowl game starts and earned the victory in the 2011 opener after starting, but being benched early against East Carolina in Charlotte.
The only time Shaw's been taken out of his comfort zone is in difficult road environments (at LSU, Florida and Arkansas) and he faces that exact monster this weekend against the Bulldogs.
We've established that the Gamecocks will go as far as Shaw takes them, but can he overcome a personal stretch of three consecutive losses against ranked teams on the road in Athens?
It's important to note that all of South Carolina's losses with Shaw at quarterback have come against Top 10 teams and if you follow those kinds of trends, Georgia's No. 11 this week. Spurrier said during his weekly presser on Tuesday that he hopes Shaw tones down the excitement heading into his first start in his home state.
For South Carolina to win, its battle-tested quarterback will need to have one of the top individual performances of his career and some help from his defense.