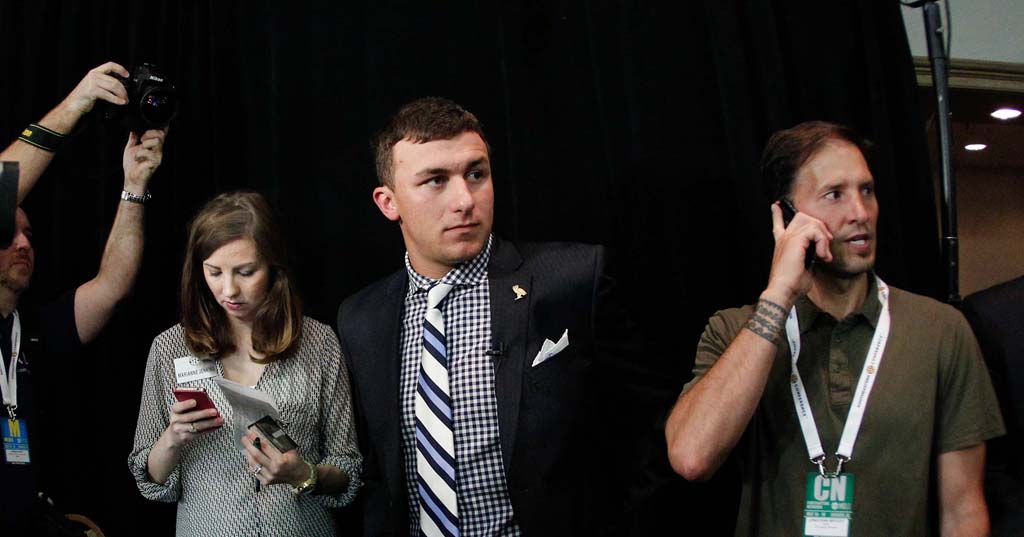 Thankfully the football season is mere days away. If not, Johnny Manziel's offseason was about to mirror the path of Breaking Bad's Walter White. A downward spiral turning a nice young man into an utter monster. That's what the media would have you believe, at least.
The offseason progression of having the nerve to sit court-side at NBA games to letting loose a tweet of frustration to standing up the Mannings to allegedly signing autographs for some cash has been quite the narrative over the last 6-7 months.
The media did their best to turn these random events into a Shakespearean story arc, a tragedy involving college football biggest name.
It didn't work.
After an unsuccessful attempt to show Johnny who's boss at Media Days, the media went into overdrive by utilizing a segment of the population known for their honestly, integrity and general good will towards the public. Yep, we're talking about autograph brokers.
The media coverage of Johnny this offseason mirrored that of recent years of Tim Tebow coverage: lots of talk about nothing.
To recap the offseason, Johnny essentially did nothing worth discussing other than allegedly signing autographs. The one thing he allegedly did do worth discussing, the majority of fans think he should be allowed to do! So, finally, one thing worth mentioning gets alleged, and we can't prove it – even if we could, the public supports Manziel in it! Yes, Manziel is the next Heisenberg, alright.
My favorite part of the Manziel drama is that when the media runs cold of Johnny Heisenberg headlines, they turn to the discussion of Johnny NFL Prospect. He could never make it in the NFL! His judgment isn't NFL QB material. None of that matters. Yes, in the NFL, the QB's intelligence, decision making, reads all matter tremendously.
You know what matters in college football? Having the best athlete on the field. Whether or not Manziel is NFL material is irrelevant at this point. Let me tell you what is college football material. Johnny Manziel. Johnny Football. 
Johnny Manziel is now days away from taking the field for the first time in a live football game since he torched Bob Stoops in the Cotton Bowl.
Related: 2013 SEC preseason power rankings
This kid is going to light it up starting week 1. It doesn't matter if opposing defenses have been prepping for Johnny Football. Why do we fail to recognize that Kevin Sumlin has been prepping for the opposing defenses? The Aggies have enough weapons and an offensive system that is very difficult to stop. When you stop the system, Manziel still breaks loose half the time.
What continues to be lost in the Manziel nonsense is just how spectacular of a football player this kid is. Of course, there will be plenty of idiots who will refuse to enjoy Manziel tearing up opposing defenses for 400+ yards at a time. They would rather call him cocky or arrogant, instead of enjoying the show.
My prediction is that Manziel will remind the world just how incredible he is during the first two outings of the 2013 season. Manziel is going to take out all of the frustration with this past offseason on the defenses of Rice and Sam Houston. It's going to be a blood bath. Then, we can settle down and focus on the matchup that we used to be excited about. Texas A&M and Alabama on September 14th.
Look, let's just agree to this. Manziel maybe could have handled the offseason better. If he signed autographs for cash, it was poor judgment simply because it's an NCAA rule. Other than that, let's root for the kid to take the field and light it up. Why not? Don't we love watching somebody like Manziel? Don't be that idiot who refuses to enjoy it.
Photo Credit: Brett Davis-US PRESSWIRE