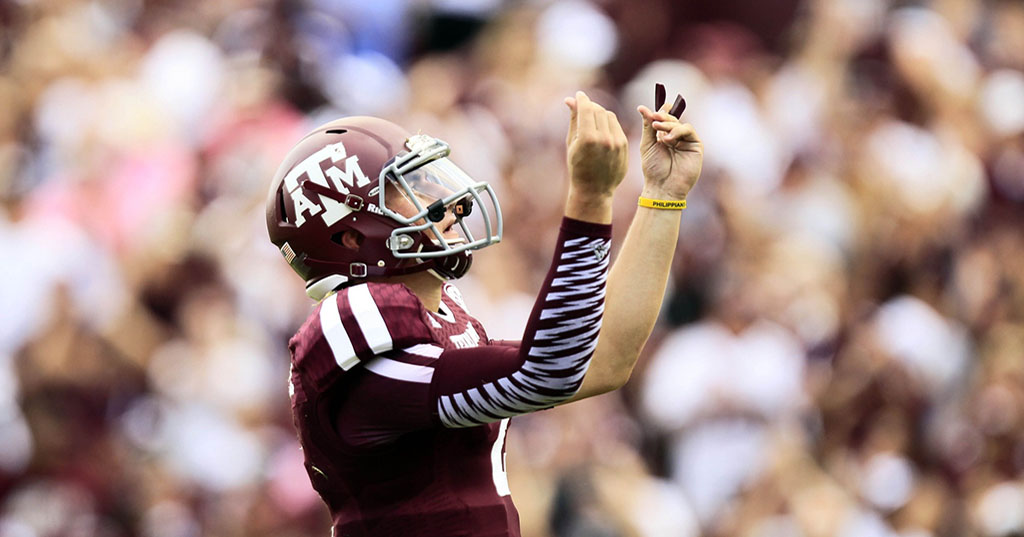 Much has been made over Johnny Manziel's behavior on Saturday. Big surprise! Not enough is being made over his actual play on the field.
Johnny Manziel is by nature one of the most competitive players in college football. It has fueled him to historic success. For him to take the field Saturday after the off-season that he just had and not show passion, energy, even arrogance would be an immense concern to the Aggie faithful, because it would mean that Manziel was beaten down by the media over the last eight months. Instead, we know Manziel is back. Heisman Manziel. Defense-shredding Manziel. And this should be very concerning for Alabama in two weeks.
In the months that preceded kickoff, we all talked about how Saban had an unfair advantage of having a bye week the week before they rolled into College Station. That was before Alabama showed massive holes in their game on both sides of the ball against Virginia Tech.
Instead, it is Texas A&M that has the supreme advantage of having another tune-up prior to Alabama coming into town.
I'm not sure he needs it considering how in tune Manziel was with his playmakers on offense from the get-go on Saturday, but yet another game to work on timing with his offense is sure to help them on September 14th. Meanwhile, Alabama's defense will have to go two weeks without getting game speed experience. That's not a good formula for taking on the fast-paced Aggie offense. Jumping up on the Tide early like the Aggies did in 2012 all of a sudden isn't out of the question.
Many critics say that they would rather have the mild-mannered AJ McCarron as their quarterback than the uncontrollable, yet talented Manziel, and I would say they're crazy. This isn't the NFL. This is college football, and right now, the playmaking quarterback is more important and more impactful than ever.
Related: Is Johnny Manziel college football's villain?
Look at this past weekend. Who are the stars of the game this year? Tajh Boyd, Teddy Bridgewater, Johnny Manziel, Braxton Miller, Marcus Mariota. Playmaking quarterbacks are now paired with elite offensive minds that are harnessing the raw talent and shattering offensive records.
It doesn't matter if McCarron spent more time watching film than Manziel this offseason. What matters is Manziel's instincts and his abilities that are on full display once he steps on the field. What matters is that Manziel has some outstanding weapons around him. What matters is that Kevin Sumlin is pretty damn good at putting this all together.
Nick Saban's teams typically get better over the course of the season. His teams improve more than most do as a result of coaching and tweaking with each week during the fall. The Aggies welcome the Crimson Tide at just the right time. Alabama has plenty to fix on their team, and I'm not confident they're going to be ready against Johnny Manziel.
Manziel is going to put up points against the Alabama defense. Can Alabama's offense match the production against a Kyle Field fueled defense? We saw how crazy home crowds can fuel an average defense last Saturday night at Clemson.
A week ago, this game was going to be a Crimson Tide blow out. I assure you that we have a ball game now.