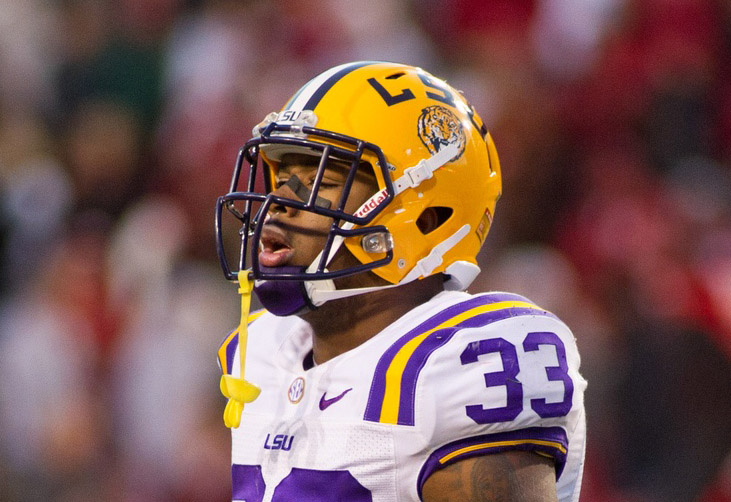 Yesterday, for the first time since his reinstatement, Jeremy Hill sat down with reporters and talked about his return to the team during LSU's media day. And it was important for Les Miles and LSU to let Hill be present and public with the media, regardless of whether anyone approves or disapproves of Miles' decision.
Related: Watch Jeremy Hill's fight video
Hill expressed remorse and regret, and he explained his violation of probation as a 'selfish decision', via NOLA.
"(It was) very painful," Hill said. "The biggest lesson I've learned this is all bigger than me, this program, I can't make selfish decisions. I have to continue to learn from it.

"Playing football here is definitely a privilege. Not too many guys get offers to play for this program and to put on this uniform is definitely a privilege."
When asked if he'll be suspended for any playing time, Hill put that back on his head coach, Les Miles.
"I can't discuss that right now," Hill replied. "You will have to ask him that question."
One reporter also asked Hill why he thinks he deserves another chance, when so many thought he should have been kicked off the team, via USA Today.
"Um, I don't know, man. I can't control what other people think. All I can do is just do the right things, moving forward, listen to my coaches, listen to my family and be a good teammate to the guys on this team. And what other people think, I really can't control that."
Miles was asked yesterday why he's withholding information from the public about Hill's punishment or suspension.
"The idea that you have a discipline that is reflective of in-house," Miles said. "It's team in nature, and it doesn't reflect outside opinion. Outside opinion can be self-serving, depending on the location that you live in. It's really egregious or it's not that bad at all. Punishment will be dealt in an appropriate fashion."
Miles described Hill as 'rusty' since he returned to the team, and it's largely believed that Miles will suspend Hill for at least one game to start the season.
Photo Credit: Beth Hall-USA TODAY Sports