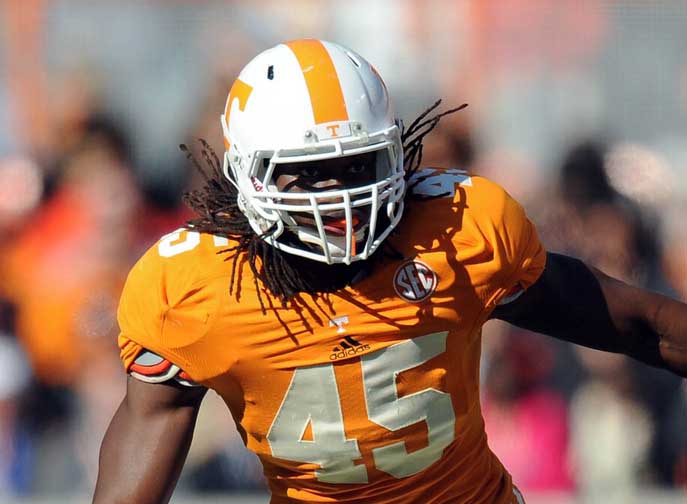 So much for the questions surrounding the strength of Oregon's offense without uptempo guru Chip Kelly.
Those have already been answered this season in a big way.
Duck Dynasty hasn't missed a beat since Darth Visor West's departure, piling up 1,029 yards of offense and 17 touchdowns through the first eight quarters of the Mark Helfrich era in Eugene. Last weekend, quarterback Marcus Mariota and his flight of playmakers made quick work of less-talented Virginia, disposing of the Cavaliers with 21 points in the first 11 minutes en route to a 59-10 thumping.
Will Oregon's relentless rushing attack be tested Saturday by a SEC defense?
If recent history's any indication, the statistics say yes.
Against physical front sevens, groups similar to Tennessee's starting lineup, Oregon's tempo drops down an octane. In its last seven contests against programs with a pulse up front, the Ducks are averaging 215 yards rushing per game compared to nearly 100 more yards against defenses that struggle with speed.
SEC fans outside of Knoxville will likely only be catching "gamebreaks" of Saturday's Vols-Ducks battle during the Alabama-Texas A&M telecast, but it's a matchup worth keeping an eye on thanks to Tennessee's underrated defensive line and linebacker core that's already tallied 15 stops behind the line of scrimmage this season.
Related: Tennessee vs. Oregon preview
Second-ranked Oregon has lost four games since 2010, three of those coming against programs with Top 30 defenses against the run. Tennessee's not there yet and is in the middle of the pack nationally this season at 125 yards allowed per contest, but much of those big gains were given up when wins over Austin Peay and Western Kentucky were out of hand. The Vols have the size and strength to hang.
OREGON VS. TOP 30 RUSH DEFENSES SINCE 2010
Jan. 3, 2013       Kansas State, W 35-17    45 rushes, 219 yards
Nov. 17, 2012    Stanford, L 17-14 OT       40 rushes, 198 yards
Nov. 24, 2012    Oregon State, W 48-24    64 rushes, 430 yards
Sept. 3, 2011     LSU, L 40-27                    28 rushes, 95 yards
Nov. 12, 2011    Stanford, W 53-30            46 rushes, 232 yards
Nov. 19, 2011    USC, L 38-35                   47 rushes, 209 yards
Sept. 25, 2010   Arizona St., W 42-31        36 rushes, 125 yards
Saturday marks the first true test for first-year Tennessee defensive coordinator John Jancek against an offense that takes pride in snapping the football before personnel changes can be made. His unit will have to make up for the loss of DT Maurice Couch, who will miss the game due to heat exhaustion suffered in Tuesday's practice.
Couch was one of five players mentioned in Wednesday's Yahoo Sports story said to have accepted improper benefits from a middle man. He's the only one of the handful that's still active in the NCAA ranks.
Tennessee's defense is coming off its worst statistical season in school history, but that side of the football appears to be on the upside under Jancek, likely Butch Jones' most important assistant. Blown coverages and gaping holes up front were major problems that persisted in 2012, ultimately leading to a regime change.
Led by LaMichael James' dominance on the ground the last time these two teams battled in 2010, the Ducks walked out of Neyland Stadium with a 48-13 win. Oregon's main ballcarrier this season is De'Anthony Thomas, a darkhorse Heisman candidate on everyone's radar as one of college football's fastest 0 to 60 athletes.
Slowing down the run and maintaining flow on offense is vital to Tennessee's upset chances this time around. Oregon has forced 40 turnovers since the start of the 2012 season, the most in the FBS ranks. Tennessee quarterback Justin Worley and the rest of the Vols' backfield must be extra careful with the football inside what is the first of three hostile environments over the next six games.
By November, the midseason gauntlet against BCS Top 15s will be over for the Vols. Until then, Tennessee gets its first of numerous cracks at a big-time win Saturday at Oregon.
Photo Credit: Randy Sartin-USA TODAY Sports