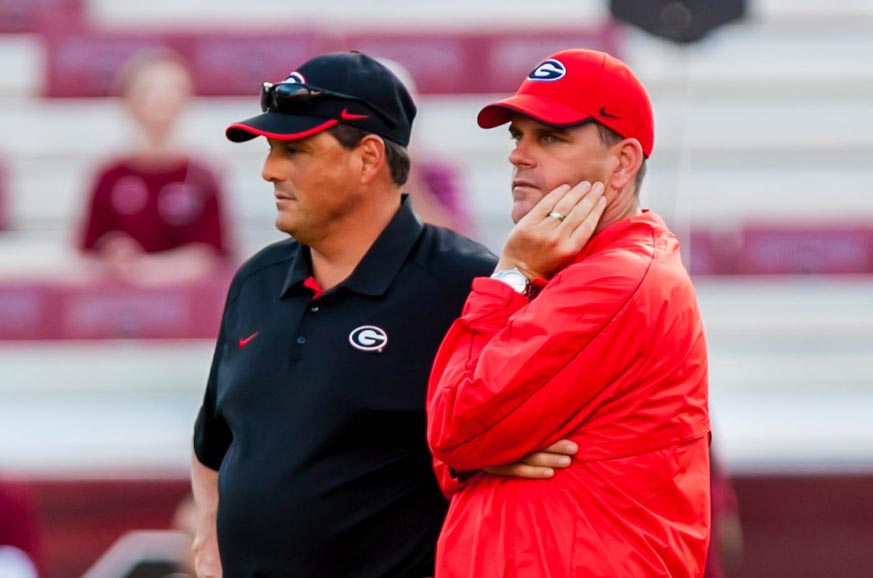 Related Articles:
Let's turn our attention to assistant coaches who will take head coaching jobs in the future. Here are six who could make the leap as soon as next season:
Doug Nussmeier, Offensive Coordinator, Alabama
Coaching Career: Click here 
Buzz: I'll argue the one coach on the Tide's coaching staff most ready to become a head coach is Doug Nussmeier over Kirby Smart. Nussmeier came from Washington, and his offense scored the most points per game (38.71) of any Bama team since 2001. Nussmeier is ready to become a head coach after 2013.
Brent Pease, Offensive Coordinator, Florida
Coaching career: Click here
Buzz: Pease is more of the wildcard within this group of coaches. What he did in one season at Florida, turning the offense around from a weak-minded offensive team to a mentally and physically tough offense, was something to watch. He's coached offenses his entire career, and he was the offensive coordinator and assistant head coach at Boise State under Chris Peterson from 2007 to 2011, where he helped develop Kellen Moore. He has a very good track record.
Kirby Smart, Defensive Coordinator, Alabama
Coaching career: Click here
Buzz: Smart has been with Nick Saban since he took over at Alabama. He's been groomed by one of the best teachers and coaches in all of college football. Throughout Smart's tenure, his defenses have combined to allow just 11.75 points per game. He's in a great position because he can pick and choose between what jobs he wants, as he's already turned down a few in the last several years. But might he be waiting on Saban to give some kind of inkling when he may retire? Does he want the Bama job?
Mike Bobo, Offensive Coordinator, Georgia
Coaching career: Click here
Buzz: Like Doug Nussmeier, Mike Bobo could be better positioned to take a head coaching job in 2013 more than Todd Grantham. Southern Miss and other schools looked at Bobo in December, but he returned to Georgia. And it's only a matter of time before he takes a head coaching gig. Bobo's been with Richt since 2007, and his 2012 offense averaged the most points per game (37.79) since 2001.
Todd Grantham, Defensive Coordinator, Georgia
Coaching career: Click here 
Buzz: It's arguable whether or not Grantham's defenses have lived up to the billing at Georgia, but it seems like Grantham is waiting for a head coaching gig, rather than take another NFL assistant job. Grantham has 11 years worth of NFL experience, and he's coached under some of the best teachers in all of football in Nick Saban, Wade Phillips, Frank Beamer and Mark Richt. Grantham's first priority is to get his inexperienced defense playing at a high level, but he's said in the past he wants to be a head coach someday.
Frank Wilson, Running Backs Coach, LSU
Coaching career: Click here 
Buzz: Wilson has a name for being a dynamite recruiter at LSU, as the Tigers usually finish with one of the top classes in the country each cycle. And it doesn't hurt his pedigree that he has successfully recruited multiple star running backs in the past in Alfred Blue, Kenny Hilliard, Michael Ford, Jeremy Hill and Spencer Ware. Wilson has coached in the south at Ole Miss, Southern Miss and Tennessee in his somewhat short career, and he has a great rapport with high school coaches in this region. Wilson could make a jump at any time if the right job comes along.
Photo Credit: Matthew Emmons-USA TODAY Sports