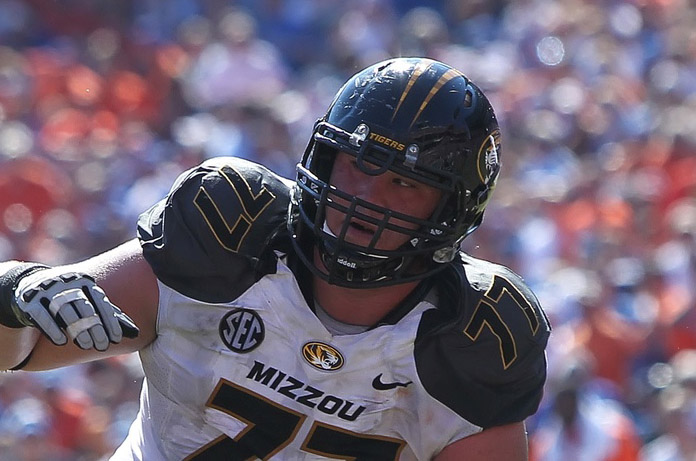 Related Articles:
Making freshmen impacts in the SEC is tough, but these 13 SEC East players significantly helped their teams in 2012. This isn't a projection based on breakout players, but it's players who already made impacts as freshmen and looking for big sophomore seasons.
Related: SEC West 13 super sophomores
Caleb Azubike, DE, Vanderbilt: Azubike set the freshman record at Vandy with four sacks in 2012, and he recorded 21 total tackles, including 4.5 for loss. Azubike will have a much bigger role this season, and he's terrorized the O-line during preseason practice.
Evan Boehm, C, Missouri: Boehm was thrust into the lineup as a necessity because of so many injuries in 2012, and he didn't disappoint. He was a first-team Freshman All-American as a guard, and now he commands the center job for 2013.
Dante Fowler, DE, Florida: The Gators' Buck is ready for a big sophomore season, but he made a strong impact as a true freshman. He played in every game, making 30 tackles, eight tackles for loss and 2.5 sacks.
Dorial Green-Beckham, WR, Missouri: Although DGB didn't have the kind of freshman year everyone hoped, it had more to do with the lack of a passing game. The 6-6, 225-pound pass catcher led the team with seven touchdown receptions and was an honorable mention All-American.
TJ Gurley, DB, South Carolina: Gurley's season was cut short due to a knee injury, but if healthy, he'll be a staple in the Gamecocks' secondary. Gurley was an All-SEC freshman who made 13 tackles. He's a great looking player who could have had a bigger year if not for an injury.
Todd Gurley, RB, Georgia: You know all about Todd Gurley by now, but I'll use one word to sum it up: bully. He bullied defenses as a freshman, rushing for 1,385 yards and 17 touchdowns. What will he do for an encore? Watch Gurley's 10 best plays here.
DJ Humphries, OT, Florida: Humphries is a future mauler at tackle. He played in 13 games and was first-team All-SEC freshman and a Freshman All-American by Sporting News. Humphries played tackle and was used as a blocking tight end. He's that athletic.
Jordan Jenkins, OLB, Georgia: Jenkins played in the shadow of Jarvis Jones, but he still made a significant contribution recording 31 tackles, five sacks, eight tackles for loss and 16 QBH. Watch out for Mr. Jenkins in 2013.
Keith Marshall, RB, Georgia: Although Marshall didn't have the season Gurley had, he had a big freshman year, rushing for 759 yards and eight touchdowns. He was the lightning to Gurley's thunder.
Antonio Morrison, LB, Florida: Although Morrison will miss some time with a suspension, he played in all 13 games last year, making 34 tackles, two for loss, one sack and one QB hurry. Upon his return, he'll command the middle linebacker job for Will Muschamp.
Brian Randolph, S, Tennessee: The redshirt sophomore is ready for a big year after a season ending injury just three games into 2012. Randolph played in 12 games in 2011 as a freshman, and he led the Vols with 22 tackles at the time of his injury last year. He's a team leader and major impact player.
Brandon Shell, OL, South Carolina: Shell is a 6-6, 323-pound right tackle who's ready to have a big sophomore season. He started 10 games last year as a redshirt freshman and garnered Freshman All-American honors.
John Theus, OT, Georgia: It's not everyday you see a true freshman walk into a starting tackle job. Theus started all 14 games for the Bulldogs at right tackle and was an obvious All-American.
Photo Credit: Kim Klement-US PRESSWIRE