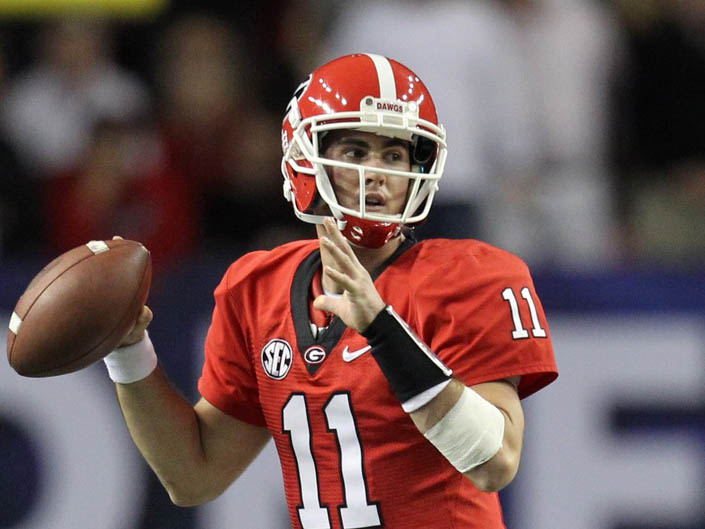 The SEC has a trio of quarterbacks returning that has more star power than any other time in conference history – and maybe college football history for one conference. AJ McCarron, Aaron Murray and Johnny Manziel are three looking to take their teams to greater heights this season and make a run at a championship.
Aside from just the trio, the SEC has several other quarterbacks looking to have big years. Zach Mettenberger, Connor Shaw, Jeff Driskel, Bo Wallace and Tyler Russell are five others to watch, and each are expected to pick up their game.
Related: Ranking the SEC Quarterbacks
But Athlon Sports says two of the big three and two others are the most overrated in college football:
1. Logan Thomas, Virginia Tech
2. David Fales, San Jose State
3. Clint Chelf, Oklahoma State
4, Keith Price, Washington
5. Zach Mettenberger, LSU
6. Aaron Murray, Georgia
7. Bo Wallace, Ole Miss
8. Johnny Manziel, Texas A&M
9. Blake Bell, Oklahoma
10. David Ash, Texas
Related: Manziel is ready for his sexy encore
My (hot sports) take on Athlon's list:
Virginia Tech is consistently the most overrated team in the country. So, it's only fitting their quarterback is the No. 1 most overrated.

I can buy Zach Mettenberger making the list, because he had a little bit too much sizzle and no steak last year and was one of the most hyped quarterbacks entering 2012. But Cam Cameron is expected to take his game to the next level. 
I don't have enough sample size from Bo Wallace to make a judgment yet, considering he played with an injured throwing shoulder 

from week four through the end of the season.

 I like Wallace to make a big splash in 2013.
I would say Johnny Manziel's offseason fatigue is overrated, but on the field, Manziel is dynamite. He was such a raw quarterback last year, and I think he improves as an overall player…but maybe the numbers don't improve upon 5,100 total yards. Will that mean he's overrated?
True – Aaron Murray's damage has come against non-SEC and non-ranked opponents. His 4-10 record against ranked opponents is one reason he returned as a senior, as well as to win a championship. But Murray took his game to another level last year, throwing for nearly 3,900 yards and cutting down his INTs from 14 to 10. I love Murray as a player, and Georgia puts the ball in his hands to win down the stretch of nearly every game.
Photo Credit: Nelson Chenault-US PRESSWIRE