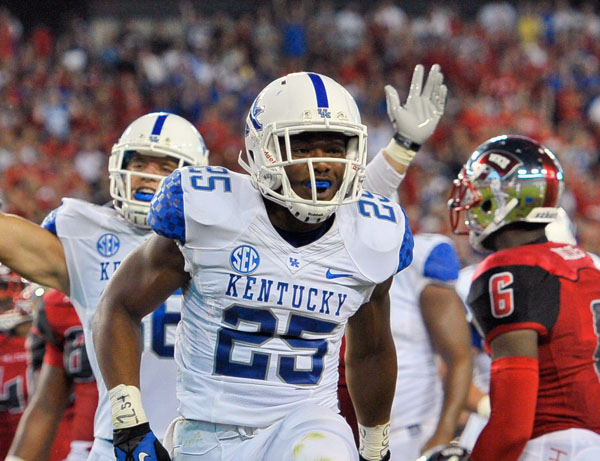 Four SEC teams lost their opening week games – Georgia, Kentucky, Vanderbilt and Mississippi State. Starting 0-2 isn't where any team wants to be, and these four will need to rebound Saturday.
Here is a peak:
Georgia: South Carolina
Main issues: Line(s) of scrimmage
Buzz: It doesn't get any easier for Georgia this week against another top 10 team. South Carolina has dominated the run game the last three years, and they are strong on both lines of scrimmage. Each team will look to impose their will in the running game. Georgia will look to rebound against another top 10 team. Combined, Aaron Murray and Mark Richt are 4-11 the last three years against top 10 opponents. That's not getting it done, but the blame falls solely on neither.
Related: Georgia-South Carolina – what to watch
Kentucky: Miami (OH)
Main issues: Passing game
Buzz: Kentucky will start Max Smith this week, who will look to get the Air Raid offense going. It struggled against WKU's defense last week. Miami gave up 600 total yards to Marshall, including 300 yards on the ground and five TDs through the air. It's the perfect opponent to spark the Cats' offense.
Vanderbilt: Austin Peay
Main issues: Defense giving up big plays
Buzz: Thursday night we saw Ole Miss gash Vanderbilt's defense with big plays. The same was true for Ole Miss, but ultimately, the game was lost on Jeff Scott's 75-yard TD run. The Dores gave up 18 plays over 10 yards and two plays over 30 yards. Both are concerning for a defense that has been great the last two years. The offense is fine, but the defensive front seven is concerning. However, Austin Peay won't pose a threat.
Mississippi State: Alcorn State
Main issues: Offense
Buzz: Dan Mullen's offense is being heavily criticized right now. The Bulldogs were the only team to not score an offensive touchdown last weekend, and he won't have Tyler Russell starting at QB this week. The offense's problems stem back to last year, and the Bulldogs picked right up where the non-creative offense left off. They feature no misdirection plays, nor as many vertical passes, knowing Tyler Russell can sling the rock. Several issues exist with MSU's offense right now, especially with Auburn looming next weekend.
Photo Credit: Jim Brown-USA TODAY Sports