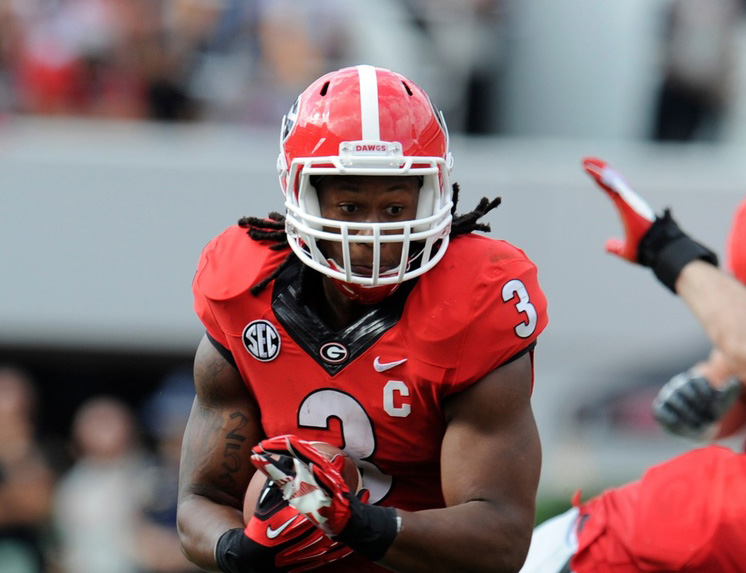 We know the Southeastern Conference is a quarterback-driven league this season.
Georgia's Aaron Murray has overcome personal indictments against ranked teams with consecutive home wins over Top 10 teams while Johnny Manziel's coming off the best statistical season in college football history. Not to be outdone, LSU's Zach Mettenberger has shaken off last season's disrespect with an incredible start to his senior season in Baton Rouge.
Related: What happened to you Saturday?
So where does that leave the guys that move the chains between the tackles, players that chew things up on the ground to open up the passing games at their respective programs?
Statistically, SEC running backs are having another stellar season, headlined by Todd Gurley and T.J. Yeldon. Those two are the No. 1 options on pro-style offenses that rely on a ground-and-pound to follow the success of professional prospect pocket passers Murray and A.J. McCarron.
Related: SEC rushing offenses
Then there's the wildcards at Arkansas and South Carolina, a pair of breakout ball carriers with excellent speed and quickness with a knack for hitting the second-half home run against gassed defenses. Bret Bielema's true freshman stud Alex Collins (597) and the Gamecocks sophomore Mike Davis (508) are among the Top 15 nationally in rushing yards and could finish as the league's top rushers when all is said and done in December.
Arkansas has another quick-hitter, Jonathan Williams, who has already tallied three 100-yard games and is averaging 6.5 yards per carry. What made Bielema's rushing attack so good at Wisconsin was its ability to beat up the opposition with a featured back, then plug-in a second player with just as much talent but fresher legs.
Meanwhile, LSU's Jeremy Hill's solid start to his sophomore campaign with seven rushing touchdowns and 436 yards despite missing the opener against TCU will likely surpass last season's 755-yard, 12-touchdown totals.
When the SEC's fifth-best back is the top-rated bruiser for Les Miles and the Tigers, the league's strength at running back should never be questioned.
@MrPalmettoSDS's TOP 5 SEC RBs
5. Jeremy Hill, LSU: If there's a player I'd want toting the football on 4th-and-Goal from the 2 on this list, it's Hill. At 6-foot-2, 235 pounds, Hill's rarely tackled in the hole by a single linebacker and is shifty enough — despite his size — to house one in seconds from the 35 with a missed tackle at the line of scrimmage.
4. Alex Collins, Arkansas: Collins is the every-down back the Razorbacks envisioned when they handpicked him out of Fort Lauderdale on Signing Day despite his mother's escape with his national LOI. He's not Darren McFadden strong, but he's McFadden fast and that's worked out well for the true freshman thus far in Fayetteville.
3. Mike Davis, South Carolina: Davis is the home run threat of the group who already has three carries of at least 50 yards this season. His three-touchdown performance in the second half Saturday at Central Florida was good enough to earn a coveted helmet sticker from ESPN.
2. Todd Gurley, Georgia: Covered him as a prep behemoth at Tarboro High School in North Carolina and I must say, he's even more dominant as a collegian between the hedges. Gurley's most underrated quality? His ability to catch a pass out of the backfield from Murray and make things happen past the sticks.
1. T.J. Yeldon, Alabama: Nos. 1 & 2 are a toss up and you can't go wrong with either back, but Yeldon's one who's destined to play on Sundays. Much like recent Alabama top-flight ballcarriers, Yeldon's at his best in the fourth quarter when the defense is a juke away from being gashed for a big play. He has seven 100-yard games in 18 career starts.
Photo Credit: Dale Zanine-USA TODAY Sports