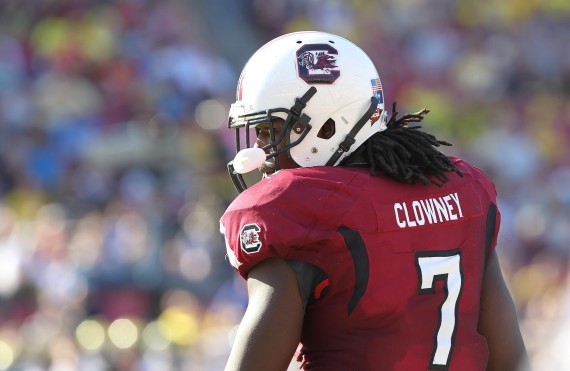 Everything you need to know about:
Three SEC teams go to work tonight, and here are five things to watch between both opening night games:
1. Opening night jitters
Let's face it – all three SEC teams will have opening night jitters, but whichever team hits their groove faster will have the advantage. South Carolina has won all eight of its season openers under Steve Spurrier, but only one featured a sizeable win (41-13 over Southern Miss, 2010). Freshmen will be playing for all three teams, and it will be their first-ever college football game. They will be nervous, but let's see which teams handle the pressure the best given the fact that the entire country will be watching.
2. Freshmen theme
Oh, and speaking of freshmen, several of them will play vital roles tonight. South Carolina will feature LBs Larenz Bryant and Skai Moore, two talented newcomers who will play crucial roles at a position of need. Ole Miss will unveil three freshmen the country wants to see, DE Robert Nkemdiche, WR Laquon Treadwell and OT Laremy Tunsil. All three were the nucleus to the Rebels' top-five ranked recruiting class. Vanderbilt returns several starters and even more veterans. DT Adam Butler is the lone freshman starter for the Dores, but WR Jordan Cunningham and DT Ladarius Banks are two others to watch. New faces in places and positions of need will be a theme for the SEC's first week. All eyes are on Nkemdiche.
3. Four QBs in three games
We'll see four different SEC quarterbacks in two games, and all three teams have different storylines surrounding their quarterbacks. Ole Miss' Bo Wallace returns to try and become the SEC's most improved quarterback. He has plenty of talent and ability, but his progression of minimizing turnovers and becoming a game manager is crucial. Vanderbilt breaks in new starter Austyn Carta-Samuels, a Wyoming transfer, and we've been hearing nothing but great things from ACS during preseason camp. And, finally, South Carolina's two quarterbacks — Connor Shaw and Dylan Thompson. How will Spurrier decide to use them and in what situation?
4. 'Tis your season
True, everyone will be watching college football tonight, because it's college football, but all eyes will be on Jadeveon Clowney. What if he goes all beast mode? What if he actually has the kind of year that all the hype expects him to have? What if he makes 'The Hit' a reality in every single game this season? It's your time, Jadeveon. Will 2013 be the Year of Clowney?
5. Big Mo
Which up-and-coming SEC program will gain the most momentum tonight? Vanderbilt and Ole Miss are fighting for that #7 slot in the entire SEC, and neither can afford to lose this opener and have a successful season – in their eyes. Each program has some of the most momentum they've had in a long time, and in order to keep that flowing in the right direction and keep Mo in their corner, they must win this game.