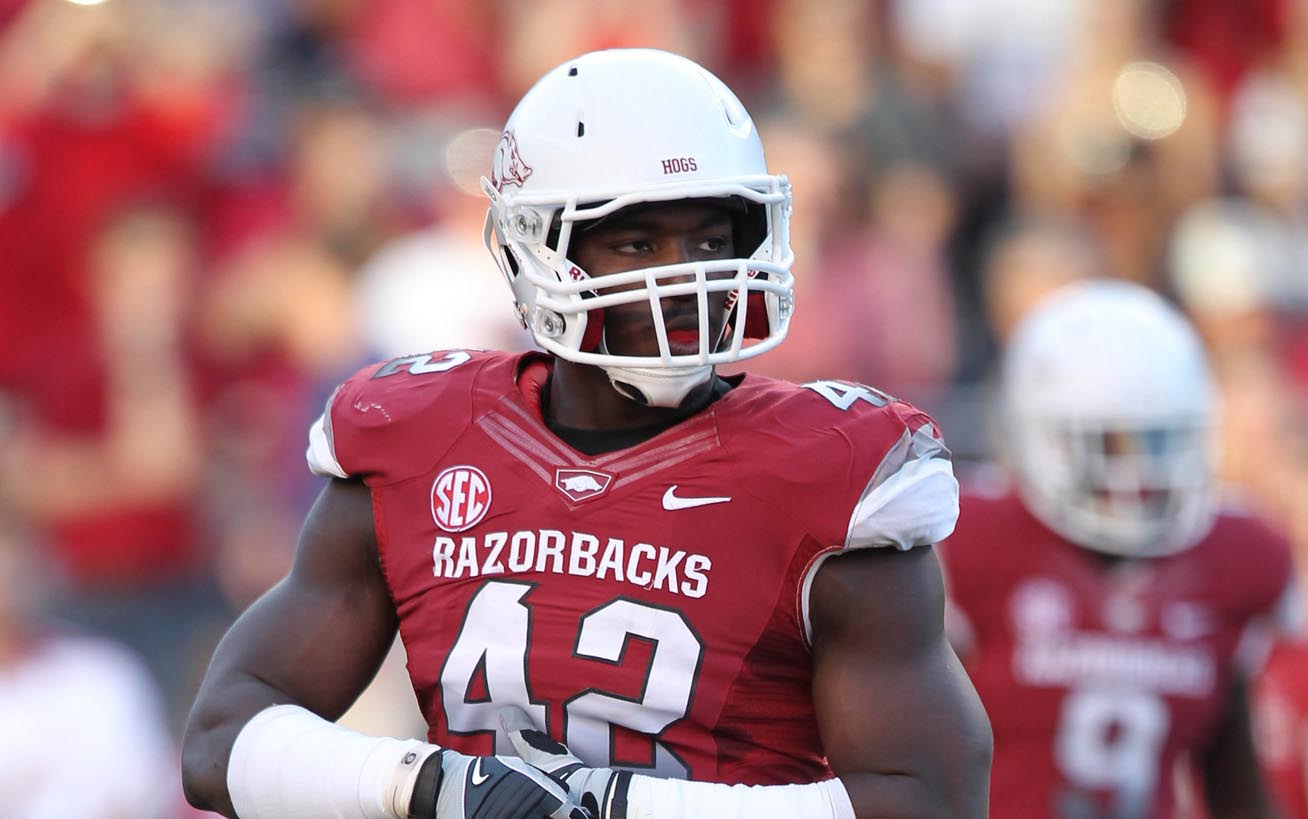 Previous Position Rankings:
Up next in SDS' position rankings are the defensive lines, a position of annual strength for the SEC. But which team has the best defensive linemen?
Drum roll, please…
Two stand out
1. South Carolina
2. Florida
South Carolina's D-line returns for its SEC sack-leading encore in 2013. Led by Jadeveon Clowney, this group includes two other premium linemen in tackle Kelcy Quarles and end Chaz Sutton. JT Surratt will jump into the other vacant tackle slot, while two Gerald Dixons will make up good depth at end and tackle…Florida's line is the deepest and most talented since Will Muschamp's been at UF. Sophomore ends Jon Bullard and Dante Fowler are big-time prospects, and tackle Dominique Easley is the SEC's top tackle. Depth players Darious Cummings, Leon Orr and Damien Jacobs will be tough, along with getting back Buck hybrid and former top overall player in the country Ronald Powell. This line is loaded.
Ready to jump into top 2
3. Arkansas
4. LSU
5. Alabama
6. Ole Miss
Arkansas returns four top linemen in ends Chris Smith and Trey Flowers, along with returning starter at tackle in Bryan Jones. Robert Thomas will start alongside Jones, forming a very strong front four. They may not have much depth, but the starters will be tough against any offensive line…Yes, LSU loses its front four, but they have former five-stars and big-time prospects ready to fill the void. Ends Jermauria Rasco and Danielle Hunter combine with tackles Anthony Johnson and Ego Ferguson to create a strong front four. But Jordan Allen, Tashawn Bower and Christian LaCouture are three youngsters to watch…Alabama replaces two of its front three, with Ed Stinson returning at end. Brandon Ivory and Jeoffrey Pagan should both be starters, along with Dakota Ball, A'Shawn Robinson, Dalvin Tomlinson and Dee Liner. This group is talented and loaded with depth…Ole Miss receives a shot of talent influx with freshman Robert Nkemdiche and JUCO transfer Lavon Hooks. The Rebels also return undersized stars CJ Johnson and Isaac Gross, along with Channing Ward, Bryan Bennett and Cameron Whigham. Watch out for this line, because they're better than advertised.
The replacements
7. Georgia
8. Vanderbilt
Georgia replaces two of three along the defensive front. Garrison Smith returns at end, with a slew of players battling for the other two slots. Tackles John Taylor, Mike Thornton and Chris Mayes will all battle for playing time, while Ray Drew and Sterling Bailey will fight for the other end job. The Dawgs have both depth and talent…Vanderbilt replaces three of its front four, with Walker May returning at end. Caleb Azubike and Kyle Woestmann will battle for the other end job, while Vince Taylor, Barron Dixon and Jared Morse will control the middle. The Dores have really built some quality depth on the defensive line.
Next level
9. Mississippi State
10. Kentucky
Mississippi State has a chance to move up these rankings pretty quickly. I like the makeup of the defensive line with Denico Autry and Preston Smith at end, with Nick James and Kaleb Eulls at tackle. Meanwhile Chris Jones could be a freshman impact player, and tackles PJ Jones and Quay Evans will give the Bulldogs depth at tackle…Kentucky's line is led by Bud Dupree, the electrifying young pass rusher. But there's more to it than that. JUCO transfer Za'Darius Smith joins returning tackles Donte Rumph and Mister Cobble to give the Cats three other solid starters.
Bottom four
11. Missouri
12. Auburn
13. Tennessee
14. Texas A&M
Two defensive ends in Kony Ealy and Michael Sam lead Missouri's line. Is tackle Matt Hoch is ready to emerge as a leader and Sheldon Richardson's replacement? We're going to find out. Lucas Vincent steps into Richardson's spot, but Hoch has to pick up more production. Harold Brantley and Marvin Foster will also work into the tackle rotation, and Shane Ray gives the Tigers depth at end…Auburn's line was very shaky in 2012, and the best player Corey Lemonier is gone. Dee Ford and freshman Carl Lawson are likely starters at end, with Ben Bradley, Gabe Wright and Angelo Blackson vying for the two tackles job. Also, ends Nosa Eguae, Kenneth Carter, Jeffrey Whitaker and Elijah Daniel give great depth…Tennessee returns three starters along the D-line. Tackles Daniel McCullers, Maurice Couch and Daniel Hood form a nice trio, while Jacques Smith moves back to end. Jordan Williams, Marlon Walls and Corey Miller will battle for the remaining open end slot. Many are very high on McCullers and Couch, but they have to show much more in 2013…Texas A&M loses two starters, including top end Damontre Moore. Starting end Julien Obioha returns, along with senior tackle Kirby Ennis to provide experience. But Obioha is the key to the line, along with the Aggies developing another pass rusher. Alonzo Williams, Tyrell Taylor, Brandon Alexander and Daeshon Hall are just three of the many vying for the two open positions.
Photo Credit: Dak Dillon-USA TODAY Sports