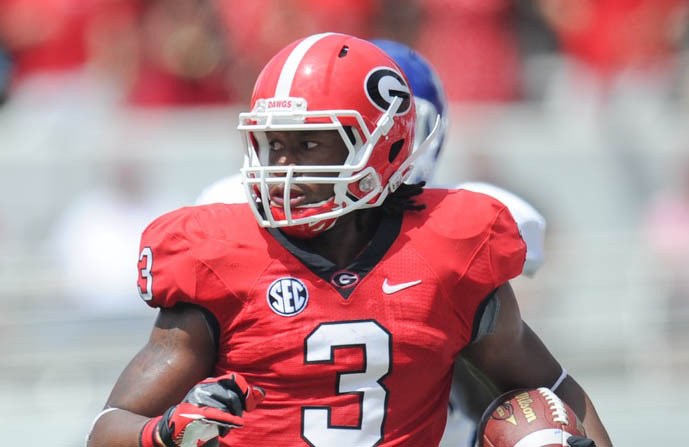 Previous Position Rankings:
The second to last position rankings fall on one of the SEC's most glorified position corps in 2013: running backs. And the SEC always has premium, down-hill runners who are physical between the tackles and can light up the edges.
Let's get it…
Top shelf
1. Georgia
2. Alabama
3. LSU
4. Texas A&M
Georgia's led by two super sophomore backs in Todd Gurley and Keith Marshall. Anytime any team has two of the top three backs in the league, that's just unreal. What will Gurley and Marshall have in store for 2013?…Alabama loses Eddie Lacy, but they return TJ Yeldon, who arguably has more upside than Trent Richardson, Eddie Lacy and Mark Ingram. A handful of backs will be vying for the backup job. Watch for Derrick Henry, Kenyan Drake, Tyren Jones, Jalston Fowler, Alvin Kamara, Dee Hart and Altee Tenpenny to fight for No. 2. My vote? Derrick Henry…LSU features three big-time backs year after year. This year, it's Jeremy Hill, Alfred Blue and Kenny Hilliard. Blue returns from an injury, and Hill could serve some suspension time. With Jeremy Hill, the Tigers are top three, but without him, they slide to No. 4…Texas A&M's backfield is loaded. Returners Ben Malena and Trey Williams welcome finally eligible transfers Brandon Williams and Tra Carson into the mix. Malena is the 'returning starter', but his job could be in jeopardy with uber-talented Brandon Williams. Don't sleep on the Aggies' backfield.
Next level
5. Mississippi State
6. Auburn
7. Florida
8. South Carolina
Mississippi State returns 1,000-yard rusher LaDarius Perkins. Perkins needs to carry more of the load in 2013, while backups Josh Robinson and Derrick Milton will see carries. Robinson needs more touches, too, because he's a play-maker…I love the makeup of Auburn's backfield – a thunder and lightning combo. Returning 1,000-yard rusher Tre Mason combines with JUCO transfer and Ben Tate-look alike Cameron Artis-Payne to create a formidable combo for Gus Malzahn. Watch out for these two…Florida's Matt Jones is going to be a great back, especially behind Florida's improved line of scrimmage play. Freshman Kelvin Taylor and returner Mack Brown should be in the mix. Freshman Adam Lane could work his way into the rotation at some point during the season…South Carolina will be just fine during the post-Lattimore era, because they were 9-1 without him. Mike Davis and Brandon Wilds will carry the load, but watch out for Shon Carson and freshman David Williams, too.
Talented trios
9. Tennessee
10. Ole Miss
11. Missouri
Tennessee is one of the more underrated backfields, and running behind the Vols' nasty and dominant O-line, the running game stands to take a big leap forward. Marlin Lane returns, along with Rajion Neal, but newcomer Alden Hill could be better than both right now. All three will see time during the season…Ole Miss returns senior playmaker Jeff Scott and backups I'Tavius Mathers and Jaylen Walton. Newcomers Mark Dodson and Kailo Moore could be surprise players for the Rebels…Missouri returns Henry Josey, who was injured all of last season. He was a 1,100-yard rusher in 2011 before his injury. Now, he makes his long-awaited return. I can't wait to see him play and hope he's 100 percent. Marcus Murphy also returns, along with the speedy Russell Hansbrough. The position is deep, and if Josey returns 100 percent, they are going to be much better than 11th.
Bottom three

12. Arkansas
13. Vanderbilt
14. Kentucky
Arkansas' two young backs Jonathan Williams and Alex Collins are going to be good. Will it be this year? I think it depends more if the Hogs can develop a passing game to offset the running game. Williams and Collins both look capable of hauling the load for the Razorbacks, and Collins looks like a cross between Trent Richardson and Maurice Jones-Drew. Have fun living up to that one…Vanderbilt loses program pillar Zac Stacy, but the Dores return speedy Brian Kimbrow and Wesley Tate. Watch out for Jerron Seymour, too, as he'll work into the rotation. But Kimbrow and Tate are the two main rushers to watch…Kentucky has RB depth with Raymond Sanders and Jonathan George, but Josh Clemons was hurt again over the summer. Dyshawn Mobley should work into the rotation, as well as freshman Jojo Kemp.
Photo Credit: Randy Sartin-USA TODAY Sports