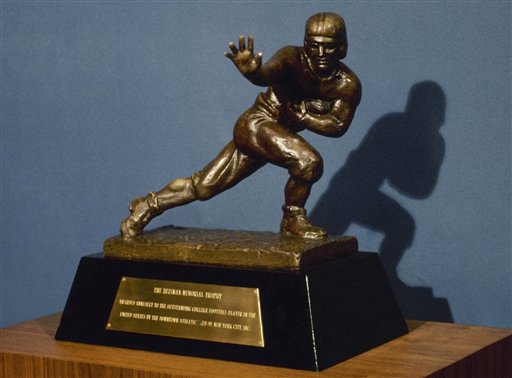 Related Articles:
Eleven of the last 12 Heisman winners have been quarterbacks, and Michigan's Charles Woodson remains as the only primarily defensive player to win the award since 1950.
There's a chance to make history.
Johnny Manziel returns to defend his award, and Jadeveon Clowney wants to take it away from him.
Let's take a gander at the top six candidates, as well as other dark horse players:
1. Johnny Manziel, QB, Texas A&M: When a player automatically wins the award, it should make him the non-favorite for it the next year. There's only ever been one two-time Heisman winner in OSU's Archie Griffin, but there's only been one freshman winner, Johnny Manziel. Manziel should open the favorite, and the Aggies' offense won't skip a beat. He's not getting any slower, and he'll improve as a quarterback because he's a tireless worker who wants to be great. Will he top 5,116 yards and 47 touchdowns?
Related: Johnny Rock Star ready for his encore
2. Jadeveon Clowney, DE, South Carolina: Clowney is trying to become the first true defensive candidate to win the award, and he arguably has the most momentum in college football, thanks to 'The Hit'. Clowney's racked up 35.5 tackles for loss and 21 sacks in two years. Terrell Suggs set the single-season sack record in 2002 with 24, but he wasn't going against elite O-linemen every week. With a big year, Clowney should get to New York. With a huge year, it's conceivable he could hoist the Stiff Arm Trophy.
3. AJ McCarron, QB, Alabama: The poised two-time national championship winner is positioned to lead the Tide to try and three-peat. He could become the first quarterback in the history of college football to accomplish the feat. An undefeated season and a big SEC Championship Game could be too much for voters not to send him to New York. He has the talent around him, and the schedule sets up perfectly.
4. Todd Gurley, RB, UGA: Gurley is the biggest bully running back in the country. He shelled out 1,385 yards and 17 touchdowns in a ridiculous freshman season. Gurley's the best running back in college football, going toe-to-toe with Bama's TJ Yeldon, and great backs always have a huge opportunity to win the award. UGA returns all five O-linemen, as well as Aaron Murray. The passing game will once again create a great running game. You can watch Gurley's top 10 plays here.
5. TJ Yeldon, RB, Alabama: If not for Gurley, TJ Yeldon would be the best running back in the country. His unique blend of raw size, speed and power combines to give him a higher ceiling than Mark Ingram, Eddie Lacy and Trent Richardson. Yeldon is coming off a 1,108-yard ,12-touchdown freshman performance. It doesn't get any better than that, unless your name is Todd Gurley. You can watch Yeldon's top 10 plays here.
6. Aaron Murray, QB, UGA: Murray rounds out the SEC's main contender list. His 10,901 passing yards and 95 touchdowns are missing one thing only: a championship. If Murray leads Georgia into Atlanta and wins a championship, look out. He threw for 3,893 yards and 36 touchdowns, and he's on his way to owning virtually every passing record in the SEC history.
Dark horse candidates no one is talking about
7. Nick Marshall, QB, Auburn: I'll go ahead and start this off right – Cam Newton did it. Marshall and Newton are two different players, but there will be comparisons. Marshall combined for 4,237 total yards and 37 touchdowns, but he also threw 20 INTs last year in JUCO. Inserting Marshall into Gus Malzahn's offense could be the perfect fit. The only problem is that Auburn will have to find a way to reel off nine or 10 wins if Marshall has a serious chance.
8. Keith Marshall, RB, Georgia: Marshall's due for a breakout season. He rushed for 759 yards and eight touchdowns as a freshman, playing in Gurley's shadow, but this could be his big breakout year. Marshall may have more raw talent than Gurley, but can he run between the tackles? He's up to 220 pounds now, and his body is ready for punishment.
Related: Don't call them Gurshall
9. Zach Mettenberger, QB, LSU: The lethargic offense is no more for the Tigers, and the best thing that ever happened to Mettenberger could be Cam Cameron. He'll add more rhythmic throws that will get Mett in sync earlier. He has a veteran O-line, a stacked backfield and plenty of receivers at his disposal. If Cameron helps develops Mett into a downfield passer, look out. The Tigers will not only be in the championship hunt, but Mett will be the main reason why.
10. Alfred Blue, RB, LSU: Jeremy Hill has as much raw talent as both Gurley, Yeldon and Marshall, but off-field issues will keep him from winning the award. But senior RB Alfred Blue could surprise everyone. Every year a new back emerges to lead LSU; Blue was the leader last year before his injury, and he will start the year off as the featured back in 2013. Blue will remind you of TJ Yeldon, with a unique combination of size, speed and power. He's a great looking running back.