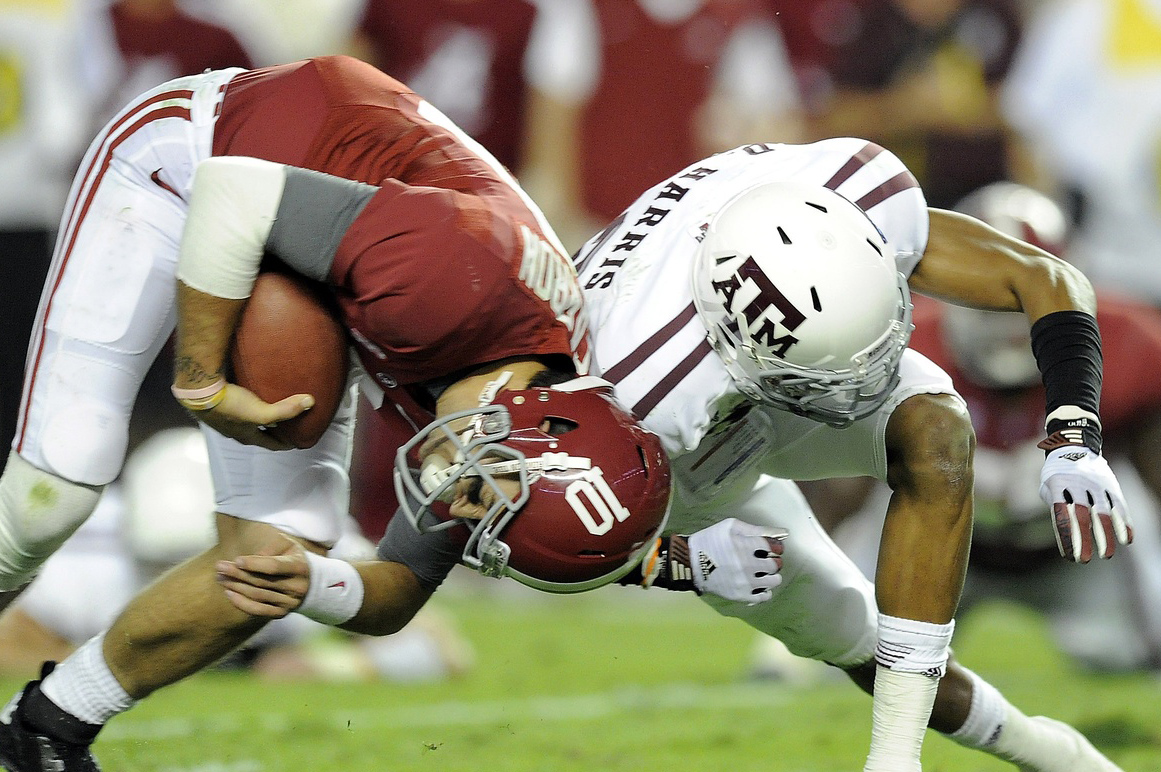 Related Articles:
The SEC welcomes college football's biggest game of the season Saturday when Alabama travels to College Station.
Kevin is 14-8 ATS and 22-3 overall, while I'm 11-11 and 21-4 overall.
Related: SEC Week 3 schedule
On to week three…
#7 Louisville (-13) at Kentucky
Jon: I truly hope Kentucky somehow finds a way to pull off the monumental upset. That would be great for the program, but Cards are just too good. Louisville 41, Kentucky 21
Kevin: This line is a no brainer. Louisville wins and covers. Cardinals 45, UK 20
Related: SEC Power Rankings
Tennessee at #2 Oregon (-27)
Jon: Tennessee is playing much better than last year, but Oregon is just too nasty and the execution is just too good on offense. The Ducks could be the best team in the country. Oregon 49, Tennessee 20
Kevin: I love Oregon's offense, and they will cover. Ducks 47, Vols 17
Related: Former SEC players on NFL rosters for 2013
#25 Ole Miss at Texas (-2.5)
Jon: The time for Ole Miss to get a signature win during the Hugh Freeze era is now. Does Hugh Freeze get a job interview afterward? Ole Miss 31, Texas 29
Kevin: Ole Miss is playing great, but Texas wins and covers. Horns 38, Ole Miss 35
#1 Alabama (-8) at #6 Texas A&M
Jon: Ah, the game of the millennium? It may not turn out to be the biggest game of the season. But this game is the perfect reason why college football is incredible. I just can't see Texas A&M's porous defense stopping the Tide's running game. Johnny Manziel has a huge day, and Texas A&M covers. Alabama 35, Texas A&M 31
Kevin: Johnny Manziel is going off, and the defense overachieves. They will rise to the occasion. Texas A&M 38, Alabama 36
Related: Alabama vs. Texas A&M – Who has the edge?
Mississippi State at Auburn (-6)
Jon: Both QBs are going to have to play and be effective for Mississippi State, and this game usually turns out pretty weird. I really like Auburn, but MSU's run defense is better than what most think. AU wins, but MSU covers. Auburn 20, Mississippi State 16
Kevin: I have no confidence in MSU yet. Auburn has more talent and the better head coach. Is this the most important game of Mullen's career? Auburn 27, Mississippi State 20
Southern Miss at Arkansas (-22)
Jon: Arkansas had a letdown week against Samford, but last year's team would have lost that game. Arkansas bounces back with a better performance and covers. Arkansas 36, Southern Miss 13
Kevin: Arkansas should dominate Southern Miss, but it could be more like last week's game, much closer than some anticipate. Hogs 34, Southern Miss 17
Vanderbilt at #13 South Carolina (-13.5)
Jon: This is a big spread, even in Williams-Brice. The Commodores will keep this game close and could find a way to win late. But the Gamecocks bounce back with a win. South Carolina 27, Vanderbilt 17
Kevin: South Carolina will bounce back with a win, but Vandy covers. USC 29, Vanderbilt 24
Kent State at #8 LSU (-36.5)
Jon: LSU's offense is elite through two weeks, and Zach Mettenberger has been very good. The Tigers will win, but they don't cover. LSU 49, Kent State 13
Kevin: LSU will blow out Kent State. Tigers 52, Kent State 10
Photo Credit: John David Mercer-US PRESSWIRE