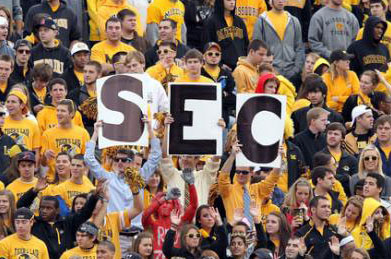 Related Article:
Week four is in the books, and it's absurd we're nearly 30 percent done with the 2013 season. Hold on to your hats, because things are about to get very interesting.
Here are the main takeaways from week four action:
Related: Alabama vs. Colorado State highlights
Lackluster at the top: Three SEC favorites Alabama, LSU and Georgia all had lackluster games. None of the three convinced they should be the outright favorite in the SEC. Alabama struggled at times on offense against Colorado State, as the Tide only mounted 66 yards rushing and was 2-10 on third down in their 31-6 win. LSU jumped out to a blazing 21-0 start against Auburn, but LSU looked bored in the second half and didn't finish. Auburn had much more energy down the stretch but lost 35-21. And Georgia's special teams were less than adequate, as North Texas ran back a 99-yard kickoff and blocked a punt for a TD. None of the three looked capable of winning a national championship yesterday.
Related: Three takeaways from Georgia's win over North Texas
Murphy's Law: Florida junior QB Tyler Murphy saved the day for the Gators. After Jeff Driskel went down with a season-ending ankle injury on a pick-six, Murphy was more than adequate moving the Florida offense. He finished with 218 total yards and two TDs. Florida's offense flowed better with Murphy than in the first two games with Driskel. Murphy led the Gators to a 31-17 win and the offense to a perfect 4-4 in the red zone, including three touchdowns. Had Murphy played against Miami, is Florida sitting 3-0?
Related: 5 takeaways from Florida vs. Tennessee
A new East challenger: A team nobody is talking about in the SEC is Missouri. Can they sneak into the SEC East's third slot? Better yet, with Florida, South Carolina and Tennessee at home, can Mizzou slide into the No. 2 slot in the East? Sure, Indiana may not be a great win, but it's a good win for a team that's building confidence. The Tigers mounted 623 total yards, and QB James Franklin is a different player this year. He combined for 404 yards and three TDs, leading the Mizzou to a 45-28 win. But the game ball goes to the defense and Dave Steckel for a big night. Look out for the quiet Tigers.
Showing some grit: Yeah, Tennessee and Auburn looked bad during the first halves, but both showed some grit and desire down the stretch. Tennessee pushed Florida late into the fourth quarter and had a chance to cut the lead to a TD, but they ultimately fell short. Auburn had much more energy to finish than did LSU, and the Vols finished strong and never quit. Each program can take some positives away from their second halves.
Work to do: Arkansas blew a 17-point lead in the second half against a team of similar talent in Rutgers. The Hogs' defense, which looked so good in nearly three full quarters, was a major letdown, as was their special teams. Rutgers returned a 58-yard punt in the third quarter, and they had another 47-yard return late in the fourth to set up the go-ahead touchdown. Under backup QB AJ Derby, Arkansas only produced 283 total yards and 101 rushing yards, which is surprising for a team that was averaging nearly 300 yards rushing through the first three weeks. For the first time all season, Arkansas couldn't simply enforce their will on an opponent.
Regression: Vanderbilt's offense is going backwards. Talk about a disinterested team – had Vanderbilt been playing a more worthy opponent than 0-3 UMass, the Dores would have lost this game. Which way is the offense headed right now? You're either up or your down, and Vanderbilt isn't headed up. Next week's game against UAB will give them yet another tune-up game before Missouri. But if you're James Franklin, you can't be happy with the way the Commodores started yesterday. It was lethargic and non-aggressive, and his team looked disinterested.
Aggies' defense: Johnny Manziel combined for 346 yards and three touchdowns, but let's talk about the defense. They had been averaging giving up 36 points per game, but they held SMU to 13 points. This was the moniker of last year's team; the defensive unit got much better as the season progressed, and they improved as a unit. They were flying around better as a team yesterday, and this is an obvious step in the right direction. A big trip to Arkansas looms next week.
Related: Texas A&M vs. SMU highlights
Two trifectas: Mississippi State throttled Troy, which is exactly what they're supposed to do. Credit Dan Mullen and his team for an offensive explosion after so much criticism and critique over the last week. QB Dak Prescott is growing as a quarterback, and that's great news for an offense that wasn't growing at all under Tyler Russell. The most interesting part of this game was that Prescott and WR Jameon Lewis scored TDs three different ways. Prescott threw for one, ran for two and caught a TD pass from Lewis on a trick play, but Lewis matched it with three of his own — one rushing, one receiving and one passing. Has that ever happened in NCAA history?
Related: MSU vs. Troy highlights
Jeremy Hill: Georgia's Todd Gurley is the best running back in the country, but LSU's Jeremy Hill may give him a run for his money. It's Jeremy Hill, not TJ Yeldon, who's emerging as the No. 2 back in the SEC. Behind his 25 carries for 183 yards and three TDs, can he challenge Gurley for best in the SEC? Hill looked unstoppable against Auburn, averaging 7.3 yards per carry. He scored on runs of 49, 10 and 6 yards. Hill vs. Gurley ensues in Athens next week.
Related: LSU vs. Auburn highlights
Photo Credit: Derick E. Hingle-USA TODAY Sports