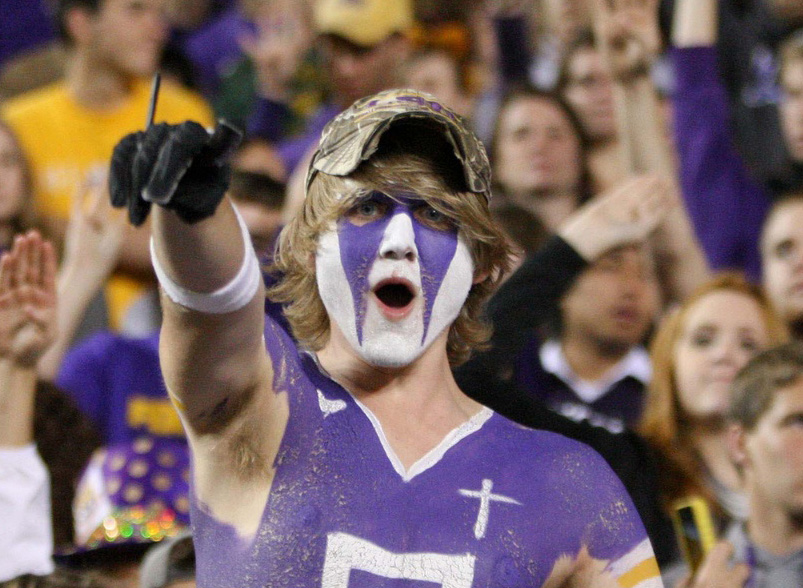 Related Article:
Week seven was a weekend we all had circled on our calendars. It's essentially another Separation Saturday with several big games between Missouri-Georgia and Florida-LSU.
Related: SEC Strength of Schedule
I'm still eking out a lead against Kevin. I'm 38-19 ATS and 50-7 overall, while Kevin is right on my heels at 34-23 ATS and 49-8 overall.
Related: SEC attendance numbers through six weeks
On to week seven we go…
#25 Missouri at #7 Georgia (-9)
Jon: This will be a classic Big 12-style shootout. Are you ready for this? Missouri goes on the road and pulls the upset. I love how they're playing, and Georgia's defense hasn't taken that step I thought they would. And I haven't even mentioned Todd Gurley probably won't play. I'm no longer welcome in the state of Georgia, I assume. Missouri 41, Georgia 39
Kevin: Too obvious of an upset possibility? I like Aaron Murray to lead his team to a win here. I'm not ready to buy into Missouri after a Vanderbilt win. Aaron Murray and Georgia is not Vanderbilt even if they're missing essentially all of their playmakers. Georgia's defense is nothing to write home about, but they have some athletes over there that will make a few plays against Mizzou. Georgia 41, Mizzou 33.
Related: Missouri vs. Georgia preview
#14 South Carolina (-6) at Arkansas
Jon: The Gamecocks' defense has been the reason teams have gotten back into games late over the last several weeks, but Arkansas isn't the kind of offense that's going to put up numbers in the passing game. Gamecocks win and cover on the road. South Carolina 31, Arkansas 24
Kevin: I like the Gamecocks, but I also think it'll be close. This isn't a team that puts teams away right now. South Carolina 24, Arkansas 23.
Related: SEC strength of schedule through six weeks
Western Carolina at Auburn (-43)
Jon: Auburn essentially gets a week to plan and prepare for Texas A&M. Auburn wins but doesn't cover the 43-point spread. The Gus Bus will call off the dogs. Auburn 48, W. Carolina 10
Kevin: 43 points for Auburn? Wow. Too big of a spread. Auburn 38, W. Carolina 7.
#17 Florida at #10 LSU (-7)
Jon: This is a fair line, considering LSU's explosive offense has put up some serious numbers. However, the Gators' defense and emerging offense will cover the spread. LSU is just too balanced, and it will be tough even for the Gators' top defense to slow down. LSU 31, Florida 30
Kevin: Fascinating matchup. Strength vs strength, and I'm going with the upset. Florida's defense and LSU's offense are world-class; however, Florida's offense has been improving faster than LSU's defense in recent weeks with Tyler Murphy taking over at quarterback. Florida 24, LSU 21.
Related: Florida vs. LSU preview
#1 Alabama (-27.5) at Kentucky
Jon: Kentucky has been playing much better, and Alabama looks like they're finally hitting their stride. The Tide haven't allowed an offensive TD in three straight games now. That ends Saturday but UK covers. Alabama 34, Kentucky 7
Kevin: I think Alabama will cover the spread and pound Kentucky. Alabama begins their march to the BCS Championship this week. Alabama 38, Kentucky 7.
Bowling Green at Mississippi State (-10)
Jon: MSU better watch out for Bowling Green, because they're probably the best team in the MAC. But State and Mullen has been thumping non-conference fools at home. They win and cover. Mississippi State 45, Bowling Green 28
Kevin: This is a game that nobody will watch unless you're a fan of either team. That includes myself. Miss State covers and wins 28-14.
#9 Texas A&M (-6.5) at Ole Miss
Jon: This could turn into a track meet. The better defense is the Rebels, but the best player belongs to Texas A&M. The Aggies go into Oxford, win and cover. Texas A&M 45, Ole Miss 35
Kevin: Ole Miss is falling rapidly. I think they continue to fall although that offense gets a bit back on track against the abysmal Aggie defense. Texas A&M 41, Ole Miss 31.
Related: SEC Bowl Projections