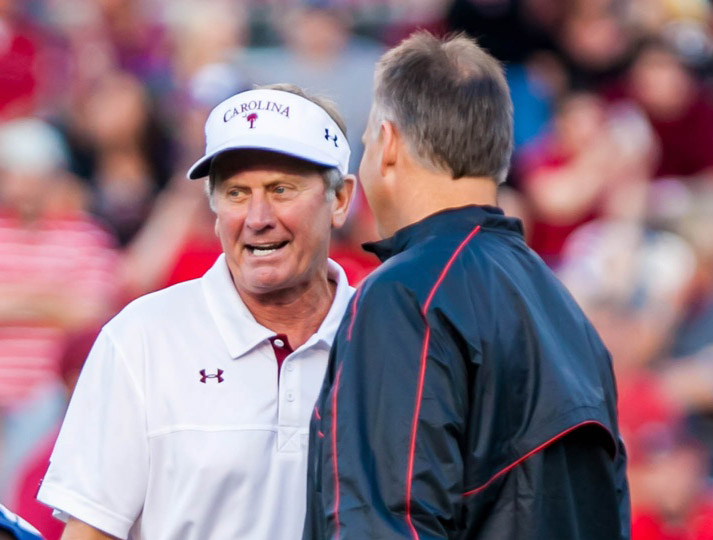 The SEC is rooted in its traditional rivalries, filled with old-fashioned hate.
Traditional powers like Alabama and Tennessee play yearly in the game known as the Third Saturday in October. Georgia and Auburn square off annually in the Deep South's Oldest Rivalry. And the old hate isn't new hate; it's not fresh hate. In fact, the Deep South's Oldest Rivalry has lost its spice, and so has the lopsided Bama-Tennessee bout.
But there's a new rivalry quickly emerging in the SEC: South Carolina vs. Georgia.
Related: Will this finally be Georgia's championship year?
It's a rivalry filled with new-fashioned hate. It's underrated, and it's real.
Historically, Georgia has three main rivals: Georgia Tech, Florida and Auburn. All three are must-see staples of the annual schedule. We're talking long, historical rivalries; all three started playing Georgia before 1905. I'm a sucker for those types of rivalries.
South Carolina, on the other hand, really only hangs its hat on one rivalry: Clemson. Yes, the Garnet Army hates the wrong Death Valley. Hell, Carolina hasn't beaten anyone enough to make any other rivalries on its schedule.
Until now.
The Gamecocks have beaten the Bulldogs three consecutive years and four of the last six games. It gets echoed during UGA pressers now that the Bulldogs are talking more about the Gamecocks than they are the Gators. That's new hate talk.
Georgia and Carolina periodically played each other before 1992, before USC joined the SEC. But the Bulldogs dominated the series up to that point. The two teams met 44 times before '92, with Georgia winning 33 of the 44 times. The domination continued after the Gamecocks joined the SEC, where UGA has won 13 of 21 games. UGA leads the series 46-17-2.
The biggest reason this game has developed into a rivalry? Steve Spurrier.
Since his days at Florida, where he developed a keen hatred for Georgia and put a target on their back, Spurrier despises the Dawgs. He's like a little kid on Christmas morning after he beats Georgia, running toward midfield shaking Mark Richt's hand and smiling for the cameras and the ladies.
Related: Why South Carolina is a championship contender
Ask Georgia fans whether they hate Spurrier; they do, but they also respect him. How can you not respect a coach who has turned two programs into winners during the golden age of the SEC? Interestingly, I'm not sure UGA respects South Carolina as a team or program yet, despite respecting their coach.
Spurrier's riled up Georgia in previous years about the schedule. Before the 2012 season, Spurrier jabbed Georgia about playing Ole Miss and Auburn, while he and his club faced LSU and Arkansas, two teams competing for the West crown.
Richt noted this offseason that Spurrier isn't talking much this year, because UGA's schedule is tougher, tougher than Carolina's.
Another big proponent of this developing and underrated rivalry is when the game is played. After a brief lapse in scheduling after Texas A&M and Missouri joined the conference, this game moves back to week two, where it belongs. Historically, the Tennessee-Florida bout has decided the early favorite in the East during the third or fourth week. But not anymore. The early East favorite exits the winner of Carolina-Georgia.
To add more fuel to the fire, despite losing to South Carolina three years in a row, Georgia has won the East the last two years.
Georgia is also the closest SEC school to South Carolina, geographically. That makes for continued recruiting battles, some which have been heated since Carolina started winning.
Georgia went into Columbia last season and left with their tail between their legs. The Bulldogs were ravaged 35-7 in front of a packed house and a crowing cock.
This is such a sexy developing rivalry that evolves each and every year, and you just never know what's in store or how either team will react.
Carolina and Georgia are both right in the middle of national championship talks, and they will hit each other in the mouth during week two.
Photo Credit: Daniel Shirey-USA TODAY Sports