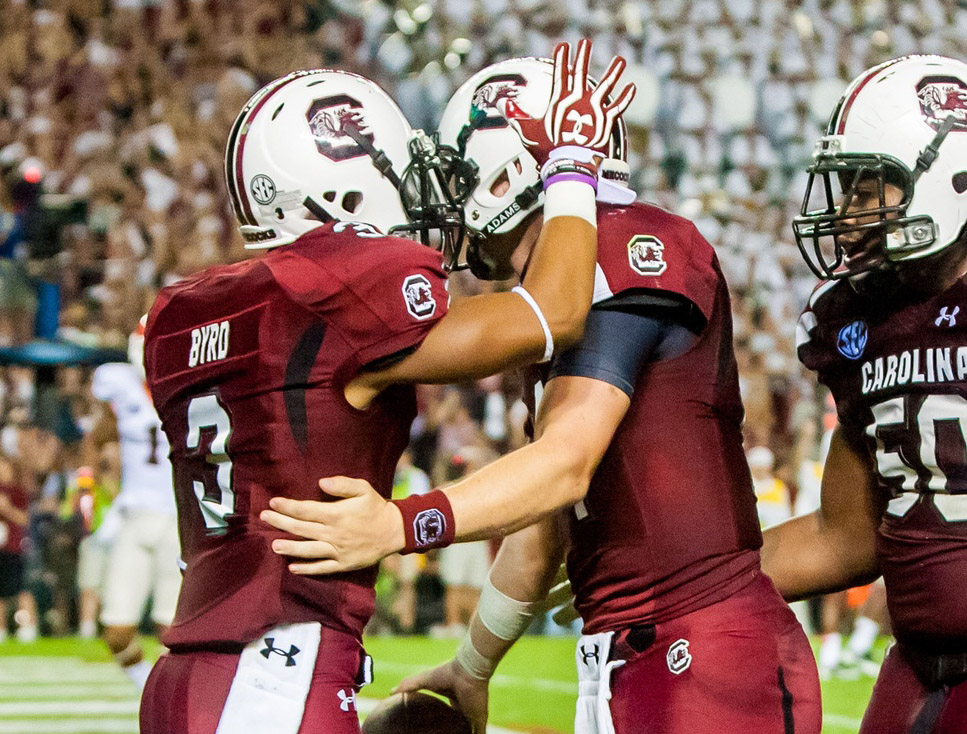 Related Articles:
South Carolina and North Carolina feature a border battle on college football's opening night that is sure to be entertaining and heated.
Here's what to watch for:
1. Clowney & Company: Not only will we see a premier matchup between Jadeveon Clowney and UNC OT James Hurst, but also the Gamecocks' D-line will see three new starters in the Heels' O-line. That's more than enough reason for Clowney and company to be licking their chops. USC's defensive front led the SEC with 43 sacks, and their ability to make senior QB Bryn Renner uncomfortable will be key. How many times will announcers say James Hurst's name for all the wrong reasons?
Related: Get to know North Carolina
2. No controversy: Much has been written about QBs Connor Shaw and Dylan Thompson. Who will start? Is Thompson the better QB? All are valid questions, but Shaw will be the starter, and Thompson will be the reliever. They're like Kevin Nash and Sting – lame excuse to throw WCW in – as tag team champions. Shaw will bore you with his dump offs and seven-yard scrambles, and Thompson will come off the bench with ice water in his veins. But together they're capable of leading the team, and Spurrier will use them appropriately.
Related: No controversy, Shaw is the SEC's most underrated player
3. Containing Davis, Ebro: The Heels are led by the senior Renner at QB who returns his two favorite targets in WR Quinshad Davis and TE Eric Ebron. Davis caught 61 passes for 776 yards and five touchdowns, while Ebron caught 40 for 625 yards and four touchdowns. The Gamecocks return an experienced secondary but replace five top tacklers at linebacker. Watch out for Ebron attacking the second level of the defense.
4. Watching Martin: While all eyes will be on Clowney, UNC has their own future NFL DE Kareem Martin. He's one of two returning defensive linemen for the Heels, and he racked up 40 tackles, 15.5 tackles for loss and four sacks in 2012. The O-line was the biggest area of concern for the Gamecocks in 2012. How well they protect the quarterback will be key, along with establishing running lanes for Mike Davis and Brandon Wilds.