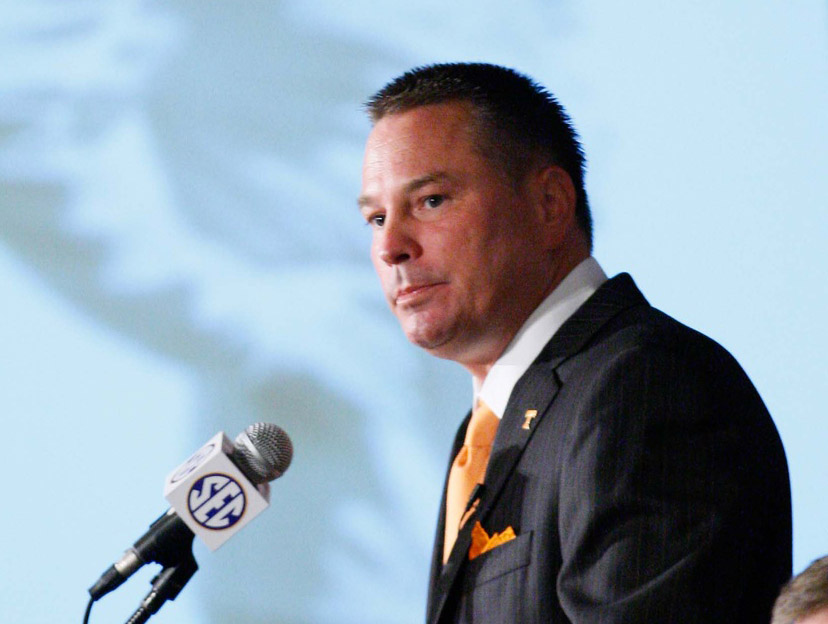 Will anyone slow down Alabama's reign at the top? Can Florida shake off preseason disrespect to challenge for the East? So begins @MrPalmettoSDS's two-week, daily series with a look into the crystal ball on how each of the Southeastern Conference's 14 programs will finish this season.
AT A GLANCE
Aug. 2: Kentucky
Aug. 3: Auburn
Aug. 4: Tennessee
Aug. 5: Mississippi State
Aug. 6: Mizzou
Aug. 7: Ole Miss
Aug. 8: Vandy
Aug. 9: Arkansas
Aug. 10: Florida
Aug. 11: LSU
Aug. 12: South Carolina
Aug. 13: Texas A&M
Aug. 14: Georgia
Aug. 15: Alabama
TENNESSEE VOLS (5-7, 1-7 in 2012)
Related: How does Tennessee top the SEC in recruiting?
THE 2013 BATTLEFIELD
Aug. 31 vs. Austin Peay (W) = Several prized freshman should make their debuts for the Vols and the quarterback battle between Justin Worley and Nathan Peterman may become a little more clear. Both will play.
Sept. 7 vs. Western Kentucky (W) = Wide receivers Alton "Pig" Howard and Vincent Dallas should have big afternoons against former SEC coach Bobby Petrino and the Hilltoppers. Western Kentucky's defense wasn't as bad as Tennessee's unit in 2012, but its secondary was still susceptible to the deep ball.
Sept. 14 at Oregon (L) = Tennessee's horrid stretch against ranked teams continues with an abusive thumping on the pond.
Sept. 21 at Florida (L) = It's tough to find a schedule with consecutive road game as difficult as trips to Autzen and Gainesville, but the Vols would have a better chance at winning this one against an East rival.
Sept. 28 vs. South Alabama (W) = Likely the least challenging game at Neyland this season, the Vols get a chance to move down the depth chart and see what's available after the first and second-stringers late in the second half. This is the only matchup from Sept. 14 to Nov. 2 the Vols will be favored in.
Oct. 5 vs. Georgia (L) =  Rarely do the Bulldogs fall victim to the upset and for the Vols, that signature win may come the following week against South Carolina.
Oct. 19 vs. South Carolina (W) = One of the major upsets in college football this season. Tennessee will be coming off a bye and the Gamecocks possibly unbeaten and ranked in the Top 5. It's one of those 'ideal conditions' situations for South Carolina which historically hasn't played well at Tennessee.
Oct. 26 at Alabama (L) = Coming off an emotionally-high victory over the Gamecocks, this road trip to Tuscaloosa brings the Vols back down to reality.
Nov. 2 at Missouri (L) = The first of back-to-back swing games on the schedule, should Tennessee split against either of the Tigers, then Jones and the Vols may go bowling in Year 1.
Nov. 9 vs. Auburn (L) = One of those late-season SEC Network-only games that goes down to the wire with a field goal being the difference. This one's a toss-up and a swing game.
Nov. 23 vs. Vanderbilt (L) = James Franklin and the Commodores make it two in a row against Tennessee and solidify a fourth-place finish in the East.
Nov. 30 at Kentucky (W) = In this season finale battle of two East teams at the bottom, the Vols take the Bluegrass bout with more athletes on the defensive side of the football.
Related: Why Butch Jones is the right coach for the job
PROJECTED FINISH: 5-7, 2-6 (5th in East)
THE SKINNY: Will the Tennessee faithful be satisfied with a 5-7 in Butch Jones' first season? Of course not, but that could be where the Vols are headed with a schedule that's filled with landmines against five preseason Top 10 powerhouses. The Vols will be better than Kentucky, but shouldn't they be? This is Tennessee we're talking about, where talent used to come in droves.
Patience, Vol Nation. Jones has much work to do.
Photo Credit: Jim Brown-USA TODAY Sports