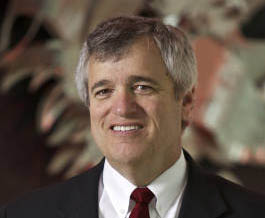 One day after Texas A&M University System chancellor John Sharp backed Johnny Manziel, Texas A&M athletic director Eric Hyman offered a much more expected statement.
Chancellor Sharp chided the NCAA and questioned the fairness about it profiting off the student athlete two days ago, via DallasNews.com.
"I also think that there's something, you know this is just me talking not as chancellor of the system, something is wrong with the system when we can make money off of our football players, the NCAA make money off of our football players and they can't be treated like Olympic athletes.

"I suspect, courts or somebody or the NCAA is going to have to take a look at that and see whether or not they're violating someone's anti-trust deal. How can the NCAA, for instance, make money off of his jerseys and he can't, you know, make two bucks off of signing something like that, like other athletes can who happen to be in the Olympics? That's just my opinion."
Athletic director Eric Hyman walked a much straighter company line. In an e-mail to boosters in the "12th Man Foundation," Hyman confirmed there is no timetable for his star quarterback's investigation to be resolved, via My San Antonio.
"Everyone wants to know the status of our quarterback, Johnny Manziel. As we have stated previously, our practice is to not discuss such matters publicly. Our foremost priority, regardless of the circumstances, is to protect and support our student-athletes while also upholding the integrity of the University and complying with NCAA rules and regulations.

"There simply is no blueprint for handling what Johnny and his family have gone through since December. What we have done is surround Johnny with a support network of dedicated staff from the areas of administration, academics, scheduling, compliance, media relations, and even security to assist him during these unprecedented times. Texas A&M also has retained the services of one of the most respected legal firms in the country, Lightfoot, Franklin & White, to assist us.

"Any decisions we make regarding this situation will be based on an analysis of available facts. Be assured that we would like to reach a resolution as quickly as possible, but at this stage, we are not in a position to speculate on a specific timeline."
Manziel has participated in every practice, and the Aggies are set to scrimmage in front of the public today at 6:00 p.m.