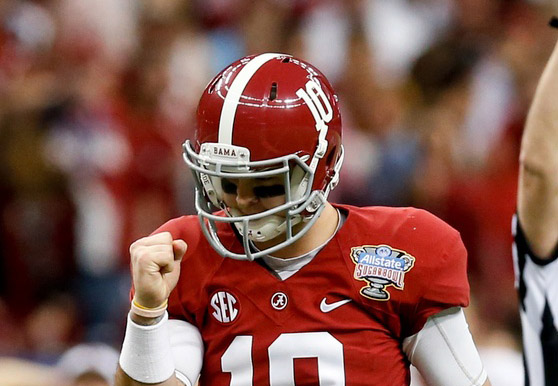 AJ McCarron knows a thing or two about success, but he also knows that several of Alabama's young players woke up on third base without ever knowing how they got to first or second.
Related: Gus Malzahn says Iron Bowl trophy will stay at Auburn a while
McCarron is making his Super Bowl rounds ahead of this spring's NFL Draft, and he talked to Jim Rome yesterday about what went wrong during the 2013 season for Alabama, Everyone may have been surprised the Tide lost consecutive games to end the season, but McCarron was not, via JimRome.com.
"Myself and CJ Mosley, we were basically the two leaders of the team and we felt like it was a matter of time before it was coming," McCarron told The Jim Rome Show. "It's definitely tough to lose, but it kind of shows when you don't have everyone buy into one system, one belief, then sometimes a team is going struggle.

"We had a lot of young guys," said McCarron. "In the end, success was our killer. Too much success and a lot of young guys coming in who didn't know what it took to get back to that point to win. They thought we'd just show up and we'd win.

"I think that's one of the things that is wrong with recruiting out of high school," said McCarron. "You have guys who have never played the game of football rating these guys that they are a 5-star, because they're sitting behind a computer screen watching their highlight film. Well, their highlight film is supposed to be good, the last time I checked. That's the kind of thing that ticks me off about recruiting and when these kids come in and they're 5-stars and they expect to play right off the bat. It's a little entitlement and when they don't play right off the bat, they get a little ticked off and they don't want to work."
McCarron's expressions reiterate just how hard it is to stay on top. Getting to the top is much easier than actually staying on top for any meaningful amount of time. It's a great problem to have.
McCarron exits Alabama as the Tide's most decorated quarterback in history, winning back-to-back national championships and finishing with a 36-4 career record.
Photo Credit: Derick E. Hingle-USA TODAY Sports