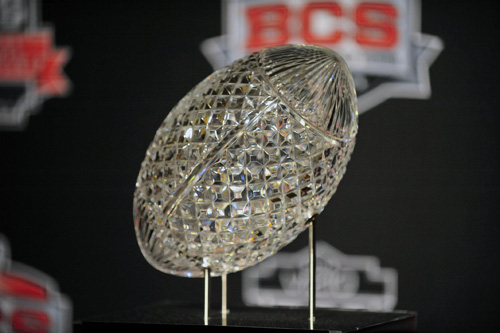 Auburn will try to land the SEC's eighth straight national championship tonight, while FSU will try to garner back respect for their league and prove they are one of the best teams in BCS history.
RELATED: BCS Championship Predictions
Here are 10 interesting stats for tonight's game:
+42.3
Florida State won every game by an average margin of 42.3 points per game, and that is the second highest in history, only to Army's 52.1 margin back in 1944.
46 vs. 5
Auburn had 46 rushing touchdowns in 2013, while FSU allowed opponents only five rushing touchdowns the entire season.
RELATED: 5 reasons Auburn beats FSU
71%
Auburn's offense isn't balanced, but they'll run it down teams' throats. The Tigers are running it 71 percent of the time, the highest percentage of all non-triple option FBS offenses. Auburn has more rushing yards outside the tackles than 106 FBS teams have rushing yards at all.
5.96
Auburn's defense is truly bend but don't break. The Tigers have given up 5.96 yards per play, the worst of any team that has ever participated in a BCS game. But give them credit – they've made the stops when they've had to, particularly in the red zone.
RELATED: Comparing team stats of Auburn vs. FSU
63rd
FSU has the country's 63rd toughest schedule, which is the worst to ever enter a BCS title game in the last 10 seasons. By comparison, Auburn has the 20th toughest schedule. FSU has beaten zero top 10 teams, while Auburn has beaten two.
+17 vs. 0
Florida State enters the game with a +17 TO margin, compared to Auburn's 0. The Noles have forced 34 turnovers, while Auburn has forced 18. The Tigers have turned it over 18 times, compared to the Noles' 17. Protecting the football will be so key tonight.
RELATED: What Auburn commits are saying about tonight's game
33 vs. 28
As great as FSU's defense has been, they haven't been too dominant in sacks and have recorded 33 compared to Auburn's 28. FSU's pass rush will become null if Auburn can run the football, but Auburn will have to dial up some extra pressure against Jameis Winston and the Noles' offense.
6.46 vs. 5.69
Auburn rushes for an average of 6.46 yards per play, while FSU isn't far behind averaging 5.69 yards per play.
95% vs. 73.7%
FSU's kicker Roberto Aguayo has made 95 percent of his kicks this season (19 of 20), while Auburn's Cody Parkey has made 73.7 percent this season (14 of 19). Parkey will have to be on his game tonight.
-10.5
Florida State is a 10.5-point favorite today in Vegas. The last six favorites have won and covered in the BCS Championship Game. Auburn will have to overcome history.
Photo Credit: Gary A. Vasquez-USA TODAY Sports