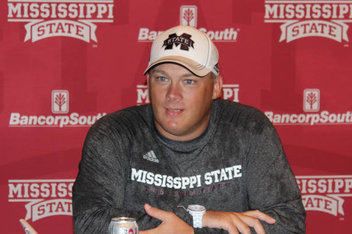 Mississippi State defensive coordinator Geoff Collins' name has been linked to a couple defensive coordinator vacancies this coaching carousel, and MSU just gave Collins a raise and extension through 2015.
Collins' name was linked to Georgia before Jeremy Pruitt was hired, and his name has been linked to replacing Pruitt at Florida State recently. His defense was largely the fourth best SEC defense in 2013, and it is integral for State to keep Collins.
Collins' contract is worth $1.2 million over the next two years. He will receive $575,000 in 2014 and $625,000 in 2015.
Related: Collins and his can of swag recruiting pitch
"Geoff is one of the bright defensive minds in all of college football," said Mullen in a release. "We as a staff and I know our players are excited about his extension. We are building something special here at Mississippi State, and he understands what it means to be a part of the Bulldog family. He continues to raise expectations for our team defensively and is also a tremendous recruiter."
MSU's defense has several talented players returning, and Collins plans to take this defensive unit to new heights.
Photo Credit: Spruce Derden-USA TODAY Sports