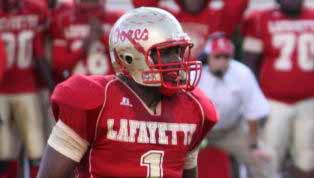 Former LSU signee turned JUCO player Jeremy Liggins is closer to being eligible to play at Ole Miss after the SEC granted an appeal to let him enroll with the university and participate in spring practice. Classes began Wednesday.
SEC rules state that junior college players have to be at their JUCOs for three or more semesters in order to enroll at an SEC institution, but Liggins graduated from JUCO early in only two semesters. Thus, he won the appeal.
Liggins is not out of the woods yet, but he's certainly closer to getting on the field come August. He still has to achieve a doable GPA in order to play this fall.
The former quarterback is 6-5, 295 pounds, and it's not known what position he'll play at Ole Miss. He's athletic enough to play quarterback, and several coaches wanted to move him to defensive tackle or defensive end out of high school. Liggins could find a home at tight end, as Ole Miss needs some depth at the position. Outside of Evan Engram, the Rebels could use another impact tight end, and Liggins provides that kind of athletic ability and big frame.
Photo Credit: Jim Brown-US PRESSWIRE