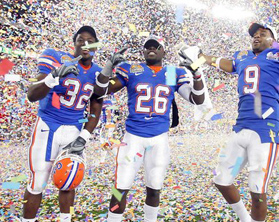 SEC's BCS Championship Teams:
#8 SEC BCS Championship team
2006 Florida Gators 13-1
Head coach: Urban Meyer
Offensive coordinator: Dan Mullen
Defensive coordinator: Co-DC Charlie Strong, Co-DC Greg Mattison
Average margin of victory: 17.5 PPG
FBS' opponents record: 108-61 (.639)
Wins vs. Top 25 teams in final AP Poll (5): #2 Ohio State, #3 LSU, #15 Arkansas, #23 Georgia, #25 Tennessee
Key stats: 29.7 PPG offense (#23 CFB), 13.5 PPG defense (6th CFB),
1st and 2nd round draft picks: Jarvis Moss (1st), Reggie Nelson (1st), Derrick Harvey (1st), Tim Tebow (1st), Percy Harvin (1st), Jermaine Cunningham (2nd), Brandon Spikes (2nd)
Team buzz: The Gators were led by an elite defense, a veteran quarterback in Chris Leak and spectacular freshmen play from Percy Harvin and Tim Tebow. Remember, Florida needed help in order to even get into the game heading into the last week, and Michigan provided that help with a loss to Ohio State, and UCLA upset USC, thrusting Florida in the championship game. The only loss came to an 11-win Auburn team during the regular season.
Florida throttled the Buckeyes in the national championship 41-14, thanks to a suffocating defense that made Heisman winner Troy Smith look silly. Ohio State mounted just 82 yards of total offense in what would become one of the most dominant championship games in history.
Team Schedule
Sept. 2: Florida 34, Southern Miss 7 (Gainesville)
Sept. 9: Florida 42, Central Florida 0 (Gainesville)
Sept. 16: Florida 21, #13 Tennessee 20 (Knoxville)
Sept. 23: Florida 26, Kentucky 7 (Gainesville)
Sept. 30: Florida 28, Alabama 13 (Gainesville)
Oct. 7: Florida 23, #9 LSU 10 (Gainesville)
Oct. 14: #11 Auburn 27, Florida 17 (Auburn)
Oct. 28: Florida 21, #25 Georgia 14 (Jacksonville)
Nov. 4: Florida 25, Vanderbilt 19 (Nashville)
Nov. 11: Florida 17, South Carolina 16 (Gainesville)
Nov. 18: Florida 62, Western Carolina 0 (Gainesville)
Nov. 25: Florida 21, Florida State 14 (Tallahassee)
Dec. 2: Florida 38, #8 Arkansas 28 (SEC CG, Atlanta)
Jan. 8: Florida 41, #1 Ohio State 14 (BCS NCG, Glendale)
Offensive starters
QB Chris Leak
RB DeShawn Wynn
WR Jermalle Cornelius
WR Andre Caldwell
WR Dallas Baker
TE Tate Casey
LT Phil Trautwein
LG Jim Tartt
C Steve Rissler
RG Drew Miller
RT Carlton Medder
Defensive starters
DE Derrick Harvey
DT Ray McDonald
DT Steven Harris
DE Jarvis Moss
WLB Earl Everett
MLB Brandon Siler
SLB Brian Crum
CB Reggie Lewis
CB Ryan Smith
SS Tony Joiner
FS Reggie Nelson
Photo Credit: Kim Klement-USA TODAY Sports