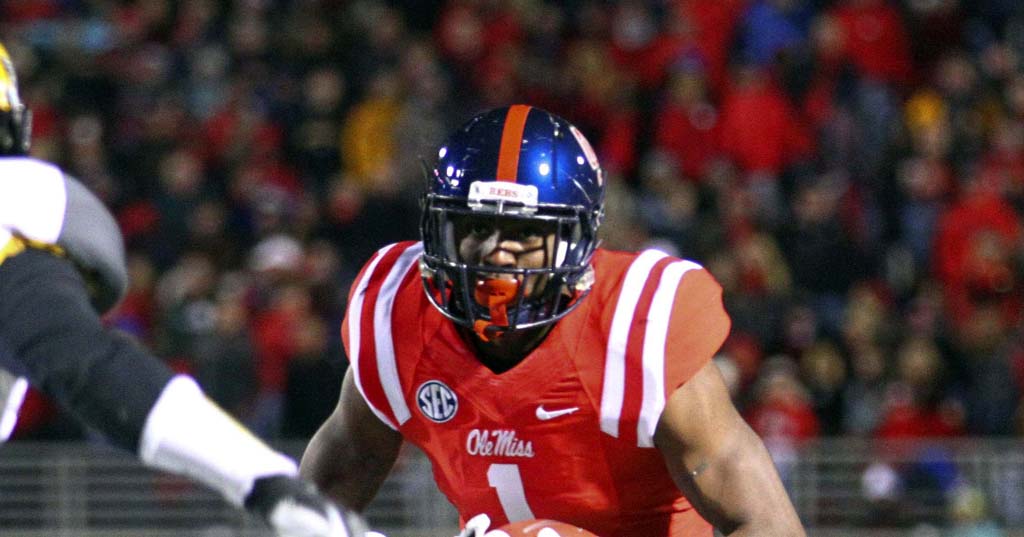 There are several qualities coaches look for in a top receiver, but very few possess the perfect blend of size, speed, hands and athleticism. Building the ideal threat starts with a player's confidence level as their team's No. 1 and their role within the offense, whether it's minimal in a run-heavy scheme or featured in the spread.
Here's a list of guys heading the depth chart for their respective teams who should be the most targeted this fall in the SEC:
RELATED: SEC Championship odds for 2014
Alabama: Amari Cooper

First-year offensive coordinator Lane Kiffin's blessed with several high-quality options in the Crimson Tide's passing game this season, but Amari Cooper's clearly Alabama's best wideout, one of the league's most explosive players who has averaged 16.7 yards per catch his first two years in Tuscaloosa. No player in college football better handles the quick screen, one of Kiffin's favorite plays.
Arkansas: Keon Hatcher

Tight end Hunter Henry will likely lead the Razorbacks in catches as the offense's reliable 6-foot-6 target over the middle, but it's junior Keon Hatcher who will emerge as the top option on the outside for quarterback Brandon Allen. Hatcher made six starts last fall and ended his season with a career-high outing at LSU with seven grabs for 84 yards. He's a threat on special teams, too.
Auburn: Sammie Coates

Try handling Sammie Coates off the snap, the Tigers' physical veteran who routinely shoves defensive backs out of their stance before looking for the football. Likely the SEC's strongest wideout, Coates can be a possession option or downfield threat whenever he wants, but it'll be up to Nick Marshall — with help from his offensive line — to find No. 18 in space. JUCO transfer D'haquille Williams will challenge as one of the league's top newcomers, but Coates is still the Tigers' No. 1 and his numbers will reflect it.
Florida: Quinton Dunbar

Someone needs to step up in the Gators' recent less-than-stellar passing attack and help quarterback Jeff Driskel flourish in Kurt Roper's new system. Quinton Dunbar's that guy, a slender receiver with quickness who had a productive junior campaign despite being held out of the end zone. There's a 13-game gap between Dunbar's last trip across the goal line, so getting him going early would be a definite confidence booster.
Georgia: Malcolm Mitchell

The rising junior's expected to regain his spot as Georgia's top dog in the receiving corps he earned as a sophomore in 2012 before last season's was derailed with a right knee injury. Mitchell missed the second-half of spring practice with a left leg injury but should be back to full strength by the start of fall workouts. Mitchell stretches the field for Georgia and is essential to an offense depleted by the graduation losses of Arthur Lynch and Rantavious Wooten this season. There's a chance Mitchell could be in a two-way battle with Justin Scott-Wesley for the Bulldogs' top spot prior to the opener if Scott-Wesley's return from a knee injury remains on target. Senior Michael Bennett will assume the slot position.
Kentucky: Javess Blue

No matter who is throwing him passes, JUCO transfer Javess Blue will lead the Wildcats in receptions, yards and touchdowns as a second-year starter in a Mark Stoops offense designed to get playmakers the football in space. Screens, slants, posts — they're all in play for Blue who welcomes the role as chief receiver in Kentucky's multiple wideout sets. Blue's looking to build on an impressive four-game stretch last November where he averaged 16.1 yards per catch and scored two touchdowns.
LSU: Travin Dural

You can't just plug in two receivers to match the dual 1,000-yard seasons the Tigers got out of Jarvis Landry and Odell Beckham Jr. last fall, but LSU has a sophomore who mirrors the play of both draft picks and can handle the pressure that comes with being a featured option. One of the team's fastest players with a consistent sub-4.4, Travin Dural will be an integral piece on an offense with lots of new faces at the skill positions. By midseason, Dural should be a talked-about receiving option and leading the Tigers in several statistical categories.
Ole Miss: Laquon Treadwell

If there's a player in the SEC who deserves the 'unguardable' label this season, Laquon Treadwell is on the short list, a receiver who can harm defenses in a variety of ways. The SEC's Freshman of the Year last fall won't have to worry about a sophomore slump as the Rebels' most-feared wideout since he'll be in Bo Wallace's crosshairs often after yards leader Donte Moncrief left early for the Draft. Treadwell's numbers are a bit misleading considering he only averaged 8.4 yards per catch, second-lowest among returning SEC receivers considered No. 1s. Most of his targets were short routes, but that will change this fall.
Mississippi State: Jameon Lewis

It's hard to believe a player under 6-feet tall can produce at such a rapid rate, but Jameon Lewis provides the Bulldogs with a possible All-SEC selection at season's end. Lewis saw a tremendous spike in worth as a junior with 77 touches on offense for 1,040 yards and 8 total touchdowns. His current value couldn't be higher for coach Dan Mullen after his career-high nine-catch, 220-yard outing in last year's Liberty Bowl nearly eclipsed his freshman and sophomore numbers combined. Lewis could potentially lead the conference in yards, catches and touchdowns as a senior if Dak Prescott's Heisman run goes full tilt.
Mizzou: Jimmie Hunt

An interesting question for the Tigers going into fall camp is who will step in for Dorial Green-Beckham as the Tigers' go-to threat following his dismissal. DGB included, Mizzou replaces its top three pass-catchers from last season who combined for 167 of the team's 267 total receptions. That's a sizable void, but fifth-year senior Jimmie Hunt's a good start. Fellow veteran Bud Sasser had four more catches last fall, but Hunt's the more explosive of the two.
South Carolina: Shaq Roland

This one's Shaq Roland for the Gamecocks, without question, a player who has been on the cusp of peaking since the middle of his freshman season. Roland has the tools and game-changing ability needed in a true No. 1 and averaged a team-best 18.2 yards per catch with five touchdowns as a sophomore. Coaches hope the off-the-field issues that have stunted his development are over and Roland's ready to become one of the SEC's premiere deep threats. The potential's certainly there.
Tennessee: Marquez North

Coach Butch Jones knew he got a gem when the Vols signed this highly-rated wideout in 2013, but few thought he'd place a near instantaneous fingerprint on the SEC as he did last fall. Charlotte native Marquez North has the look of a No. 1 at 6-4, 220 pounds and showed a penchant for big plays with eight of his 38 receptions spanning 20 yards or more including a 48-yarder in double coverage that sank South Carolina. No longer an unknown, it'll be tough for SEC defenses to hold North to a single touchdown as they did last season. Tennessee's quarterback situation is uncertain, but who the Vols will be primarily throwing to is not.
Texas A&M: Malcome Kennedy

SEC defenses will be picking their poison on who to cover this fall in the Aggies' wide-open passing attack despite the loss of lottery-selected wideout Mike Evans. All signs point to Malcome Kennedy as the squad's No. 1, mainly due to his experience level as a senior and multi-year starter in Kevin Sumlin's system. Unproven talents like true freshman Speedy Noil and Ricky Seals-Jones after a return from injury will make immediate impacts once they adjust to extensive snaps.
Vanderbilt: Jordan Cunningham

There's high hopes, but tempered expectations Nashville concerning this year's wide receive group where there's no player capable of equaling Jordan Matthews' production numbers in Year 1 of Derek Mason's regime. Matthews hogged nearly every target in key situations over his last two years with the Commodores, but there is another Jordan waiting in the wings with great potential. Jordan Cunningham, Vandy's top recruit in its 2013 class, played in all 13 games as a true freshman and caught 15 passes for 123 yards. His role will expand as a sophomore.
Photo Credit: Spruce Derden-USA TODAY Sports