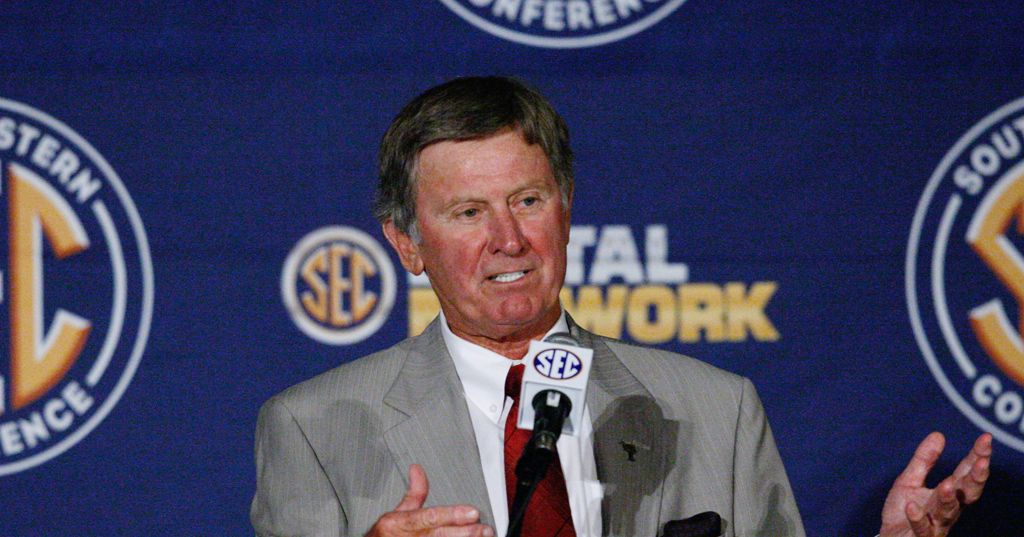 South Carolina will open the 2014 season a favorite to win the SEC East and is hoping to notch their first SEC Championship ever.
Steve Spurrier's legacy will be talked about forever, long after he's finished coaching college football. South Carolina athletic director Ray Tanner believes the football program's defining moment came when Spurrier was hired on November 23, 2004.
"I thought that was a very important day for us," Tanner told the Post and Courier. "The fact that Coach Spurrier didn't have to come here, this was an opportunity for us to make a statement. He gave us instant credibility. It was national attention, and that helped us tremendously. I think his influence has been tremendous on this campus and in this athletics department."
On the heels of three straight 11-win seasons, Spurrier has no doubt guided South Carolina into uncharted waters unfamiliar to the program. Prior to Spurrier's arrival in 2004, the program had notched just 11 bowl game appearances and won just three of them. Since Spurrier's hiring, the Gamecocks have appeared in eight bowl games already, winning four of them, including three straight.
Spurrier's ability to adapt his game plan to the dynamic nature of college football has been amazing to watch. He went from hanging 50-plus every game with the Fun 'N Gun at Florida to grinding out wins at South Carolina with the running game and defense. Spurrier has evolved his game over time, helping to cement his longevity.
Spurrier keeps chasing Bear Bryant's career SEC win record. Bryant finished with a record of 159-46-9 in SEC games. Spurrier's record is 128-46, 31 victories away from the legend.
Will Spurrier stick around until 2018? If so, the record could be his.
Photo Credit: Marvin Gentry-USA TODAY Sports