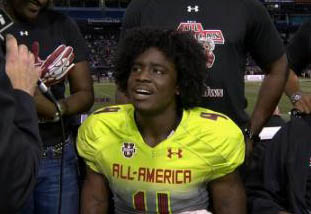 Just weeks after enrolling early at Alabama, five-star defensive back Tony Brown was arrested last night.
Brown was charged with failure to obey and resisting arrest, according to the Tuscaloosa News. Brown was one of the nation's top cornerback prospects, and he's a dual-sport athlete who will also run track.
Related: Watch Nick Saban do the Electric Slide
247Sports reported that Brown was arrested after midnight, and Brown and friends were reportedly playing their music too loud and things escalated from there.
We'll continue to monitor and update the situation.
Update: According to AL.com, Brown was arrested for threatening Tuscaloosa police officers and refusing to obey orders.
According to Sgt. Brent Blankley, the police ordered the crowd to disperse more than once, but Brown specifically continued to be a problem. Blankley said he was told to back up and leave the area, but Brown would immediately approach the officers again after walking a few steps away.

Officers warned Brown that he would be arrested if he continued to disobey them, Blankley said, and Brown responded by yelling threatening profanity at them.

The lawmen there moved to take Brown into custody, but he pulled away from them and resisted arrest. Blankley said officers then hit Brown with pepper spray, forced him to the ground and cuffed him.
This isn't exactly how you want your college career to get started.
Photo Credit: Kim Klement-USA TODAY Sports