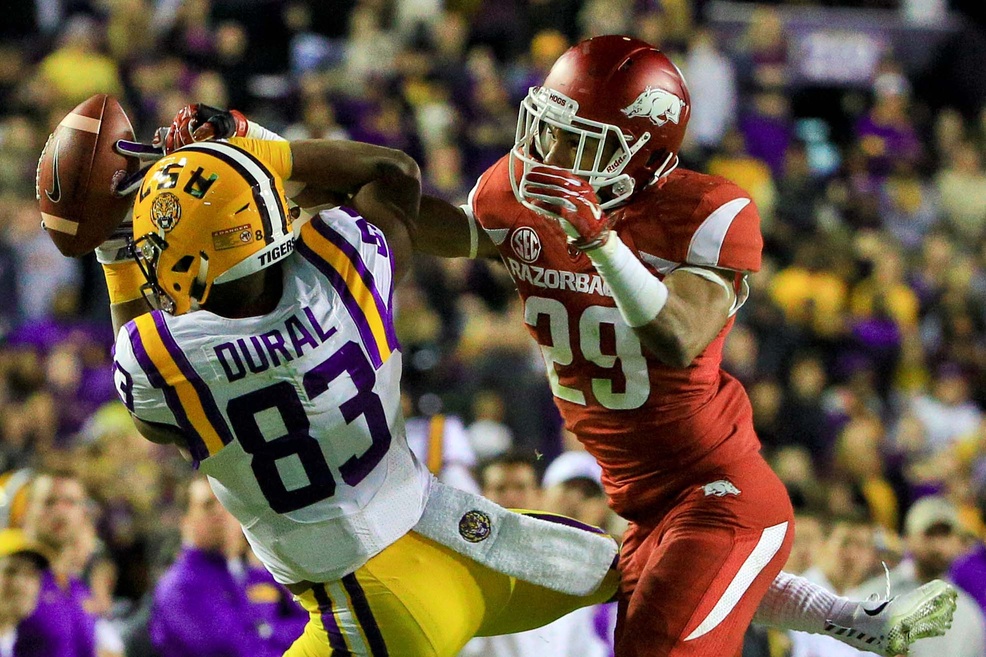 ARKANSAS
Better/Worse in 2016: Arkansas pass defense
Epically bad is never a good phrase to describe anybody or anything, but that's the label the Arkansas pass defense was straddled with last year after getting torched through the air game after game.
How bad was it? Arkansas finished 116th out of 127 FBS teams in the NCAA pass defense rankings. They were dead last in the SEC, giving up 275.2 yards per game. There were only seven other Power 5 schools that were worse, but they played in pass-happy leagues. Arkansas gave up all those yards in a league that isn't known for blow-up passers.
There's no doubt Arkansas has to be better in 2016, but all the pieces are in place to do that. Here's a look at the Arkansas pass defense:
Pass-rush
Arkansas mostly plays with a four-man front under defensive coordinator Robb Smith, and that's not about to change in 2016. The Razorbacks were in a 4-2-5 a lot of the time, but there were several reasons behind the need for that set-up.
Two things came into play. First was a serious lack of depth and talent at linebacker. Brooks Ellis was fine in the middle and Dre Greenlaw had a nice freshman season, but no one else stepped up. Combine that with the fact that no one in the secondary could cover well and it was a problem. Keeping five defense backs on the field didn't help much. Changes were in order.
Sack artist
Deatrich Wise Jr. was so good in the spring that coach Bret Bielema had to stop practice often and take him off the field just so the offense could get some work in. Wise is emerging into a star, though Arkansas' offensive line woes might have had something to do with that, too.
Wise is poised for a big year, and highly touted recruit McTelvin Agim will help, too.
Ball in the air
Run and hide when the ball is in the air. Fans did it and, sadly, so did the Razorbacks secondary players. The biggest change in 2016 is the arrival of Paul Rhoads as defensive backs coach. The former Iowa State head coach — and Auburn and Pittsburgh defensive coordinator — is a DB coach by trade and he's already had a huge impact on this team.
They all have worked hard this spring on playing with their eyes to be better aware of what's going on in front of them so they don't get stuck out of position, which was a huge problem last year.
Pickoff artist
Last year, no one had more than two picks and they stole only 11 all year. DJ Dean and Josh Liddell had two each and that was it. They're both back in 2016 and will need to step it up in the theft department.
Greatest concern
The biggest concern is that everyone is counting on Rhoads to fix what ails this group. There's plenty of confidence that it will happen, but that remains to be seen until the bullets starting flying for real. There is talent in that secondary, so Rhoads should be able to make them better, both individually and collectively.
A better pass-rush is also going to help. Opposing QBs won't have a ton of time to throw in 2016 like they did a year ago.
One stat that must change in 2016
Being dead last in the SEC in passing yards allowed is never good. That stat has to change for sure or the Razorbacks are going to find themselves near the bottom of the SEC West standings. That 275-yard number needs to drop by at least 30 yards.
Better/worse in 2016?
This one is simple. The Razorbacks are going to be far better in 2016. Wise and the defensive line will put more pressure on quarterbacks, and the secondary will show better cover skills under Rhoads. Look for a huge improvement in this area, and if it all happens, you might see the Hogs make a big jump.