ARKANSAS
I went back to when Sam Pittman was hired, and boy, the takes (including my own) have aged horribly
Nov. 10, 2019 is a day that Arkansas fans should remember well.
It was a day removed from getting beat like a drum against Western Kentucky, which just so happened to be led by ex-Arkansas quarterback Ty Storey. Chad Morris couldn't win with him, nor could he beat him … or stay on the field with him. On that Sunday morning, Arkansas athletic director Hunter Yurachek pulled the plug on the Morris era, which failed to produce a single SEC win.
And so perhaps either in a sobering daze from Storey looking like Peyton Manning or in a fog after a Saturday of drowned sorrows, Razorback fans were faced the ultimate Sunday Scaries question.
Um, what's next?
Having watched the failures of the Morris era — they were mainly rooted in an overly complicated offense that was oddly too easy to defend — I thought it was fair to pose a question about a program riding what was then a 17-game SEC losing streak dating to the Bret Bielema era.
Who in the world is gonna take that Arkansas job?

— Connor O'Gara (@cjogara) November 10, 2019
In my defense, I didn't know how anyone could possibly be set up for success after Morris. Here's how I described his tenure the day he was fired:
Yurachek was essentially like the person who bought a plot of land where a complete gut job of a house stood. Yurachek put his faith in Morris that he'd be able to not only demolish the house, but also build one that wasn't a total eyesore for the rest of the neighborhood. Morris accomplished the first task of demolishing the house (AKA overturning the roster), but instead of building a respectable house, he built one that was even uglier and more embarrassing than the first one. The wood was somehow rotting already, the roof had leaks and every room was somehow painted a their own unique hideous color.
If a rebuild was what he was tasked with, Sam Pittman made the Property Brothers look like an infant with a hammer.
In just 22 short months, Pittman got Arkansas to where it's at today. That is, at No. 16 in the country, which already matched the best ranking of the Bielema era. Oh, and his team is playing as a Top 25 team against another ranked foe this Saturday on CBS. If Arkansas beats Texas A&M for the first time in a decade, that accelerating Pittman hype train will only pick up speed.
In honor of that, I thought I'd look back to when it was at a standstill. If anything, the hype train was going backward.
Pittman was the guy who hadn't been an offensive coordinator a head coach at the FBS level. He was known regionally as a remarkable recruiter in the SEC, but he wasn't Mike Leach or Lane Kiffin. There are splashy hires, and then there's whatever Pittman was.
When I went back and ranked the SEC hires in the second week in December of 2019, here's how I broke that down (note that was before MSU fired Joe Moorhead and hired Mike Leach):
6. Chad Morris, Auburn OC
5. Eli Drinkwitz, Mizzou
4. Sam Pittman, Arkansas
3. Matt Luke, Georgia OL
2. Mike Bobo, South Carolina OC
1. Lane Kiffin, Ole Miss
Hey, I nailed No. 1 and No. 6, right? But yeah, putting Pittman's successor ahead of him was, in hindsight, a horrible call on my part. Even worse was the Bobo call. Also, being so down on Drinkwitz wasn't the best look.
Having said that, my takes could've been far less optimistic. I at least wrote that Pittman had a chance to be the right fit culturally:
This is an atypical situation. It's a roster that's in total flux after the failed Chad Morris era got young in a hurry. This is going to take a true blue-collar guy to go in there and build from the inside out. Pittman is unproven as a head coach, definitely, but he's as proven of a recruiter as there is right now.

Pittman doesn't speak in clichés and he's blunt. Arkansas didn't need someone who was going to put lipstick on a pig (see what I did there?). It needed someone who was all in to do the work needed to get the program back to relevancy. Pittman looks like a guy who is willing to do that.

Is it a risk? Absolutely, but for Arkansas, it was a risk that made sense.
Spot the lie.
Pittman is as Arkansas as it gets. Don't tell me that's not the case because he grew up 25 miles across the border in Oklahoma. The guy wants to retire in Hot Springs, he wants to run the football and play smash-mouth defense and he wants to shift praise to others at every chance he gets. On that same day that Nov. 10 day when Morris was fired, Pittman said he knew he wanted the job.
(It's pretty crazy to think how Pittman went about becoming a candidate to begin with. He actually called up Little Rock-based agent Judy Henry to represent him, which helped because she knew people on the Arkansas board of trustees. She helped get him a phone interview with Yurachek, and the rest is history. I mean, the guy accepted the job before he knew what it paid.)
Of course, nobody really knew how any of that would translate when Pittman was hired. That skepticism was rooted in Pittman's inexperience in such a role.
Look back at some of these tweets from before Pittman coached a game.
The Athletic's Stewart Mandel tweeted "The SEC West is now six highly established head coaches (Saban, Malzahn, Orgeron, Jimbo, Kiffin, Leach) and Sam Pittman. Best of luck Arkansas."
The SEC West is now six highly established head coaches (Saban, Malzahn, Orgeron, Jimbo, Kiffin, Leach) and Sam Pittman.

Best of luck Arkansas.

— Stewart Mandel (@slmandel) January 9, 2020
This, however, takes the cake on the "Pittman reactions that aged horribly" tweets: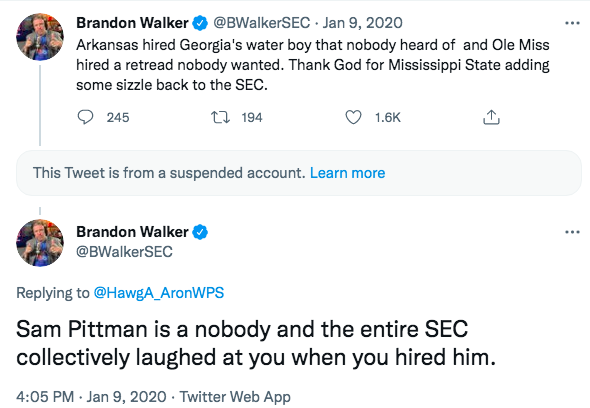 Former Arkansas receiver Jordan Jones wasn't impressed, either (he later transferred to Cincinnati before Pittman's first game):

What did Dan Wolken think, you ask?

Half of that, you could argue is true. The other half of it — the search was a total disaster — hasn't aged well. Yurachek hired someone who clearly wanted the job, and Arkansas got one of the most program-friendly deals that any Power 5 program agreed to in recent memory. Pittman even has an incentive-based buyout that'll be determined by his winning percentage. Considering that Arkansas was on the hook for Bielema and it still owed Morris his $10 million buyout, negotiating a deal like that was a massive win for Yurachek.
Of course, that wasn't on the minds of everyone. For many, Pittman was the non-splashy hire that was destined to fail.
This is great news for Sam Pittman's financial future. That's about the only certainty, other than Georgia has a hole in the coaching staff. https://t.co/zA78IL689D

— Jeff Schultz (@JeffSchultzATL) December 9, 2019

And let's not pretend like it was ALL negative. Plenty of people likened it to what LSU did with Ed Orgeron. Smart, that was. Like Orgeron, Pittman's team-friendly contract allowed for him to make big-time staff hires. Recruiting went extremely well, and within that locker room, Pittman's personality won out.
Some projected that, some didn't.
What few could've ever imagined is what awaits on Saturday. Pittman is a win from perhaps cracking the top 10 in just Year 2 in Fayetteville. And go figure that could happen without some massive star transfer. Pittman is actually winning with guys who took it on the chin under Morris. Shoot, Grant Morgan was a walk-on during the Bielema era.
It remains to be seen what Arkansas' 2021 potential is. Beating up on Texas is one thing. Doing that against Alabama and Texas A&M is another.
Win or lose on Saturday, we can all agree on something now.
Things have only gotten better since Nov. 10, 2019.