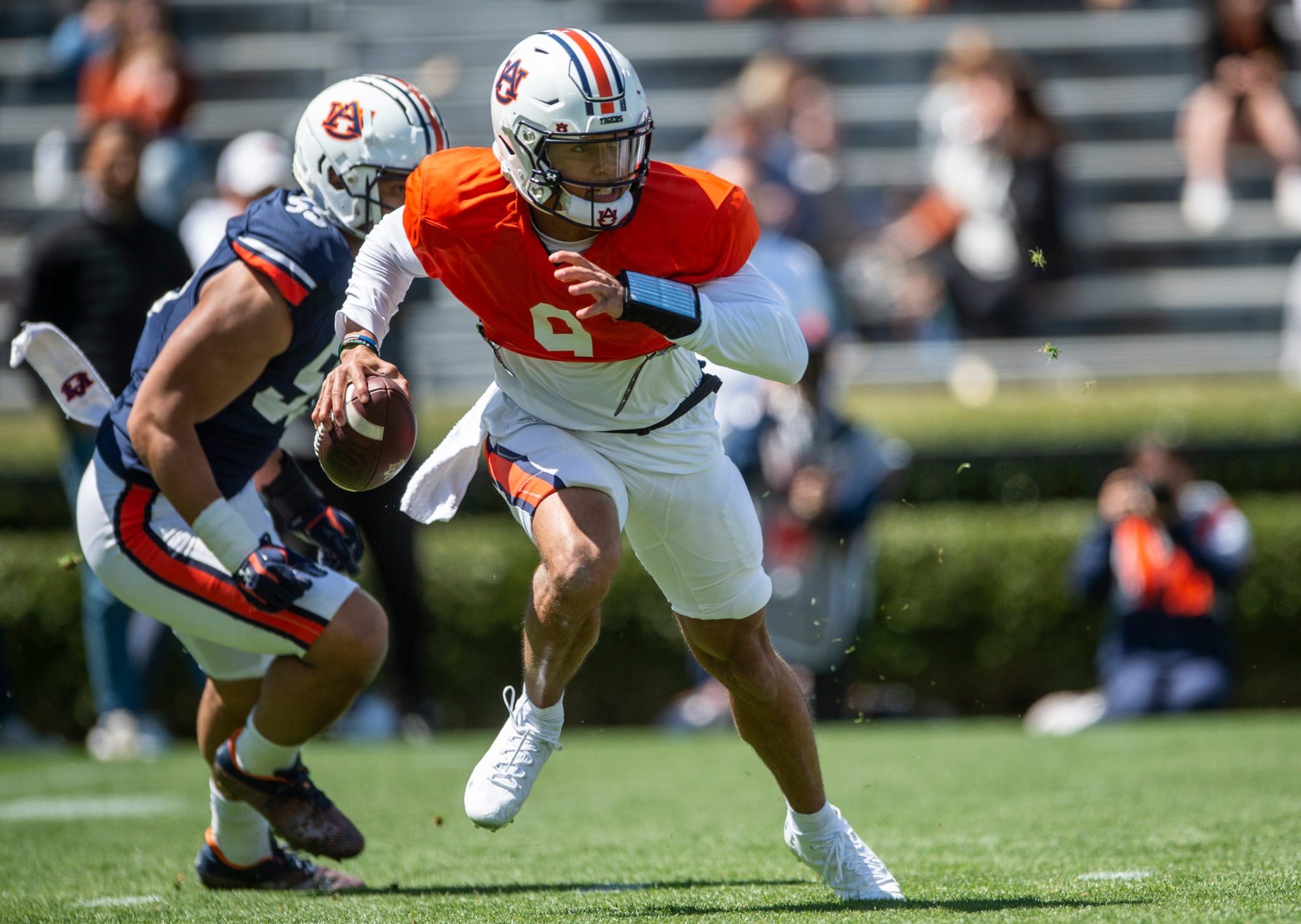 AUBURN
6 biggest questions I still have as Auburn heads into the offseason
The sun has come up on Auburn's program after a stormy offseason. Head coach Bryan Harsin was all smiles during the annual A-Day game on Saturday. That doesn't mean the fall will be quite as gleeful.
Harsin, in many ways, has seemed like an odd fit at Auburn. He certainly could turn that around this season. However, a vast exodus of coaches and players doesn't make that seem likely. Harsin could be a lame-duck coach in just his second year. No one really ever knows what Auburn's administration is thinking. Harsin could also turn things around and become a contender in the SEC West. It seems like ages ago, but that was the case for the first half of last season.
Still, with so much turmoil, here are the 6 biggest questions I still have as Auburn heads into the offseason:
Who will play quarterback?
TJ Finley looked as if he has improved during the A-Day game since seeing the field last season, but that doesn't matter. Finley ended last season as the starter because of a season-ending injury to former starter Bo Nix, who transferred to Oregon. Finley, however, won't be judged based on how he played this spring. He'll be judged on how he practices this summer and during fall camp when Zach Calzada, who transferred from Texas A&M, returns to the field healthy. Calzada is still recovering from shoulder surgery. Robby Ashford, who transferred from Oregon, won the MVP for the A-Day game and offers a running dimension that Finley can't match. However, we all know spring awards can be orchestrated to fit the coaches' liking. Finley, Calzada and Ashford will fight for the starting quarterback job. Freshman Holden Geriner has some work to do in order to work himself into the mix. Finley's reported leadership ability and respect among his teammates should help him if there is a close call to be made at quarterback.
Will the offense change much — if at all?
Auburn's offense looked more multiple during A-Day game. There were simple, bootleg rollouts that would seem to make things easier on whoever starts at quarterback. (Again, that fits Ashford's skill set.) There was also a seemingly stronger focus on getting running Tank Bigsby into the mix, especially via the passing game. Spring games don't necessarily determine the future evolution of an offense. However, with a new coordinator in place, there's reason to think the Tigers could be a bit more multiple when they have the ball this season. One of the keys to retaining Bigsby was telling him the offense would go through him.
With all that being stated, Harsin is still the head coach and he's still the driving force behind the offense. That's not going to change. It oddly feels like the same conversation Auburn fans were having when Gus Malzahn tried to publicly define his role year after year.
What will the defensive line look like?
Auburn lost a ton from last year's team on the defensive line. Literally. Moving forward, the Tigers will rely on Colby Wooden and Derick Hall as their most productive and most vocal leaders. Wooden also gives Auburn some incredible versatility as he can play tackle or end. That ability will almost assuredly be needed this fall as the Tigers try to re-assemble what was a team strength last season, the defensive front. Wooden and Hall can be as vocal as they want. However, Auburn needs complementary players who are ready and able to accept the challenge.
Will the coaching staff mesh?
It's not often that a team has to replace both coordinators. That's usually a bad sign about the trajectory of the program. That's where Auburn is. Former offensive coordinator Mike Bobo's departure makes one think that he and Harsin didn't share the same offensive philosophy. That makes one wonder if Harsin is a bit too controlling. Former Auburn defensive coordinator Derek Mason left Harsin after 1 season for the same role at Oklahoma State — and accepted a pay cut. To say it's a bit unsettling that 2 coordinators left Auburn after just a year would be an understatement. Now, it's up to the new additions to the staff to play nice.
How will fans respond?
Auburn's offseason was bizarre and embarrassing. Harsin seemed destined to get fired as players and coaches jumped ship. Then, everything was just fine. Carry on, nothing to see here. That may not cut it with Auburn fans who never really warmed up to Harsin in the first place. Harsin isn't exactly tops in the warm and fuzzy department. If fans get frustrated, then Auburn can lose one of the most underrated home-field advantages in college football. The Tigers host Penn State and LSU in their first 6 games of the season. A stumbling start could be a bad sign of things to come.
Will Harsin make it through the upcoming season?
This may sound alarmist, but it's not. Auburn seemingly tried to find a way to fire Harsin in February. Then, that whole contract buyout thing got in the way. Harsin has shown he won't leave. He understandably wants the money he's been promised. However, Auburn has handed out questionable contracts in the past and been forced to eat them. It wouldn't be a shock if that happened to Harsin sooner rather than later.