AUBURN
Social media calling out Gary Danielson for CBS broadcast of LSU at Auburn
It didn't take long for SEC fans to criticize the analysis of CBS broadcaster Gary Danielson in the LSU-Auburn game on Saturday.
One fan even pointed out that CBS itself quickly found a flaw in his analysis of a tough run by Shaun Shivers by showing a physical run last year, before Tank Bigsby's supposed influence. Another fan was a proud momma after a 9-year-old took issue with Danielson.
One fan even tried the broadcast in Spanish, but still didn't enjoy Danielson.
Several fans quoted Danielson's exact words to call out his broadcasting shortfalls.
A Georgia fan even tweeted ahead of schedule a week before the Georgia-Florida game as he prepared himself for the apparent biased call of the game in Jacksonville, Florida.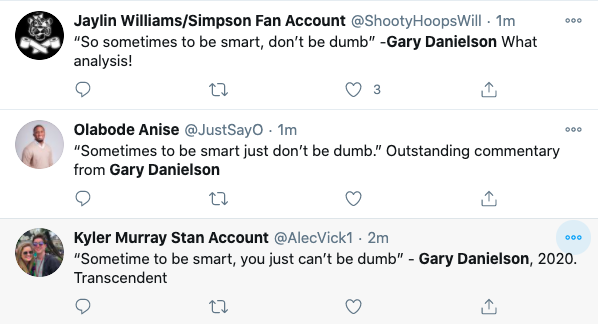 Here's a sample of the criticism about Danielson:
Gary Danielson is confused because both teams are the Tigers. There should be term limits for Gary

— Clayton (@CRB1090) October 31, 2020
@CBS it is awful watching any game on Saturday when you have to listen to Gary Danielson. Haven't we suffered enough this year?

— Dana (@Dana43Dana) October 31, 2020
"Sometimes to be smart you just don't be dumb"

– Gary Danielson. Incredible

— Joey (@JoeyMulinaro) October 31, 2020
I'm really digging how the #Auburn band is drowning out Gary Danielson's voice.

— Jeremy Head (@JHead1978) October 31, 2020
I tried to go back to @CBSSports in spanish, but #garydanielson in another language was just as sickening to listen to.

— Josh B (@joshybee) October 31, 2020
"ole miss ran against LSAuburn" – gary danielson

— ‏ً (@dansbyszn) October 31, 2020
I think #garydanielson wakes up on Saturday mornings, looks in the mirror, and tells himself to top the idiotic things he says the week before. #LSUvsAUB

— Jeff Roberts (@rad901dad) October 31, 2020
Listening to my nine year old daughter give Gary Danielson the business makes this momma proud😂#shutupGary @CBSSports

— ~Brooke~ (@wareagleblonde) October 31, 2020
LMAO Gary Danielson. If having plenty of leg was all that mattered.

— AUCHASE__ (@AUCHASE__) October 31, 2020
Is Gary drunk today? Or did he take Auburn +6 1/2?

— Roll 'Bama Roll (@rollbamaroll) October 31, 2020
Gary Danielson just hinted that Shaun Shivers is playing more physical because he's been watching Tank Bigsby.

Seconds after, CBS literally showed a highlight from 2019 of Shivers playin super physical. Can't make this stuff up. Lol

— Clint Lamb (@ClintRLamb) October 31, 2020
Has anybody mentioned yet that Gary Danielson is like fingernails on a chalk board! What a 💩!

— Dirty South Tiger (@Bengal_Buga) October 31, 2020
If you could punch anyone in the world in the face, who would it be be and why Gary Danielson?

— Kevin Johnson (@highpockets84) October 31, 2020
Well, that was a boring, lackluster win for UGA! Get ready fan for that wonderful biased call against UGA by Gary Danielson next week on @CBSSports next week!#GoDawgs

— BK KELLEY (@BKUGA4Life) October 31, 2020
Gary Danielson going full Gary Danielson 🤦‍♂️

The replay official should have immediately buzzed down to review that play…not wait until just before the snap.

— Jerry in Fort Walton (@Jerry_G34) October 31, 2020
The lack of awareness by Gary Danielson always amazes me. I don't know why it amazes me, but it does. The size of the paycheck he gets…..

— TJ Earl (@tjearl) October 31, 2020
I had no idea how painful it is to listen to Gary Danielson. I'm so sorry, football fans. You deserve better.

— Blake Ferguson (@bferguson50) October 31, 2020
This just in: Gary Danielson still cannot properly pronounce "Ensminger".

— T.J. Weed (@coachtjweed) October 31, 2020
Brad Nessler and Gary Danielson stink out loud. Get these geriatrics outta here.

— Grañt Dula (@gdula16) October 31, 2020
Gary Danielson would watch your children open Christmas presents and nitpick the tape placement on the paper. Perpetual nitpicker.

— Jonathan Morgan (@Hello_JoMo) October 31, 2020
Having to listen to Gary Danielson can almost ruin a football game for me

— Conner Morgan (@ConnerBlade08) October 31, 2020
Gary Danielson just called himself a stooge. Maybe he finally sees himself the same way millions of SEC fans have seen him for years.

— Terry Williams (@TDub4AU) October 31, 2020
Did Gary Danielson go to LSU? His commentary is really biased.

— Drunk Principal (ninja/velociraptor) (@DrunkPrincipal) October 31, 2020
I truly feel like there is not a single sports fan that enjoys the commentary from Gary Danielson. NOT ONE.#WarEagle

— Drew Johnston (@Tha8inmafia) October 31, 2020
@CotiHowell this a rigged game anytime Gary Danielson is in the booth on the call he's the biggest Auburn Homer….

— Keith White (@RealYungDub334) October 31, 2020
Why is Gary Danielson so fixated on where Auburn gets the ball? How often do teams successfully down a punt on the 1 yard line? #LSUvsAUB #LSU

— Angela Vanveckhoven (@avanveck) October 31, 2020
When Gary Danielson said Finley can get away with those type of things in high school. South Carolina fans like: (we felt that) #LSUvsAUB 😂😂😂 pic.twitter.com/EWEBiR668k

— FRISBY89 (@iamtimfrisby89) October 31, 2020