AUBURN
Who is Bo Nix? 5 things to know about Auburn's quarterback
Bo Nix was named the starting quarterback for the Auburn Tigers in late August prior to Auburn's first game of the 2019 college football season against Oregon. Auburn's game in week 1 against Oregon is the only ranked matchup in all of college football for the opening weekend, so Bo Nix will immediately be thrown upon the national stage.
Here are five things you should know about Bo Nix, Auburn's new starting quarterback:
Bo Nix was a highly rated recruit
Bo Nix is a 6'1 dual-threat quarterback from Pinson, Alabama. He went to Pinson Valley High School and was considered a five-star quarterback recruit from 247Sports. He was considered the No. 1 dual-threat quarterback in the entire country for the 2019 recruiting cycle. Nix committed to Auburn on January of 2018, plenty early in the recruiting cycle. Bo Nix also enrolled early at Auburn in January of 2019.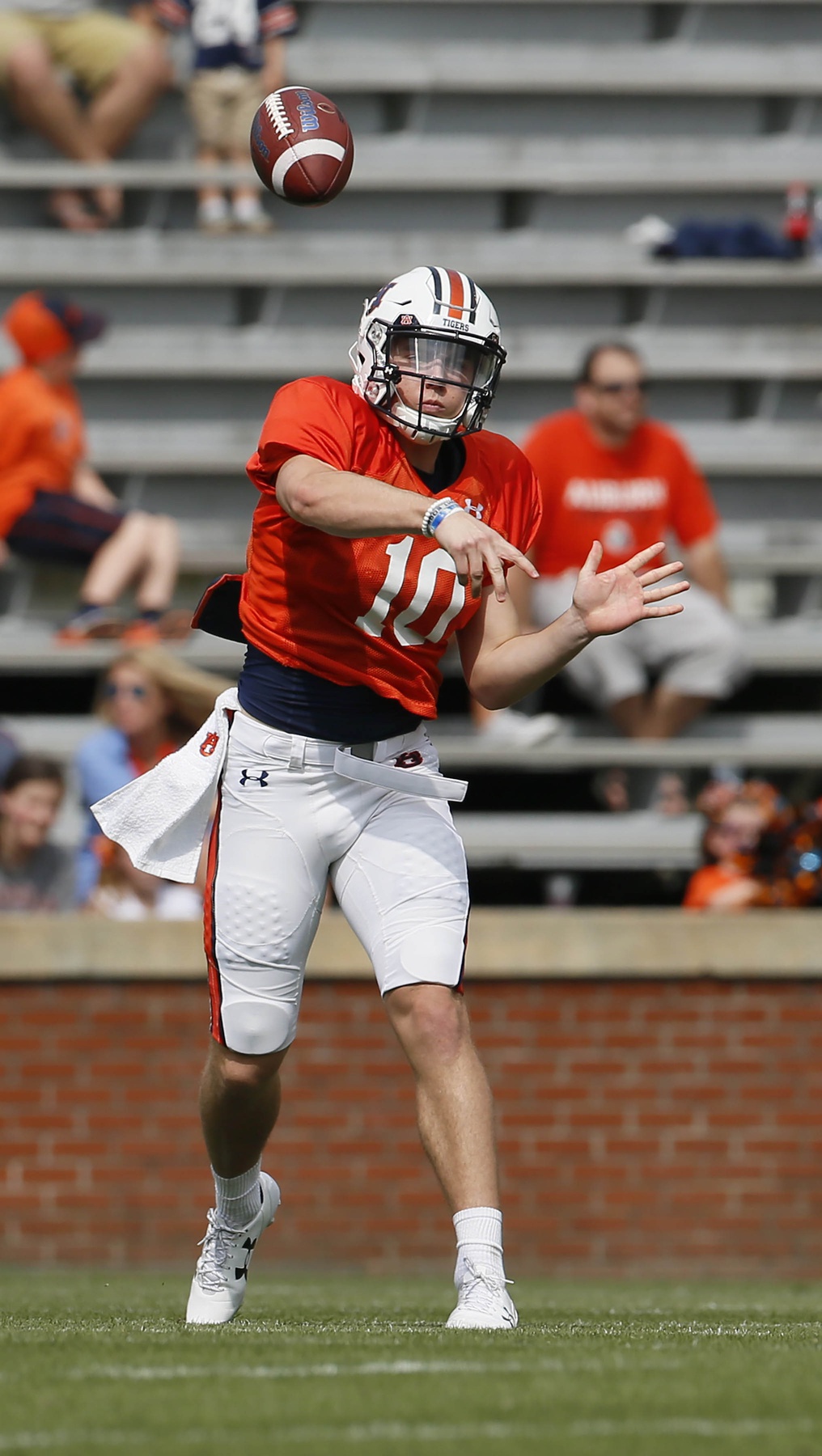 Bo Nix is the son of Patrick Nix, a former Auburn quarterback
No wonder Bo Nix committed so quickly to Auburn! He's following in his father's footsteps who also played under center at Auburn. Patrick Nix played quarterback for Auburn between the years of 1992 and 1995. He completed over 375 passes, threw for 31 touchdowns and 16 INT during his career as Auburn's quarterback. Patrick Nix was also the head coach of his son Bo Nix's high school team in 2017.
Bo Nix put up staggering stats in high school
As the quarterback at Pinson Valley High School, Bo Nix accumulated some incredible statistics. During his career, Nix threw for over 10,000 yards and accounted for over 12,500 total yards of offense. He threw for 127 touchdowns and rushed for another 34 touchdowns. He also won two state titles, and his final high school game was played at Auburn's Jordan-Hare Stadium. Bo nix seems primed and ready to lead Auburn at the collegiate level.
Bo Nix was Mr. Football in the state of Alabama in 2018
Nix won the prestigious award for the 2018 season. After winning back-to-back state titles at the 6A level and breaking a number of state records, Nix was given the Mr. Football award. Other previous Auburn players to win the award include Carnell Williams, Brandon Cox, Clint Moseley, DeMarco McNeil and more.
Bo Nix is the first true freshman to start the season opener for Auburn since 1946
Now that's impressive. To be named the starter as a true freshman for the season opener is rare. How rare? Well, you've got to go back to about World War II to find the last time it has happened at Auburn. Nix will be the eighth quarterback in Auburn history to make his first start during his true freshman season.
Frequently asked questions
Where is Bo Nix from?
Bo Nix is from Pinson, Alabama. He played high school at Pinson Valley High School.
When did Bo Nix arrive at Auburn?
Bo Nix was a 2019 recruit. He enrolled early at Auburn in January, 2019.
Was Bo Nix a top-rated recruit?
Bo Nix was a five-star quarterback and considered to be the top dual-threat quarterback in the country. Nix won multiple state titles and broke many high school level records in Alabama.