Doug Dickey
Doug Dickey spent 15 seasons as the head coach at Tennessee and Florida, winning two SEC titles and playing in nine bowl games during that time. He was later inducted into the College Football Hall of Fame.
Doug Dickey served as a head coach in the SEC with the Tennessee Volunteers and the Florida Gators from 1964-1978, winning 104 total games in that time. He began his career as an assistant at Arkansas from 1957-1963 before accepting the job at Tennessee prior to the 1964 campaign. After a 4-5-1 season to begin his tenure in Knoxville, Dickey led the Vols to five straight eight-or-more-win seasons and five straight bowl appearances from 1965-69. He led Tennessee to two SEC championships in 1967 and 1969 and had four teams finish a season ranked in the top-15 of the final Associated Press poll. His Tennessee teams were 2-3 in bowl games. Dickey was named SEC Coach of the Year in 1965 and 1967 and was later inducted into the Tennessee Sports Hall of Fame. He was inducted into the College Football Hall of Fame in 2003.
Dickey left Tennessee to assume the head coaching job at Florida prior to the 1970 season, and coached the Gators for nine seasons from 1970-1978. He led six different teams to winning records at Florida and reached four bowl games in that time. Dickey was 0-4 in bowl games at Florida, bringing his career record in bowl games to 2-7. He never won an SEC title while at Florida, but his 1974 squad ended the season ranked No. 15 in the final AP poll. Dickey was replaced as head coach following the '78 season and left Florida with a 58-43-2 as coach of the Gators. He was later inducted into the University of Florida Athletic Hall of Fame. He returned to Tennessee in 1985 to serve as athletic director, and held the position for 17 years before retiring in 2002.
| Coaching History | Team | Years |
| --- | --- | --- |
| Offensive Coordinator | Colorado Buffalos | 1979 |
| Head Coach | Florida Gators | 1970-1978 |
| Head Coach | Tennessee Volunteers | 1964-1969 |
| Assistant Coach | Arkansas Razorbacks | 1957-1963 |
More On This Coach
Those famed checkered end zones at Tennessee weren't just the result of some fancy designer who thought they would look neat. There is a story behind them that goes back decades and stretches across campus to one particular building.
Tennessee beat Kentucky Saturday night but that doesn't mean much on its own. But what is important is that it was the first step in a big finish for the Vols.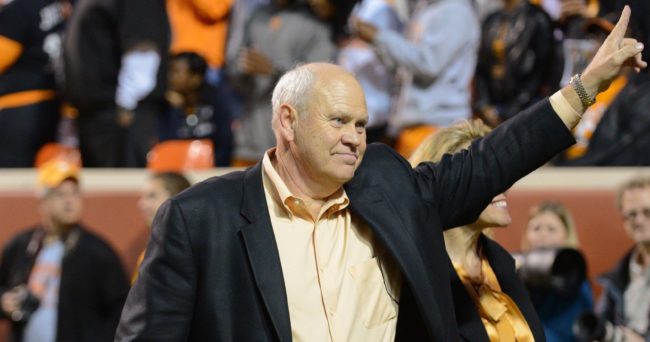 Think you know Tennessee football? Here are 20 facts you may or may not know about the history of the Vols football program.