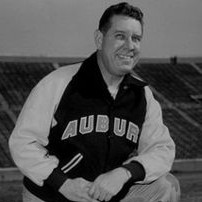 Ralph Jordan
Ralph Jordan coached at Auburn for 25 seasons from 1951-1975 and won 175 games in that time. Jordan's 1957 team finished 10-0 and won the national championship. He was a four-time SEC Coach of the Year and a College Football Hall of Fame inductee.
Ralph Jordan was a three-sport athlete at Auburn University from 1928-1932, and would later return to Auburn in 1951 to serve as head football coach for 25 seasons. He coached the Tigers in 265 games, posting a record of 175-83-7. His 1957 team went 10-0 and was crowned national champions as well as conference champions. It was the only conference title of Jordan's career. He was a four-time SEC Coach of the Year (1953, 1957, 1963, 1972), and was inducted into the College Football Hall of Fame in 1982.
Jordan posted 19 winning seasons in 25 years and had 13 teams finish ranked in the final Associated Press poll. His teams were 5-7 in 12 bowl appearances. Jordan also served two different stints as Auburn's basketball coach totaling 12 years. He passed away in 1980 at the age of 69.
| Coaching History | Team | Years |
| --- | --- | --- |
| Head Coach | Auburn Tigers | 1951-1975 |
| Assistant Coach | Georgia Bulldogs | 1947-1950 |
| Assistant Coach | Miami Seahawks | 1946 |
| Assistant Coach | Auburn Tigers | 1945 |
| Assistant Coach | Auburn Tigers | 1934-1942 |
More On This Coach