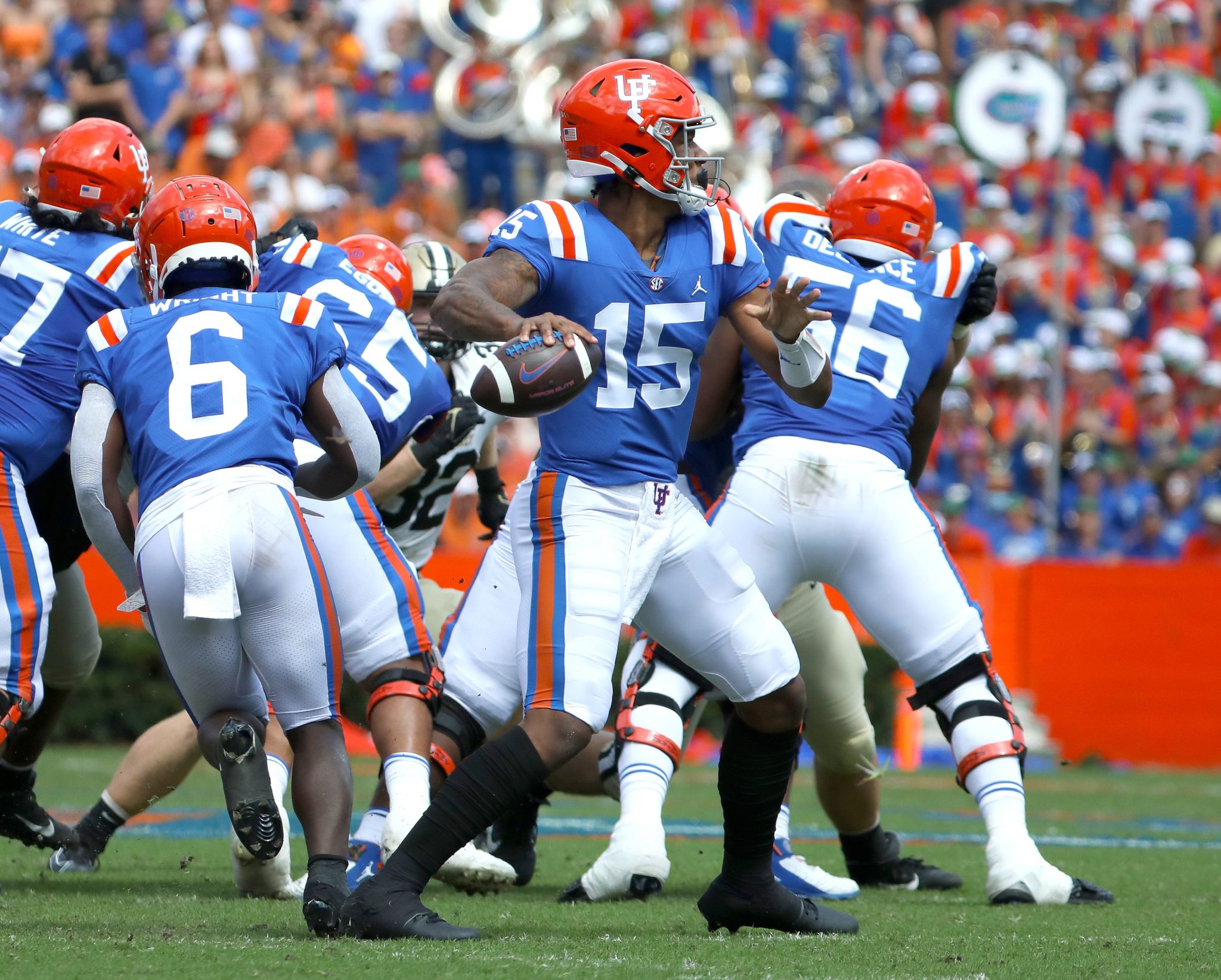 FLORIDA
Florida football: Way-too-early look at the 2022 Gators
If you didn't know any better, you might believe that Florida's 2021 season was the stuff of pulp horror fiction.
Picture this: a non-Georgia fan tells you at SEC Media Days that this will be the last Media Days for Dan Mullen as Florida's head coach.
If you didn't laugh it off, your reaction to that scenario, after an SEC Championship Game appearance and a third consecutive trip to a New Year's 6 bowl in 2020, would likely be that Mullen got the NFL gig he hoped for after a successful 2020 campaign.
Instead, it was Mullen's final SEC Media Days at Florida because he was fired in November after Florida's loss to Missouri, a loss that became Florida's 9th defeat in its prior 11 games against Power 5 opposition.
Billy Napier was hired from the University of Louisiana in December, tasked with the same job as the previous 3 hires in the post-Urban Meyer and Tim Tebow era at Florida: restore the Gators to consistent national prominence.
Given the flaws and holes in Florida's current roster and the needed overhaul of Florida's football culture, an immediate reversal of fortune is unlikely for the Gators in 2022.
But it's never too early to look ahead. Here's a (brief and painful) look back at the 2021 season, and a look ahead to brighter days in 2022 and beyond.
What worked in 2021
Dameon Pierce and Kemore Gamble. That's the list.
As for Pierce, the evidence suggests the Florida coaching staff disagreed with us, considering Mullen was fired before the Gators handed the ball to the talented senior running back 10 times in a game. Pierce didn't accumulate a ton of carries, but he made them count when he was given the ball, nearly tying the Alabama game in September with this great run:
Dameon Pierce gallops to a 17 yard TD to put the Gators within two of Alabama with 3:08 remaining to play pic.twitter.com/tLWKORPNw5

— libgator (@lib_gator) September 18, 2021
And bulling his way, helmet or no, past Florida State in the regular-season finale:
No helmet? No problem for Dameon Pierce!

The Florida RB is a tough, physical player who finishes every run. Big sleeper in the 2022 NFL Draft.

— PFN Draft (@PFNDraft) November 27, 2021
I imagine Pierce, who graded out as the nation's best running back in 2021, per Pro Football Focus, will skip his "super senior" year and head to the NFL. He should – he has nothing left to prove, and he'll be a steal at the next level.
A 75 yard drive with a couple nice grabs by Kemore Gamble ends in a FG for the Gators. Alabama leads 7-3 pic.twitter.com/w8BjMdJFcZ

— libgator (@lib_gator) September 18, 2021
As for Kemore Gamble, the senior tight end out of Miami did an admirable job stepping into the irreplaceable shoes of Kyle Pitts. Gamble caught 31 passes for 444 yards and 4 touchdowns. He saved his best football for Florida's biggest games, with 12 of his 31 receptions coming against Georgia, Alabama and FSU, including a 47-yard touchdown catch and run against FSU.
What didn't work in 2021
Most everything else.
Florida's two biggest issues, however, were the 2-quarterback system, which backfired horribly, and a pathetic run defense that was steamrolled by the likes of mediocre teams, including LSU, South Carolina and UCF.
Florida's quarterbacks, Emory Jones and Anthony Richardson, were both too careless with the football. Combined, the Gators led the Power 5 with 18 interceptions. Jones tossed 13 of them, but Florida fans, who clamored for Richardson most the year, shouldn't ignore that Richardson threw 5, for an average of 1 interception every 12.8 attempts. Contrast that with Jones, who tossed 1 interception for every 26 attempts, and you get the idea.
Richardson, who has an electric arm and otherworldly speed, suffers from many of Jones' deficiencies: He is slow to process defenses and becomes too mistake-prone when his first or second read isn't available.
The offense moved better with Richardson at times, but the reality is neither quarterback was particularly effective in 2021.
Florida's run defense surrendered 163.9 yards per game, a number that ranked 85th nationally. Florida hit the transfer portal for multiple defensive tackles to try and get better at rushing defense after finishing outside the top 50 against the run in 2020. The moves failed, as the Gators allowed the same 4.6 yards per carry against in 2021 as 2020. Florida also finished 6% worse in terms of success rate in defending the run in 2021, meaning if anything, the run defense regressed. Yikes.
Key losses
Well, there's Dameon Pierce. And Kemore Gamble. And don't forget about Dameon Pierce and Kemore Gamble!! Losing the program's best edge setter and most effective, versatile defensive linemen, Zachary Carter, will also sting. Malik Davis announced he is leaving for the NFL Draft, too.
The Gators may get Kaiir Elam back at corner, however, which would be a huge boost for new defensive coordinator Patrick Toney.
Beyond that, Florida doesn't lose much of value from the 2021 team and some losses, like departing diva Jacob Copeland, are more "addition by subtraction" than anything else.
Key returnees
Getting Elam back is still up in the air, but that would be immense.
Right now, the best news is the impending return of preseason All-SEC linebacker Ventrell Miller. The senior was lost for the season in the season's second game and Florida's defense never recovered. Miller, who was listed as high as a 2nd-round selection in many NFL mock drafts, will give the Gators leadership and a steady force at a position where the program lacks depth. His health is a key to Florida's hopes in 2022.
Other potentially impactful returnees include left tackle Richard Gouraige, who had a solid season on an otherwise anemic offensive line, and defensive end Brenton Cox Jr., who led the team in sacks and showed a new sense of urgency — and finally graded out well in the process — against the run in Florida's final 2 games, against FSU and UCF.
Key recruits
Florida will add to what for now is a very small transition recruiting class, per Billy Napier. The head coach said he simply wanted to make sure his staff could make its own evaluations before they maintained scholarship offers this season. Napier, like his former colleague Kirby Smart and his mentor Nick Saban, is emphasizing "fit" over quantity, in building his program.
Florida will use the portal, it would appear, to fill in some "immediate need" gaps, and have already done so early in the offseason, bringing in "culture builder" worker bee transfers from Napier's prior stop, the University of Louisiana, where Napier built a Sun Belt champion's culture.
But the biggest recruit by far is 5-star safety Kamari Wilson, for two reasons. First, Florida's safety room is a mess, with its best talent, Rashad Torrence II, likely playing a bit out of position at present, and no other proven commodities on the roster. Second, Wilson is a Florida kid from IMG Academy – a place where Mullen was blackballed and where Smart, Saban, Harbaugh and Ohio State have feasted. Stopping the bleeding on in-state 5-star kids is job No. 1 for Napier on the recruiting trail – Wilson provides a great foundation in Napier's building process.
QB situation
Confusing.
Emory Jones isn't technically in the transfer portal yet, but he is expected to transfer, and after his dismal Gasparilla Bowl performance against UCF, it's hard to see how he would be Napier's starter anyway.
The people's champion, Anthony Richardson, will widely be presumed to be the starter, but it will be fascinating to see how he looks in the spring. He has to take better care of the football and make progress with his reading of defenses, and he'll have to do that learning a new offense.
Jack Miller III, a former 4-star, Elite 11 quarterback out of Phoenix, transferred in from Ohio State last month. Miller III grew up a Gators fan; he'll have a chance to be QB 1 if Richardson can't cement the job.
Carlos Del Rio, a former blue-chip recruit, and Jalen Kitna, who has a great arm and better genes, round out the roster.
Whoever wins the job, they'll need to be outstanding for Florida to survive a brutal 2022 schedule that includes Utah, a trip to Texas A&M and a visit to FSU in addition to their annual 7 SEC opponents. Quarterback is the great equalizer in the sport, and Richardson in particular has the look of a special talent. But none of them has proved much, and there's no grace period, as the Gators open with Pac-12 champion Utah in Week 1.