GEORGIA
Dawg tales from the Cocktail Party, with some Lewis Grizzard antics
In 1966, defensive linemen Bill Stanfill and Jerry Varnado sacked Heisman Trophy winner Steve Spurrier so many times that the future "Head Ball Coach" often whined and begged for roughing the passer calls while sitting on his rear end. 
It ended Florida's undefeated season, and Georgia won the SEC East.
Stanfill grew up on a Cairo, Georgia farm. "Holding pigs for my dad to castrate was quite a challenge. I can't say that helped prepare me for football, but it sure did remind me an awful lot of sacking Steve Spurrier." 
"We kicked Spurrier's a–," the late Stanfill told the Athens Banner-Herald in 2004. "I still think I'm one of the reasons why he hates us so much. I was pounding his butt whether he had the ball or not all day long."
Varnado's sack on Spurrier is at the 5:10 mark in this YouTube clip. Billy Payne, Happy Dicks and Jake Scott were also on that 1966 team that beat Florida 27-10.
Jerry is now Pastor of Rays United Methodist Church in Bishop, Georgia, 12 miles southeast of Athens.
No one, including Jerry, knows if the church is named after a guy named Ray. Thus, no apostrophe.
* * * * *
In 1977, this writer was a UGA undergrad who traveled to Jacksonville with a carload of fraternity brothers and their dates in a luxury sedan owned by this writer's girlfriend's parents. 
A south Georgia speed trap merit badge was issued as a weekend souvenir. 
Others had game tickets, this writer had none and wanted none. There was a TV in a hotel room. Need there be more explanation?
After the game, a 22-17 loss to the Gators that this writer knew nothing about, another fraternity brother and his crew were unable to find his tailgated late-model Oldsmobile. 
They returned to Athens without the car, then returned to Jacksonville the following week to find the car. To this day, they might still be looking for that ride.
* * * * *
Much has been written about the 1980 Georgia-Florida "Run Lindsay Run" game. 
Lewis Grizzard confessed to having left the game late in the 4th quarter to consume adult beverages and drown his sorrows when he heard the crowd roar from a Gator Bowl sidewalk. 
After the play Grizzard's friend Larry Munson even said on the air:
"We were done. I gave up. You did too."
* * * * *
In 1987, Lewis spoke at the Jacksonville Bulldog Club breakfast. In the early morning hours after an all-nighter of tailgating, on the way to deliver his speech an overserved Lewis tripped over the pitcher's mound on a baseball field where he tailgated. Friends helped Lewis up, propped him up and escorted him to the breakfast venue.
Lewis' seats were in front of a loud woman Gators fan married to a more tolerable and quiet Dawgs fan named Harland. When the Dawgs pulled ahead, the Gator woman finally shut up. In the 4th quarter, Gator woman blurted, again loudly:
"Harland, give me the keys. I've had enough of this. I'll see you in the parking lot."
The Dawgs spanked the Gators 23-10 in a game that wasn't as close as the score suggests.
Somehow still standing, Lewis found Dawgs man Harland and Gator woman tailgating near him. They apparently bet that the loser would kiss the winner's nekkid rear end for many bystanders to see. When Gator woman did what she had to and planted loud smacks on each nekkid Harland cheek, Lewis announced for those all-around to hear:
"This is the first time I have seen an a– whipping and an a– kissing on the same day."
* * * * *
Sometime in the 1980s or 1990s, Lewis and an RV full of rabid Albany Georgia Dawgs trekked to Jacksonville. The responsible driver was the late Jimmy Matthews, who always hosted Lewis at his Albany home where his wife Dee would spoil Lewis rotten with home cooking his wives never even tried to master. 
In that RV, was the recently departed Ducky Wall, a legendary South Georgia sportscaster. In a 2020 phone conversation, Ducky told this writer that the RV was greeted by loud cheers and waving people, including uniformed police, as they approached their tailgate location. Ducky and the RV passengers quipped:
"I don't remember Jacksonville people ever being this friendly."
The RV was traveling the wrong way down an unmarked street temporarily made one way for the game. Jacksonville is famous for game day traffic chaos, including law enforcement in uniform who do not otherwise appear to be working. Certainly, they do little to direct traffic or assist with directions.
* * * * *
In 1995, while the Gator Bowl was still being remodeled, the game was played in Athens. Florida coach Steve Spurrier perhaps took out his Bill Stanfill/Jerry Varnado frustration in a game that came to be known as "Half a hundred between the Hedges."
After the 52-17 Florida victory, Spurrier said he had wanted to be the first coach to score "half a hundred" on the Bulldogs in their own stadium. 
That record remains as the most scored points against Georgia at Sanford Stadium.
* * * * *
UGA President Michael Adams from 1997 to 2013 told people to no longer call the Georgia Florida game the "World's Largest Outdoor Cocktail Party." 
Good luck with that. If even your friends call you Binky, and you tell them to stop calling you Binky, you will be branded as Binky for life.
This writer requests that you call him Binky going forward. That way it will never happen.
* * * * *
In 2007, 20th-ranked UGA took on 9th-ranked UF. Mark Richt told his players to get excited after a touchdown, resulting in a wild end-zone celebration. Georgia upset the Gators 42-30. Tim Tebow won the Heisman Trophy that year.
In 2008, 8th-ranked UGA took on 5th-ranked UF. In what became a 49-10 rout, Urban Meyer took timeouts to prolong the game when others might let the clock run down. This was in retaliation for a 2007 UGA celebration.
Arrogant Urban now poorly coaches the Jacksonville Jaguars, still behaving like a childish brat. Even Jacksonville Bulldogs fans agree there is a special place in the underworld awaiting him.
(Speaking of the Heisman Trophy, it is hard to get kicked off any Florida team. But one guy managed to do it for stealing laptop computers. He went on to win the 2010 Heisman at Auburn, the school of 2nd, 3rd and 4th chances.)
* * * * * 
From 2005 to 2010, this writer drove his toddler sons to and from preschool in Destin, Florida. Twice daily passing Danny Wuerffel Way was a source of annoyance. People should be deceased or at least advanced in years before any roadway is named after them. Even if they, too, won a Heisman Trophy.
Circa 2012, a UGA fraternity brother invited this writer to play in Danny Wuerffel's Desire Street Ministries charity golf tournament the Thursday before the Georgia-Florida game. That meant the fraternity brother was desperate, as this writer has never been more than a hacker golfer at best.
The fraternity brother learned that this writer playing any decent course would get everyone in any group banned for life due to divot damage. Nonetheless, this invitation stood.
The event was not doable that year due to work conflicts, which is unfortunate. The following Monday, the fraternity brother advised this writer that some guy named Herschel Walker was in the foursome this writer could not join.
That Herschel guy was said to leave divots that could swallow multiple golf carts. Thus, whatever divot damage this writer could have done may have gone unnoticed by comparison.
Given all of the great things that Danny Wuerffel's Desire Street Ministries has done and continues to do, he deserves to have a roadway named after him even in his relative youth.
* * * * *
Lewis Grizzard was charitable too, for over a decade hosting Gator Hater golf tournaments, with proceeds going to Egleston Children's Hospital in Atlanta. Lewis also hosted charity golf tournaments at Big Canoe north of Atlanta. 
Lewis' charity tournaments raised hundreds of thousands for Egleston Children's Hospital. Lewis's UGA fraternity brother Shelton Stevens took over those charitable efforts to establish Children's Healthcare of Atlanta. 
When he retired in 2017, Shelton's CHOA had raised hundreds of millions that benefited Georgians of all ages.
Shelton attended many Georgia-Florida games with Lewis and was perhaps a passenger in the "wrong way" RV with Ducky Wall, Jimmy and Dee Matthews and others.
Shelton once told this writer of a GA-FL game weekend where a group lodged at the oceanfront Ponte Vedra Beach second home of an Albany friend, one Archer Brandon "Bugar" Seely, who some say was funnier than Lewis Grizzard. 
Shelton, Lewis and Bugar had all been overserved at a Ponte Vedra watering hole only blocks from the host's home. With them was another Albany friend who never indulged in adult beverages but was legally blind his entire life. He could see through thick glasses, yet he could not legally drive.
This of course meant that a legally blind man should drive them home. Given no choice, that guy got behind the wheel with another steering and motored several blocks at a maximum 7 miles per hour. This did not prevent damaging at least one mailbox in a major way and the vehicle in a minor way.
The next morning, the lady of the house demanded to know how a mailbox and the car were damaged. Bugar had no recollection, so the others blamed him. Perhaps until his dying day, poor Bugar did not know a blind man drove that entire motley crew home. 
* * * * *
This writer will attend the 2021 Georgia-Florida game with 2-year UGA football letterman, John Akacki, whose parents twice served Vince Dooley and Erk Russell perhaps stolen steak and lobster dinners in their New Jersey home followed by perhaps stolen adult beverages in their New Jersey basement. 
If Vince and Erk paid two trips anywhere to recruit anyone, that was a player they wanted. They got him.
Among other notable experiences, Akacki had the rare pleasure of beating Florida in The Swamp, a structure in Gainesville far more unpleasant to visit than the Gator Bowl. 
At one time UGA's freshmen BullPups played separate games against other freshmen teams. In 1976 the UGA Bullpups spanked the Florida … Hatchlings (?).
Akacki's and this writer's game day tailgate host will be gentleman Dawg, John Short, who has won so many tailgating awards they no longer let him compete.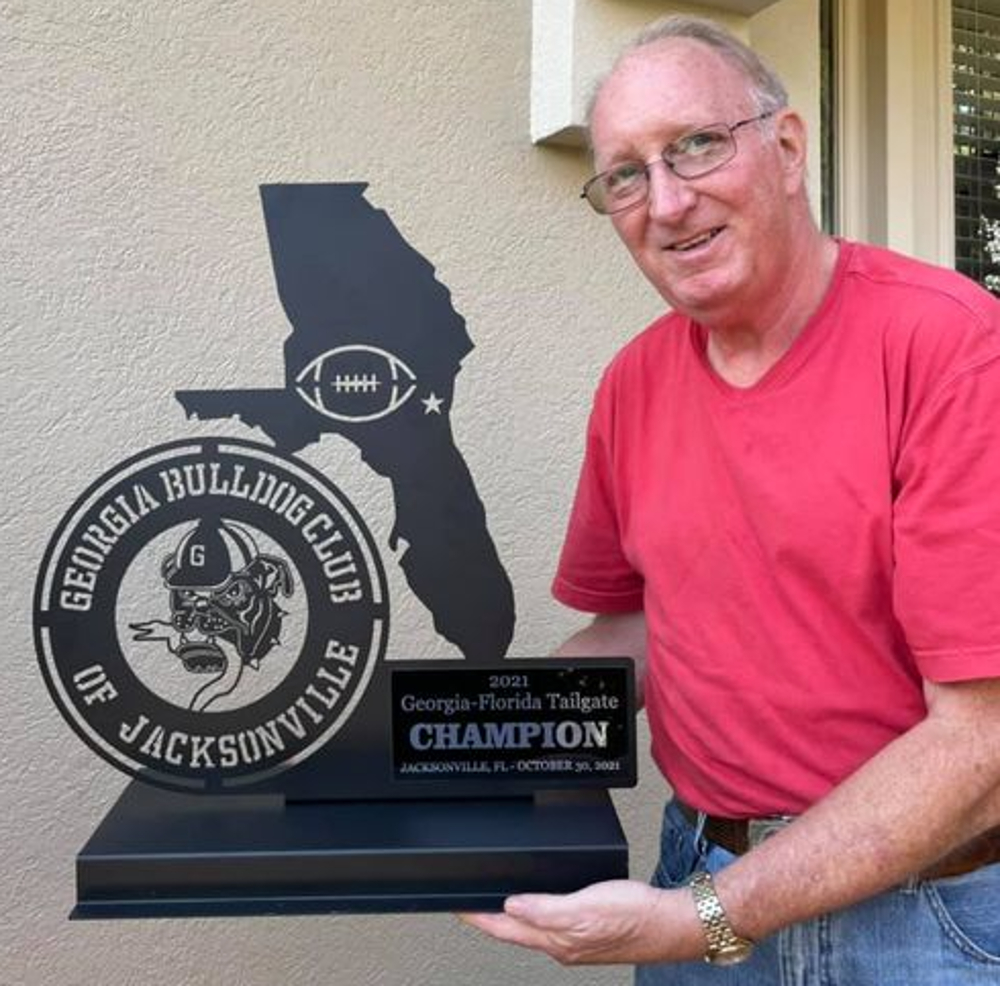 Though no longer eligible for an award, the tailgate Dawg still fiercely competes. Rumor has it there will be gator on the pregame menu.
* * * * *
Finally, let us meld two detested ugly orange and blue Dawgs opponents together into one pithy quip.
Lewis Grizzard on Auburn and Florida:
"What is the difference between a Florida fan and an Auburn fan?" 
"They will both sell you their grandmother, but the Florida fan won't deliver."
If Florida is even less honorable than "2nd chance" Auburn when selling grandmothers, Florida is on the bottom of a most dishonorable heep.
Lewis on Gators husbandry:
"Want do you get when you mate a pig with a Florida graduate?"
"Nothing. There are some things even a pig won't do."
Go Dawgs!!!