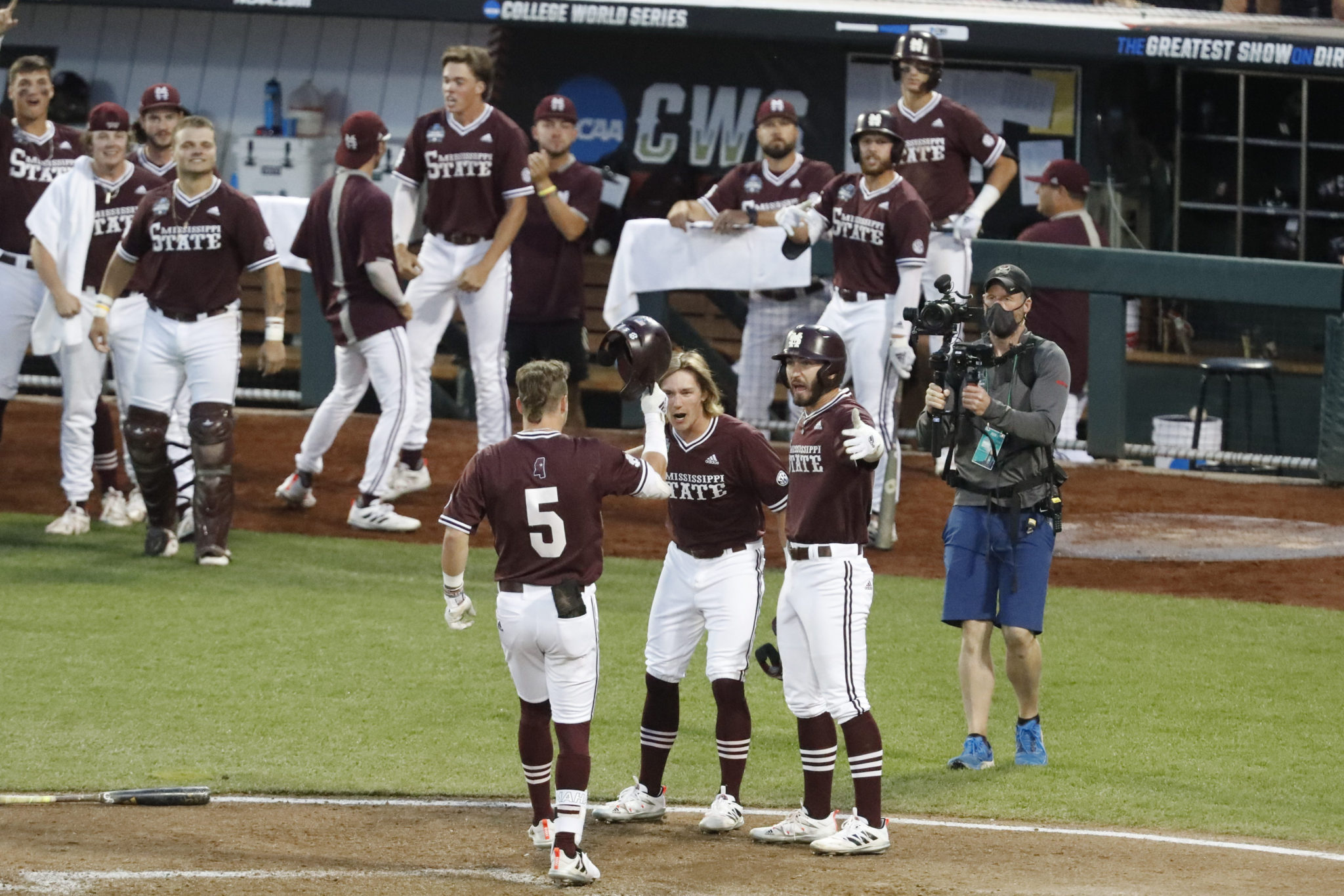 MISS STATE
CWS: Doing small things well earns OmaDawgs a chance to do a big thing Wednesday -- win it all
It was a dire situation Tuesday for Mississippi State. After getting smothered by a 7-run first inning on Monday, the Bulldogs had to win. But with their back against the wall, MSU resorted to what it has done most of the season — the OmaDawgs did a bunch of small things well.
Nobody hit the ball out of the park for Mississippi State on Tuesday. They didn't have to. State found a way to exploit Vanderbilt, simply crushing the Commodores with patience and successful small ball. In the third inning, with the score tied 1-1, State embarked on the rally that opened up the game. And what a rally it was.
An infield single, then a wild pitch. Followed by a walk, a walk, and another walk, with the third walk forcing in a run. Then a 1-hop smash off the pitcher's leg, which plated a pair of runs.
Scotty plates a pair ✌️ pic.twitter.com/faUkpN43R7

— Mississippi State Baseball (@HailStateBB) June 30, 2021
Then came a fielder's choice grounder to the Vandy shortstop, another walk, and another wild pitch allowing in 1 more run. Total damage: 4 runs, and a 5-1 lead that State never relinquished on its way to a 13-2 win. The only time the ball left the infield, it did so on a deflection off the pitcher's leg.
The pattern was set. State took 10 walks, had every single starter get at least 1 hit, and had 6 of the 9 offensive starters managing an RBI. Five Vandy pitchers were unable to staunch the bleeding, and, just as important, MSU got through a 4-hit effort using just two pitchers, Houston Harding and Preston Johnson.
Mississippi State 13, Vandy 2.
And in the words of the great Jack Buck, "We'll see you tomorrow night." For winner-take-all Game 3.
For Mississippi State, Wednesday is a night that's been a long time in the making. Back when SEC baseball was simply no big deal, State was one of the first schools to see the possibility of the sport. Between building Dudy Noble Field, bringing in Ron Polk to coach, and generally creating a culture of baseball excellence, State was an SEC trailblazer. They had been to the CWS once before Polk, but he took them 6 more times (and coached stars like Will Clark and Rafael Palmeiro in Starkville). Successors Pat McMahon, John Cohen, (interim coach) Gary Henderson and Chris Lemonis have also made trips to Omaha.
But one prize has eluded the Bulldogs. John Cohen got the 2013 Bulldogs to the Finals in Omaha, but they were swept by UCLA. Polk won 1,139 games at MSU, but the CWS finals were not among them.
Mississippi State was not a flashy team in 2021. They didn't win their division in the regular season. They got thumped out of Hoover in the SEC Tournament in 2 games by a combined 25-3 score. They finished 8th in the SEC in home runs and 7th in batting average. They were 6th in ERA and issued the 3rd-most walks of any SEC pitching staff.
But throughout the NCAA Tournament, and honestly, throughout a 49-18 season, State did small, subtle things well. They worked walks, took extra bases, advanced runners on outs, strung together base hits, and just generally found ways to win. It's what they did Tuesday night, and it's what they'll be hoping to do Wednesday.
Wednesday presents a likely standout pitching matchup with Vandy's Kumar Rocker against State's Will Bednar. Neither guy is working on full rest, but both will give everything they have. Luke Murphy out of the Vandy bullpen and Landon Sims out of the MSU pen will also coax every last drop of energy out of their talented right arms. Rocker and Vandy are imposing — they're the more talented team, with higher MLB Draft picks and the most recent CWS trophy sitting in their trophy case.
For State, they'll try to scratch and bleed Rocker bit by bit and turn this into a battle of the bullpens. They'll hit-and-run, work long counts, and generally try to do a million small things well. And if it goes well enough for long enough, they'll end up doing the one big thing left for MSU to do — bring the CWS trophy to Starkville.