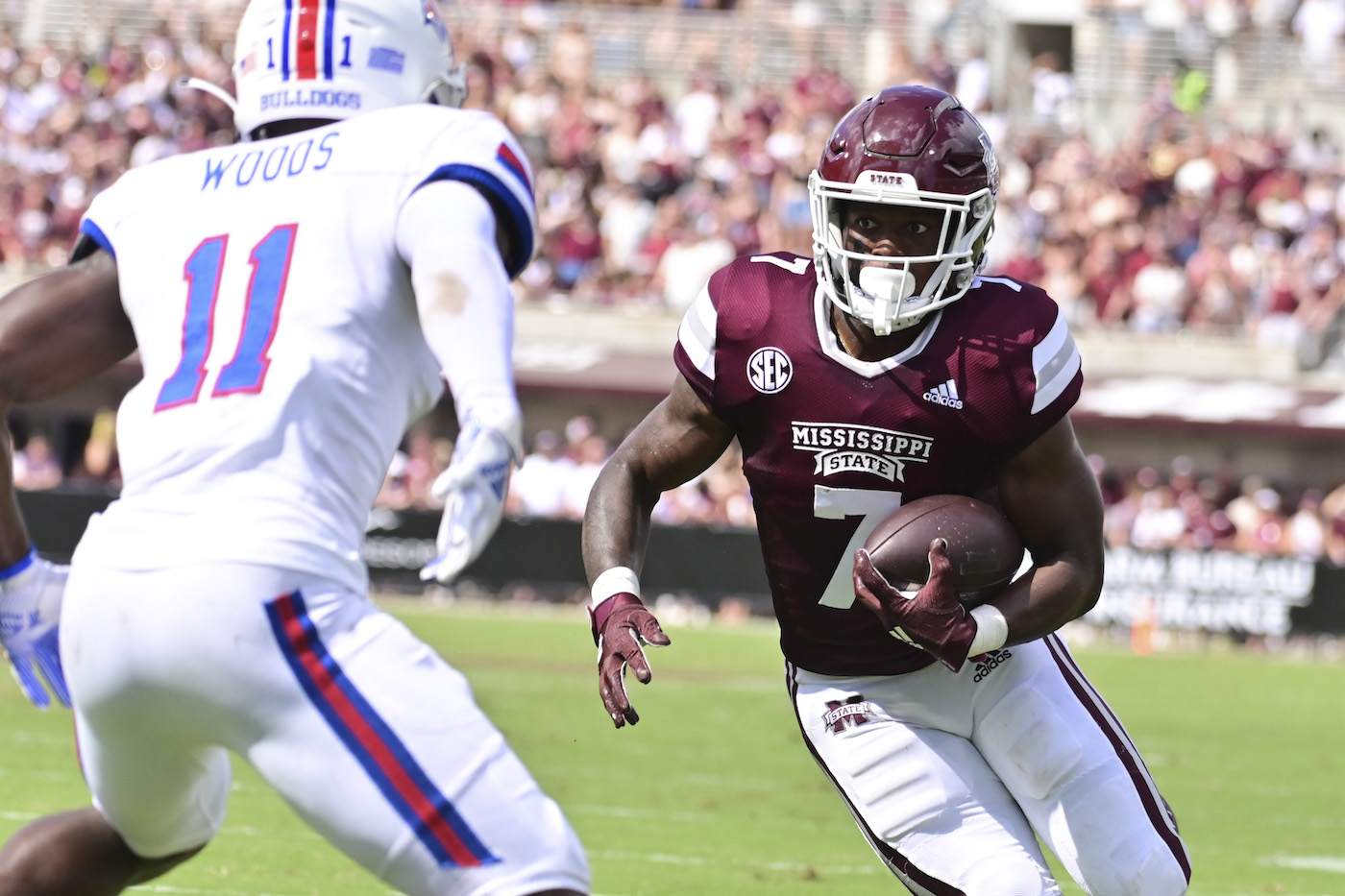 MISS STATE
Mississippi State football: Grading the depth chart ahead of the season opener
Mississippi State has more familiar faces at the top of its depth chart than most teams do.
The Bulldogs return 8 starters on offense and 8 on defense. Even though head coach Mike Leach brought in several newcomers that will play quite a bit, it's possible that nearly every starter will be someone who was on the team last season.
That doesn't mean there won't be newcomers taking on significant responsibilities and returning players assuming increased responsibility because there will be — at some positions.
The players responsible for essentially every rushing yard and passing yard last season will be starting again.
As for the receivers, Makai Polk and Malik Heath are gone after combining for more than a quarter of the pass receptions, 30 percent of the receiving yards and more than a third of the touchdown catches last season. But that still leaves a lot of production that's returning.
On defense, State has to replace 2 starters in the secondary and 1 at linebacker. But the line returns not only all 3 starters and their top backups, but also Jordan Davis, who likely would have started last season if not for a season-ending torn ACL.
That's a lot of continuity that will help as the team prepares to host Memphis on Sept. 3.
Here's how each position group stacks up as we draw closer to the season opener:
QB: B
Will Rogers had a historic season in 2021, breaking Dak Prescott's school records for passing yards (4,739) and passing touchdowns (36) while completing nearly three-quarters of his passes.
That's a lot of productivity that's coming back.
Now that he's entering his 3rd season in Leach's offense and essentially his 3rd season as the starter, Rogers, who threw just 9 interceptions last season, should be even more efficient.
Chance Lovertich, the only quarterback other than Rogers to take snaps last season, is also back, but he's being pushed by redshirt freshman Sawyer Robertson. The Bulldogs like the potential of Daniel Greek and Braedyn Locke, but if anyone other than Rogers takes a whole bunch of snaps, that will be problematic.
RB: A
Jo'quavious Marks and Dillon Johnson return for a 3rd consecutive season as vital parts of the offense with their pass receiving, blocking and rushing.
They're extremely important to the offense, even though their roles in Leach's offense are somewhat untraditional.
Redshirt freshman Ke'Travion Hargrove has the best opportunity to break through and get a few opportunities behind the 2 veterans.
WR: B
Leach, who doesn't have a tight end on his roster, starts 4 wide receivers and rotates in plenty of others, so there are plenty of roles. But even without Polk and Heath, he has plenty of returning players to fill the roles.
Caleb Ducking, Jamire Calvin, Rara Thomas and Austin Williams have lots of experience and seem most likely to start. Lideatrick Griffin, Jaden Walley, Antonio Harmon, Christian Ford and Rufus Harvey are also in the mix, as are transfers Jordan Mosley (Northwestern) and Justin Robinson (Georgia).
That is an unusually large number of viable options, which is why no one in the group is indispensable.
OL: C
The Bulldogs will have 2 new tackles this season. Kwatrivous Johnson is expected to start on the left side, and Kameron Jones likely will start at right tackle next to Albert Reese IV, unless they flip-flop. Nick Jones will be the left guard and LaQuinston Sharp the center. The line can't afford to lose Johnson, because that would require a lot of shuffling within a group featuring depth that is largely inexperienced.
Tackle Percy Lewis, though, has an opportunity to break through and be a regular part of the rotation.
DL: B
The starting trio of noseguard Cameron Young and tackles Jaden Crumedy and Randy Charlton, along with Davis and fellow end De'Monte Russell, lead the way.
The Bulldogs have plenty enough depth to have a large rotation and withstand a normal number of absences that might occur, though the experience of Davis, Young or Charlton would be difficult to replace.
LB: B
State returns 3 key players in Jett Johnson, who led the team in tackles last season, Nathaniel Watson, who was 2nd in tackles and sacks, and Tyrus Wheat, who was tops in tackles for loss and sacks.
DeShawn Page is pushing Johnson and will be the most important backup if he doesn't crack the starting lineup. After that, the depth is mostly inexperienced.
DB: B
Defensive coordinator Zach Arnett uses 3 safeties, and he has a lot to work with. Collin Duncan, Corey Ellington and West Virginia transfer Jackie Matthews are the likely starters, but Jalen Green and Shawn Preston Jr. also have experience.
Sophomores Ellington and Dylan Lawrence should see playing time, and Michigan transfer Jordan Morant was a late addition who could emerge.
Cornerback Emmanuel Forbes is the top player, and therefore the one who would be most difficult to replace in the secondary. Sophomore Decamerion Richardson is competing with Alabama transfer Marcus Banks to be the other starter.
Junior college transfer DeCarlos Nicholson, Florida State transfer Hunter Washington and veteran Esaias Furdge provide depth to the group.