MIZZOU
Mizzou asks athletes to sign pledge involving COVID-19 precautions
As college athletes return to campuses across the nation, we've seen a few of the universities ask athletes to sign COVID-19 pledges.
On Wednesday, it was revealed that Mizzou asked its players to sign a pledge upon their return to campus, too.
As you can see below, the pledge, shared on Twitter by reporter Peter Baugh, includes sections on self-monitoring, practicing good hygiene and social distancing, among other things:
#Mizzou asked its athletes to sign a pledge saying they will take seven COVID-19 precautions, including self monitoring their symptoms, practicing good hygiene and going through daily screenings, according to the document, which was obtained through an open records request. pic.twitter.com/lBedDesfFx

— Peter Baugh (@Peter_Baugh) June 17, 2020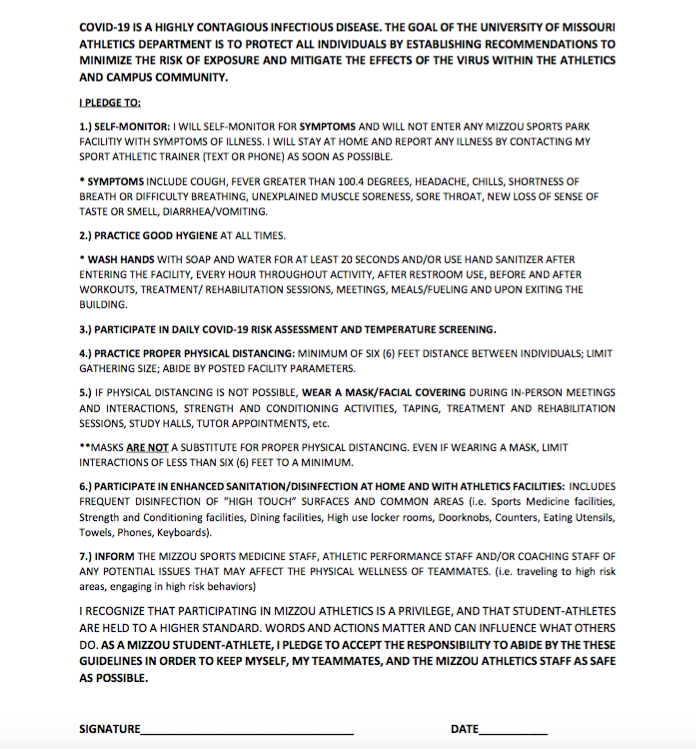 These don't appear to be liability waivers or anything of that sort — just a pledge for athletes to do their best to keep themselves and their teammates safe.
We'll see if other schools in the SEC follow this new trend.