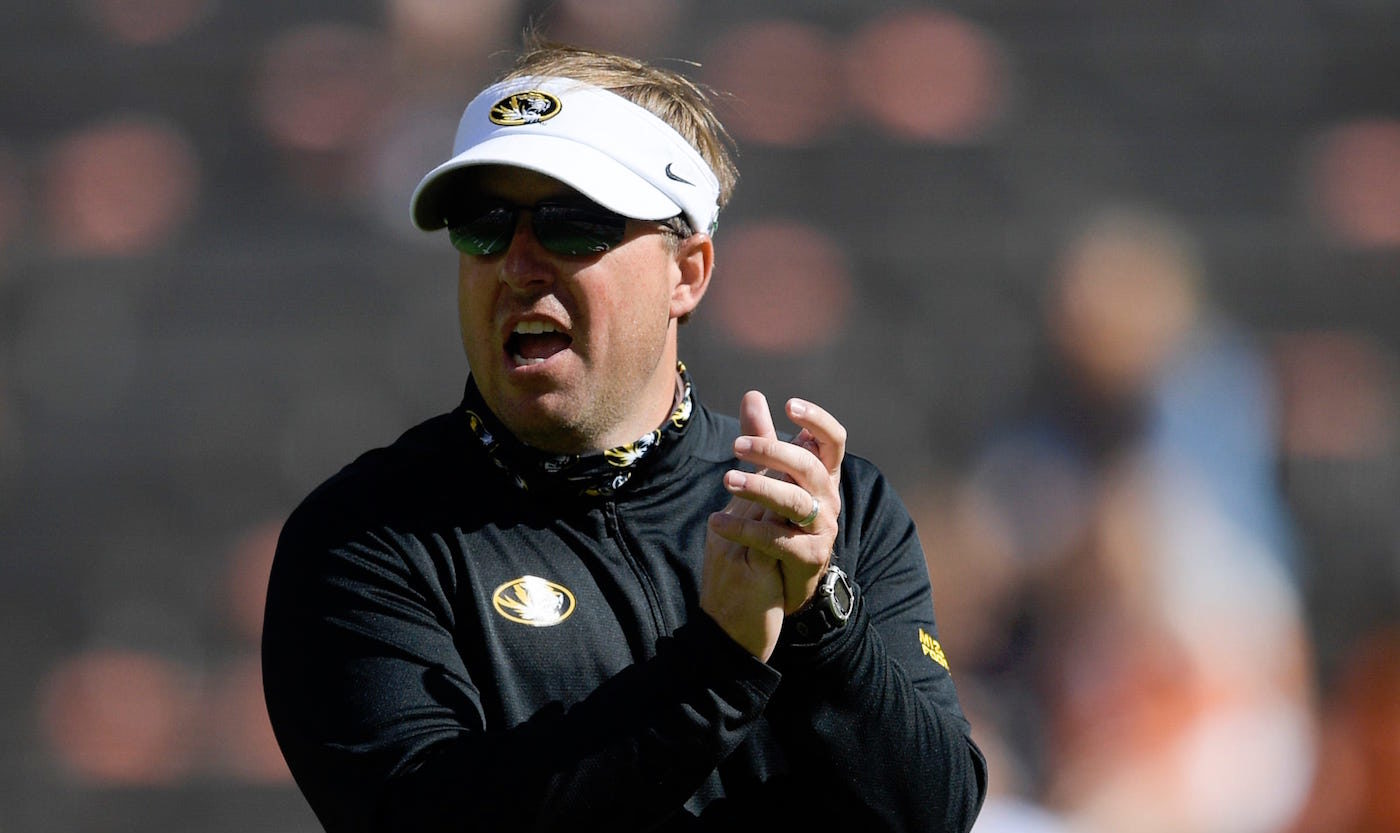 MIZZOU
Mizzou football: Predicting the final 5 games of the Tigers' regular season
The Missouri Tigers have reached the halfway point of their 2020 season. Through 5 games, the Tigers are 2-3 under first-year head coach Eli Drinkwitz, with wins over LSU and Kentucky.
Their 3 losses were to Alabama, Tennessee and Florida, so it's tough to fault them for any of those. In fact, 2-3 should be considered a great sign from the Tigers.
So, what should we make of this team going forward? The schedule actually looks more manageable down the stretch, so it's probably safe to say the Tigers aren't done winning.
Here are my game-by-game predictions for the final 5 games remaining on Mizzou's 2020 schedule:
Nov. 14 vs. Georgia
This game will be closer than people think. The Bulldogs didn't look so great offensively in their 14-3 win over Kentucky on Saturday, but the defense is one of the best in the country. The Tigers will potentially try to use their run-heavy, ball-control style game plan from their own victory over Kentucky.
It should be another busy day for RB Larry Rountree III, who had 37 carries in the win over Kentucky. At the end of the day, though, the Bulldogs will wear down the Tigers' defense and escape Columbia with a solid, if unspectacular, 10-point win.
Prediction: Georgia 23-13.
Nov. 21 at South Carolina
This is an important measuring stick for Mizzou fans, as the Tigers would love to show they're better than Vanderbilt, Kentucky and South Carolina in the SEC East on a yearly basis. Mizzou snapped a 3-year losing streak to the Gamecocks last year. Now, it's time to start a streak of its own.
Crazy things happen in the battle of the Columbias, but Mizzou QB Connor Bazelak has shown he is calm and collected when things get chaotic. If his receivers can learn to catch the ball more consistently over the next couple of weeks, the offense is capable of making the big plays necessary to pull off the tough road victory.
Prediction: Missouri 24-17
Nov. 28 vs. Arkansas
This will be a big game for former Mizzou player and coach Barry Odom. The Tigers went 4-0 against the Razorbacks under Odom, but now that he's Arkansas' defensive coordinator, he'll be eager to stay on the winning side of the Battle Line Rivalry.
The Razorbacks sport an identical 2-3 record at the halfway point of their season, but they have 3 tough games — vs. Tennessee, at Florida and vs. LSU — on the schedule before heading north to Columbia for this game.
I honestly have no idea how to pick this game this year, as Odom is still very familiar with Mizzou's players and the defensive coaching staff. I expect it to be a tight battle that could go either way, but at the end of the day, I'll give the Tigers the edge since the game is at Faurot Field.
Whatever happens, though, this is going to be a fun game to watch with the chess match between Drinkwitz's offense and Odom's defense. Drinkwitz is going to have to create his best game plan of the year for this one.
Prediction: Missouri 27-21
Dec. 5 at Mississippi State
I was a heck of a lot more worried about this game when the schedule was released. Then, the Bulldogs put up 44 points in Mike Leach's SEC debut, beating defending champion LSU.
Since then, though, the wheels haven't just fallen off the Air Raid bandwagon — the wagon has crashed and is on fire. People are fleeing. Since scoring 44 points in Week 1, Mississippi State has scored a grand total of 30 points during its current 4-game losing streak.
Mississippi State's defense has been solid, but the offense has been a disaster, turning the ball over way too much under QBs KJ Costello and Will Rogers. Star RB Kylin Hill seems to be done with the Bulldogs, too.
How much worse will things get before Dec. 5? Leach has a history of cratering a program in the first couple of years after he takes over before building it back up the way he wants it. So, now is the time to pounce on the Bulldogs and kick them when they're down.
Prediction: Missouri 30-10
Dec. 12 vs. Vanderbilt
This game was supposed to be played on Oct. 17, but that didn't happen, due to a COVID-19 outbreak in the Vanderbilt program. Still, it doesn't really matter when the Tigers play the Commodores, they should take care of business handily.
This is another game that would have worried me under Odom. Heck, just last year, the Tigers inexplicably lost in Nashville. But Drinkwitz seems to have his players ready to play every week, so I think they'll handle their business against Vandy this time.
Look for the Tigers to end the regular season on a high note before starting preparations for what should be a decent bowl berth.
Prediction: Missouri 38-13
Final regular-season record: 6-4
If you had told me the Tigers had a chance to go 6-4 back when the schedule was released, I would have signed up for that in a heartbeat. Drinkwitz deserves a ton of credit for the life he's injected into this program, but it will be important to actually live up to the expectations after an encouraging first half of the season.
Mizzou fans know all too well how quickly things can collapse. Thus, the trip to South Carolina looks like a major turning point in the season.
Beat the Gamecocks and Mizzou will likely enter the Arkansas game with a 3-4 record. Lose, and the Tigers might come into that game 2-5 and lacking confidence. That's when things could get ugly.
I believe in Drinkwitz and the Tigers enough to pencil in a minimum of 2 more wins, as I think Mississippi State and Vanderbilt are perhaps their 2 easiest games of the season. A record of 4-6 wouldn't be horrible in Drinkwitz's first season, but getting to 5-5 (or 6-4 like I predict) will go a long way toward reigniting hope in a Mizzou fan base that has grown awfully weary of hope in recent years.