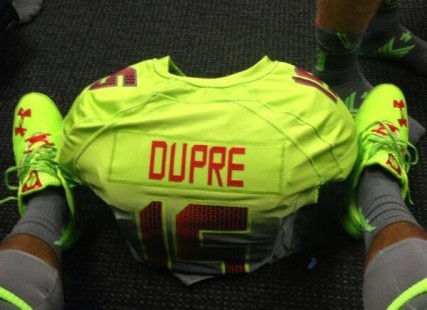 So it's getting down to crunch time. Which schools have the most realistic change of landing the nation's top remaining talent, and when will these guys make their decisions known? Here's a look at the 15 top prospects out there who are seriously considering SEC schools.
RELATED: Which states produce the most SEC talent?
NOTE: All ratings refer to the 247Sports.com composite ranking.
| | | | | |
| --- | --- | --- | --- | --- |
| RK | RECRUIT NAME | ANNOUNCEMENT DATE? | FINALISTS | NOTABLE |
| 7 | Adoree Jackson, DB | Feb 5 – National signing day | Florida, Southern Cal, UCLA, Tennessee | Southern Cal getting sexier for this California native. |
| 12 | Marlon Humphrey, DB | Feb 5 – National signing day | Alabama, FSU, Miss. State | No longer announcing on Feb. 1 as previously planned. |
| 15 | Rashaan Evans, LB | Feb 5 – National signing day | Auburn, Alabama, UCLA | It would be hard for anyone to steal him away from Auburn |
| 17 | Malachi Dupre, WR | Feb 5 – National signing day | LSU, Alabama, FSU, UCLA | Once seemed to be a near lock to LSU. Might be in play now. |
| 18 | Lorenzo Carter, DE | Feb 5 – National signing day | Georgia, Alabama, Florida, FSU | Father told one media outlet Georgia could be considered leader. |
| 27 | Damian Prince, OL | Feb 5 – National signing day | Maryland, FSU, Maryland, Florida, South Carolina | May stay close to home with Maryland? Fla. has final visit. |
| 63 | Braden Smith, OL | After Jan. 31 visit to TCU? | TCU, Texas A&M, Auburn, Alabama | One of the head scratchers of the season, and he's still taking visits. |
| 65 | Travonte Valentine, DT | Feb 5 – National signing day | LSU, Miami | South Florida product visits LSU this weekend and Miami next. |
| 127 | Derrell Scott, RB | Jan. 27 | Picked Tennessee | Chose the Vols over South Carolina on Monday. |
| 160 | Wesley Green, DB | Feb 5 – National Signing Day | South Carolina, Georgia | Once a South Carolina commit, he may come back to the Gamecocks |
| 164 | Matt Elam, DT | Thursday, January 30th | Kentucky, Alabama | One newspaper calls Elam a "statement recruit" for Kentucky |
| 175 | Kenny Young, LB | After Jan. 31 visit to UCLA | LSU, Texas A&M, Arkansas, UCLA | Tough to see this in-stater leave Louisiana, but things happen. |
| 196 | Chris Lammons, DB | Feb 5 – National Signing Day | South Carolina, Wisconsin | Former Florida commit is eyeing Gamecocks. |
| 216 | Elisha Shaw, DT | Feb 5 – National Signing Day | Georgia, Ole Miss, Alabama | First official visit came just this weekend, to Alabama. |
| 231 | Andrew Williams, DE | Feb 5 – National Signing Day | Auburn, Clemson, Ole Miss | Also will check out Ole Miss on a visit this month |
This button delivers the best SEC football stories to you on Facebook