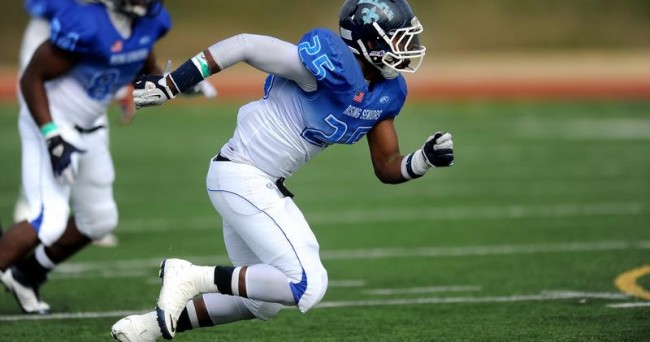 More commitment "flips" happen in the last few days before national signing day than any other time of the year. Here are five to keep an eye on that involve SEC schools being on the good end of things:
Related: SEC's biggest subplots a week away from signing day
Bryson Allen-Williams, LB — From South Carolina to Georgia or Bama: This seems to be the least likely scenario down the stretch, but this four-star prospect is definitely looking around and Georgia's Jeremy Pruitt has been in his ear. Allen-Williams and uncommitted Lorenzo Carter will be in Athens this weekend.
Emanuel Porter, WR — From TCU to LSU: Haven't heard of him? Well, he's 6-foot-5, he's from the Dallas area and he's just outside the national top 300. So this is hardly a nobody. My guess is that Porter will wait to see for sure what WR Malachi Dupre is doing before he pulls the switch trigger, but if Dupre goes somewhere other than LSU–expect this switch to happen quickly afterwards.
Related: JUCO recruit parts ways with Auburn, his 5th school & he's not even a junior
O.J. Smith, DT — From Alabama to Mississippi State: This three-star prospect out of Louisiana will be traveling to Starkville this weekend, and we all know how those "last visits" can go before national signing day. The Bulldogs want him badly, and even though he's been on board with the Crimson Tide since May 2013, this is a possible flip. Head coach Dan Mullen was recently in Smith's home.
Chad Thomas, LB — From Miami to Alabama: Thomas also could flip to Florida State, but he'll make his final official visit this weekend, and it'll be to Tuscaloosa. The five-star linebacker is from Miami, but Bama assistant Mario Cristobal–who played and coached in Miami for much of his life–is trying to wrestle Thomas away from the Hurricanes. We'll see what happens after his visit.
Dexter Wideman, DT — From Florida State to South Carolina: Wideman's probably the biggest "sure bet" on this list. The four-star prospect has already taken his official visit to South Carolina and he lives in Saluda (S.C.). Look for his switch to come very soon.
NOTE: All references to ratings are to the 247Sports.com composite rankings
This button delivers the best SEC football stories to you on Facebook