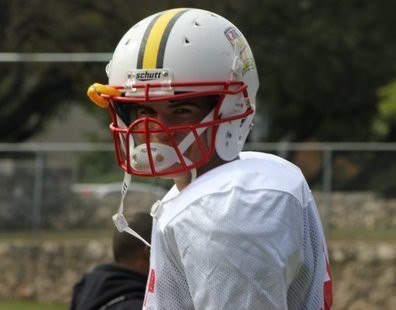 Welcome to "Quarterback Week", where Saturday Down South talks to some of the top QB targets out there for SEC schools. We've interviewed some of the biggest names, and we'll rank them at the end of the week. See who your school is hoping to lure to campus.
Jarrett Stidham is originally from Kentucky and he lives only a few hours away from Texas A&M. The quarterback knows SEC football, and SEC football apparently knows him pretty well too.
Eight of the SEC's 14 programs have offered him a scholarship, and the ones that haven't either have QBs already committed or the offense doesn't quite fit Stidham's talents. He is a five-star prospect and the No. 2 dual-threat QB in the nation behind Torrance Gibson, another huge SEC QB target. Granted, Stidham is from Texas and the home-state schools have made quite an impression. The chance to put up ungodly numbers in the Big 12 is another serious possibility for Stidham, with schools like Baylor, Texas Tech and Oklahoma zeroing in on him. But Alabama, Auburn, Tennessee and Texas A&M all made his top 10 schools list earlier this month, and Florida has offered since.
The one that really sticks out is Alabama, as the Crimson Tide have been looking for a quarterback since Ricky Town dropped the 'Tide in January. Stidham is now just as big a target for Alabama as California native Josh Rosen–who is rated more highly by recruiting services. Stidham camped at Alabama last summer, but when Town committed, the communication dried up. But things have ramped back up.
"Back in the summer I went and camped there for a couple of days, and I thought I did pretty well actually," Stidham told Saturday Down South. "I thought I was going to pick up an offer in the summer. We sat down with coach Saban and he told me he wanted to watch more of my film. And coach (Doug) Nussmeier, when he was there, he said the same thing about wanting to keep watching my film. Once they got Ricky (Town) I hadn't heard much from them, except for some letters and stuff. Once Ricky switched to USC, only a few days later Coach (Billy) Napier from Bama messaged me and told me he wanted to visit me the next day and then they offered me. He wanted to talk to me about their situation.
"It is very flattering. It's definitely kind of crazy. Growing up I always wanted to play for the best team in the country and win championships and Alabama has proven itself. It all definitely opens your eyes."
Even though Stidham is from Kentucky and now lives in Texas, he emphasized that he doesn't have any deep ties to any of the schools. He's well aware of what Johnny Manziel did as a dual-threat QB at Texas A&M, as well as what Robert Griffin III did at Baylor. He also pointed out that he has not felt pressured by the coaching staffs of any of the schools to hurry things up and come on board. He said most of the schools have actually told him to take his time.
What Stidham may not realize, because of his rather humble nature, is that he has a lot more leverage than most quarterback prospects. While many three- and four-star QBs have only three or four true options, and coaching staffs know it … Stidham has dozens of options.
Stidham is an interesting case when it comes to the quarterback position. His 4.57-second 40-yard dash time makes him quite a weapon, and it is the reason he played receiver as a sophomore and caught 50 passes for 819 yards and 11 touchdowns. When he switched full time to quarterback his junior year, he threw for 2,613 yards and 30 TDs to only 5 interceptions. He also rushed for 821 yards and 14 touchdowns.
He also brings another key intangible.
"I'd like to think that I never look at the negative side of things," Stidham told SDS. "I'm one of the most upbeat people around … I just kind of try to make jokes and make everything more easy going, even before games. Sometimes before games, everybody looks like they're at a funeral, but I like to have a good time and put a smile on people's faces. I figure if I'm in a bad mood one day, one of my teammates might see that and it isn't good for us. But if you're in a  good mood, you can almost be like the Energizer Bunny of the team. People will hop onto that bandwagon."
Stidham brings a lot to the table. Fans at Alabama and other SEC schools hope he brings it to their campus.
Editor's note: Saturday Down South's references to ratings follow the 247Sports.com composite rankings for high school prospects.
This button delivers the best SEC football stories to you on Facebook