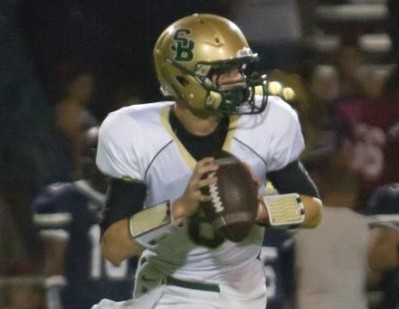 Quarterbacks are painfully aware of each other. They realize one bad recruiting move in 2014 can have an effect on things in 2017 or 2018.
Related: 4-star will choose Bama or UK Thursday
But 'avoidance' had nothing to do with what happened this weekend in the world of Alabama quarterbacking. At least not avoidance of QB competition. Don't read too much into five-star 2015 QB Ricky Town dropping 'Bama the same weekend FSU transfer Jacob Coker came aboard. It's more coincidence than anything else that it all happened this weekend. Yes, they technically could have done battle for playing time in 2015, but that's not the case here–and how often do true freshmen start at QB for Nick Saban over incumbent senior starters? And all of this is assuming that 2014 QB signee David Cornwell and 2013 QB signee Cooper Bateman wouldn't be part of the picture–which would be a silly assumption.
Related: Coker signs with Alabama after visit
Coker obviously saw a brick wall in front of him known as Jameis Winston and Town has seen a lot of things change in his home state of California and in Alabama since he committed to the Crimson Tide over last summer. One big thing for Town is, Lane Kiffin was fired at Town's home-state school, USC, and then was hired as an assistant at Alabama. Also, Saban has been recruiting other 2015 quarterbacks–and has taken a look at some dual-threat style QBs. He has hinted recently that a dual-threat QB might be something to consider in the future.
Kiffin is the biggest thing that has changed in this scenario, right? You're not going to hear negativity coming from the Town family, but one has to assume Kiffin had something to do with the switch. Town plays in USC's backyard in Ventura, yet committed to Alabama two years ahead of time. Now he drops Alabama two weeks after Kiffin is hired to run the offense?
Meanwhile, Steve Sarkisian came in at USC from Washington and made one heck of a pitch to the Towns, and now the junior will be staying closer to home with the Trojans.
This weekend's news can be translated simply: A) Talented Coker wants to play quarterback instead of play first-string playbook holder behind a Heisman winner, and playing at a perennial national title contender is the frosting. B) Town wants to play too, and maybe not 2,000-plus miles from home … as long as the big Kiffin-less program near his home town is a bit more stable (it surely wasn't stable last summer).
But Town avoiding Coker or any other present or future QB at Alabama?
Nah. Not even close.
NOTE: All ratings refer to the 247Sports.com composite ranking.
This button delivers the best SEC football stories to you on Facebook