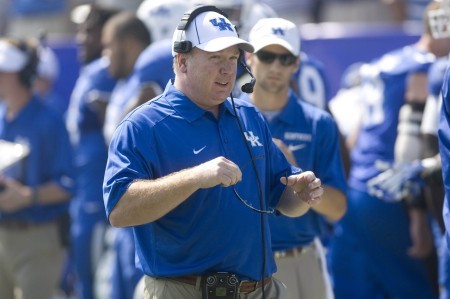 Mark Stoops and his staff continued with their outstanding work in Ohio this week, pulling in their 11th commitment out of the state of Ohio. The Kentucky class has 26 total commitments.
Related: SEC East's top remaining targets
The class, which is ranked No. 19 nationally and is clearly one of the best groups in at least a decade if not several, added offensive tackle Josh Krok out of McKinley High School in Niles, Ohio. Krok had previously been committed to West Virginia. Along with the Mountaineers, Louisville and Cincinnati were also after Krok. Krok is 6-foot-8, 300 pounds. He had just visited the Wildcats this past weekend.
WR Thaddeus Snodgrass and DB Darius West are two four-star prospects out of Ohio that help comprise the contingent of 11 prospects. The staff has done a good job in the Cleveland area, Dayton area and Cincinnati.
This button delivers the best SEC football stories to you on Facebook