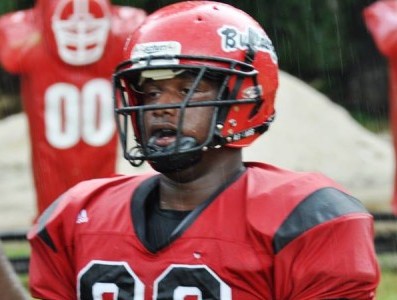 SDS will rank the SEC's potential instant impact freshmen–using the month of March–by ranking them No. 31 down to No. 1. This gives our readers an idea of which 2014 signees we believe will step up in the fall and possibly contribute in a big way. Junior college prospects are always players to keep an eye on, obviously, as they've already played college ball … and high school prospects at certain positions sometimes flourish early.

Here's a look at who we think has the ability to step into a good situation and be in for key snaps, and be sure and check out the SEC countdown of impact newcomers at the bottom.
No. 14 – DaVonte Lambert, Auburn, DE
HOMETOWN: Waynesboro (Ga.)
SIZE: 6-3/280
RANK: Four-star prospect; No. 6 overall JUCO prospect in America.
THE SKINNY: Lambert ended up going to Georgia Military College and transferred to Auburn. He originally was a Tennessee commitment but switched over late in the JUCO process. In 2013 he had 14 tackles for loss and 8 sacks and forced 4 fumbles. He has a reputation for being a playmaker, and Auburn loves the guy.
WHERE HE'LL MAKE AN IMPACT: Lambert is one of the most impressive junior college prospects in the country, and is rated the No. 1 strongside defensive end prospect in the junior college ranks, and you can bet that he'll be in the mix to make plays this fall for Auburn. Don't overlook this prospect.
LAMBERT TELLS SDS: "It shows everyone that the coaches have a big impact on players. Everyone loves the coaches. Coming in will be great and I can't wait to lead them to a championship."
COACH SAYS: "DaVonte is a dynamic playmaker on the defensive side of the ball who has the ability to rush the quarterback and play tough against the run." — Auburn head coach Gus Malzahn

Editor's note: Saturday Down South's references to ratings follow the 247Sports.com composite rankings for high school prospects.
Other impact newcomers:
This button delivers the best SEC football stories to you on Facebook