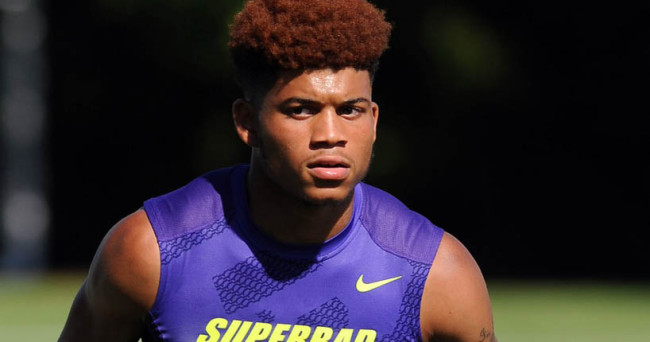 Jalen Tabor is going to trade one warm and sunny locale for another … but now he won't have to travel as far.
Tabor–surprisingly–chose Arizona during his Under Armour Game live televised announcement last week, bypassing both Alabama and Florida and nearby Maryland (he's in Washington, D.C.). The 6-foot-1, 185-pound five-star cornerback took official visits to all four schools in November and December.
"If You Not A Gator You Gator Bait ! #GoGators," he Tweeted early Thursday morning.
His mother confirmed the switch to 247Sports.com Thursday morning.
RELATED: Texas A&M commitments react to Johnny Manziel leaving for the NFL
Arizona seemed like one of the least likely destinations, based on distance from home and lack of dominance over the past few years. But Arizona did have Tabor's buddy Jonathan Haden on board, the brother of former Florida DB Joe Haden–who is now in the NFL. Tabor has looked up to the older Haden for years. Now, instead of playing with Haden's brother at Arizona, he'll play at Haden's alma mater.
Tabor is rated the No. 24 overall prospect in the nation and the No. 4 cornerback. He has very good size for the position, but also is quick enough to get to the ball from all angles. He wants to be an early enrollee and would join classes on Monday if possible (already in session at the University of Florida). There is a slight chance he may have to wait to enroll in the summer, his mother told 247Sports.com.
EDITOR'S NOTE: All references to ratings are to 247Sports.com's composite ranking.
This button delivers the best SEC football stories to you on Facebook